KONG Laser Cat Toy
By KONG
---
About This Item
Irresistible moving light sparks natural hunting instincts.
Ignites chasing and pouncing to create interactive fun.
Encourages active play sessions, so indoor cats can get the exercise they need.
The replaceable battery makes it easy for you to keep the fun going.
Convenient clip allows for easy access.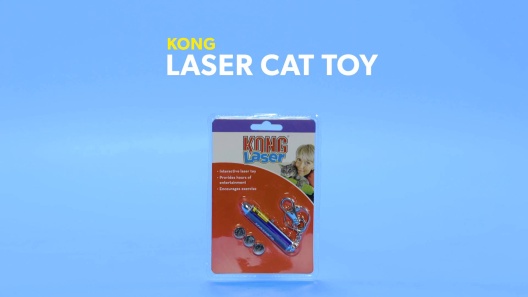 Learn More About KONG From Our Team of Experts
---
Compare Similar Items
| | | | | | |
| --- | --- | --- | --- | --- | --- |
| | | | | | |
| Customer Rating | | | | | |
| Price | | | | | |
| Autoship | — | — | — | — | — |
| Toy Feature | Exercise | Exercise | Glowing & Light-Up, Electronic, Exercise | Glowing & Light-Up, Electronic, Exercise | Exercise |
| Toy Type | Lasers | Lasers | Lasers | Lasers | Lasers |
| Material | Polyester | Polyester | Plastic | Plastic | N/A |
| Pattern | N/A | N/A | N/A | N/A | N/A |
| Breed Size | N/A | N/A | N/A | N/A | Small Breeds, Medium Breeds, Large Breeds |
---
Questions & Answers
10 Customer Questions
---
Do you have to hold the button for this to stay lit.
Answer by • Dec 31, 2017
The button does need to be pressed for the laser function to work.
---
Can I buy extra batteries from you?
Answer by • May 10, 2020
At this time, we do not carry replacement batteries for this toy.
---
How far does the laser extend?
Answer by • Feb 14, 2018
Since it is a light, there are a lot of variables on how far it can reach. Officially, it is tested to a class 2 laser, which has a max power output of less than 1mW, and a wavelength of 630-650 nanometers. The distance from which it can be seen will vary greatly by the conditions around it. The "Non Ocular Hazard Distance" is typically around 23 feet for this class and type of laser. Practically speaking, this laser will be easily visible within a standard sized room of a house.
---
Where is it made?
Answer by • Feb 13, 2018
This product is made in China.
---
---
---
By Cassie on May 11, 2022
Horrible, Sadly
I bought this for the cats I work with at the animal shelter I volunteer at, but it broke the first day I got it. The light even was dim before that. The button also pressed almost all the way into the laser. The cats couldn't even see the light. The next day when it broke as in just stopped functioning, i tried to even reassemble it and put the batteries in again and it was somehow even more ruined and never turned on again. I wasted my money and I don't recommend anyone does waste theirs. Unfortunate.
---
By CatMomofTwo on Apr 30, 2022
Great Toy!
My twins are just not very playful... Not with cat toys at least. I've tried so many options. This laser pointer has been the best! They both immediately participated, went wild, and had so much fun and interest. Even my shy, quiet girl. They gave 150% focus and energy to this toy until they wore themselves out. Its also pretty amusing and entertaining for their human to watch. Just a warning, it makes them go ballistic, hyper and super observant and crazy, so some cats may not want to be hyped up like that. I love this toy though, great price and simple way to interact and play with my kitty easily and keep them amused and exercising.
---
By Catmamaof2 on Apr 16, 2022
Lots of fun!
The minute I took the laser light out of the package, my cat Sawyer knew what it was since we've had these before, but I always got the cheap ones, He LOVES these things and so do I!!! He's a little dominate so I've found using these lights and him chasing them he'll tire to the point where he won't go after his sister Gemma. She'll go after it too just not as much as him, and that's fine. I should have ordered this the first time as it's lasted some time with a great light that lasts.
---
By TomB on Apr 9, 2022
Worked for minutes before failure
The package arrived this morning and I was excited to use this to play with my cats. I loaded the batteries in probably, per the instructions, and started holding down the button. It worked fine, but after about 3 minutes, the power button just stopped working entirely. Very disappointed with this product.
---
By Kimberly on Feb 23, 2022
Terrible product
This thing is terrible. I have purchased many Kong toys for my dog, so I thought this would be a safe purchase, but it's not. I had the hardest time figuring out how to even get the batteries in it (there are no + or - indicators showing which way they should face). Once I did get them in correctly, it lasted for just two days or so, and now it won't even turn on. It has a very junky, cheap feel, unlike what I'd expect from Kong. I will say it had a bright red dot for the two days it did work, so I guess that's a plus. The little mouse-shaped ones I've bought from big-box stores have lasted much longer.
---
By Jane on Mar 10, 2022
Complete Waste of Money
Don't even bother. I bought this thinking that the button might be easier to hold down while playing than the button on my other, mouse-shaped laser toy. Not only is it actually harder, but it requires some magic trick to line up the top to get it screwed back on ... and the batteries get jammed slightly sideways when you try to install them or take (shake) them out. I threw this away.
---
By Rick on Apr 11, 2022
Low quality
This product was already broken when I opened it (the cap is loose and falls off all the time), and it just kept breaking more and more. This was all withing 2 minutes of opening it while trying to get the batteries in.
---
By Jess on May 3, 2022
Works great
It works great, I thought my cat would like it but he doesn't lol he likes to be lazy. But all cats are different so I'll still give it a 5 star!
---
By Catish on Apr 4, 2022
Spend a bit more and get a better one
The product works, but you have to continuously hold down the button, making for sore fingers quickly, and the pet is still wanting to play. Spend just a bit more for one with a slide on switch
---
By SamW on Jan 10, 2022
delayed trash
Being a well-rated Kong product, I trusted this despite the low price. Unfortunately it is destined to be trash, with a short delay at my house. There is no instruction on which way to put the batteries in, they wiggle, the light is weak and dims and grows and shrinks and sometimes doesn't turn on at all (shake it or move the batteries around, it may or may not help), the button feels like it's going to fall apart, and I accidentally bent the metal clip when trying to screw on the lid after putting the batteries in. The packaging is also something I would avoid in store just on principle - that hard nonrecyclable plastic that usually cuts you as you fight your way into it. Super disappointing for both me and my cat. Don't waste your money, just get a nicer one.
---