Frequently Bought Together
---
About This Item
Made of FDA food-approved, high-strength, plastic polymer.
Entertaining wobble action for added excitement.
Top screws off from bottom for easy filling. Dishwasher safe, so it's easy to clean.
Dispenses food and treats for hours of fun. Can also be used as an alternative to a dog bowl to help slow and extend mealtime.
Recommended by vets worldwide and comes in 2 sizes.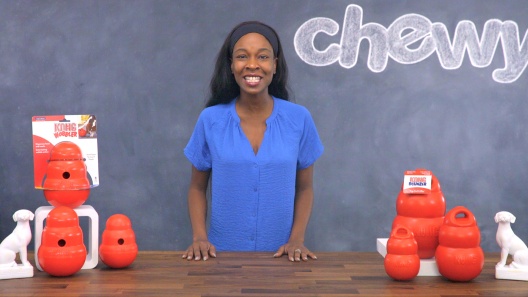 Learn More About KONG From Our Team of Experts
---
---
KONG Wobbler
The KONG Wobbler keeps dogs mentally and physically engaged while they instinctually work for their food. A paw-activated wobbling motion releases kibble bit by bit and has the benefit of slowing down mealtime, helping with weight management.
Filling
Twist to unscrew and fill with kibbles and treats. It's way more fun than a bowl, and you can fill it with mealtime kibbles to slow eating. Use smaller snacks for easier sessions and larger pieces for more of a challenge.
Dogs Need to Play
A dog's physical and mental development are influenced by a healthy, instinctual need to play. Built for durability, KONG dog toys encourage play and offer enrichment, meeting this natural need to play.
KONG Solutions
Looking for additional enrichment? Try the KONG Classic rubber toy. KONG encourages dogs to focus energy on healthy engagement, helping prevent unwanted behavior by providing a mentally stimulating, physical challenge that keeps dogs occupied and mentally challenged.
KONG Stuffing
Did you know that anything that is safe for a dog to eat is safe to stuff into a KONG? Here's how:
STUFF: Stuff loosely for beginners or tighter for more advanced users (w/KONG Snacks or your dog's favorite kibble).
ENTICE: Use a tasty appetizer such as KONG Easy Treat or peanut butter.
ENRICH: A stuffed KONG offers mental and physical enrichment.
EXTEND: Want to extend playtime? Freeze for a longer-lasting challenge.
Choose the KONG That Is Right for Your Dog
Looking for more enrichment? Select a KONG Classic shape that is right for your dog.
KONG PUPPY
Beginning to Light Chewers
Designed for Puppy Teeth and gums
Softest Rubber
Blue & Pink
KONG SENIOR
Light Chewers
Designed for Aging Teeth and gums
Soft Rubber
Purple
KONG CLASSIC
Average Chewers
Designed for most adult dogs
Durable Rubber
Red
KONG EXTREME
Power Chewers
Designed for extreme chewers
Most Durable Rubber
Black
Made in the USA. Globally Sourced Materials.
About KONG
KONG dog toys encourage play, satisfying instinctual needs and strengthening the bond between dog and pet parent. Built for durability, KONG Dog Toys offer mental and physical stimulation, all while meeting a dog's need to play. All KONG Rubber Toys are proudly made in the USA with Globally Sourced Materials.
Shop KONG
Compare Similar Items
| | | | | | |
| --- | --- | --- | --- | --- | --- |
| | | | | | |
| Customer Rating | | | | | |
| Price | | | | | |
| Toy Feature | Training | — | Training, Tough Chewer | Training | Training |
| Material | Nylon, Synthetic Fabric | Plastic | — | — | — |
| Breed Size | Large Breeds, Giant Breeds | All Breeds | Large Breeds | Giant Breeds | Giant Breeds |
| Toy Type | Treat Dispensers, Chew Toys | Treat Dispensers, Balls | Chew Toys | Chew Toys | Treat Dispensers, Chew Toys |
| Lifestage | Adult | Adult | Adult | Adult | Adult |
| Chew Style | Tough | — | Extreme | Tough | Tough |
---
Questions & Answers
15 Customer Questions
---
What size treats go in here or do you sell specific ones designed for this?
Answer by • Nov 14, 2017
The KONG Snacks and KONG Easy Treats will fit perfectly in your KONG Wobbler toy. A stuffed KONG offers mental and physical enrichment. Plus, you can freeze them for a longer-lasting challenge.
---
What are the guidelines for sizing?
Answer by • Oct 19, 2017
The Small is best suited for dogs up to 25 pounds. The Large is best suited for dogs over 25 pounds.
---
Which countries does your 'globally sourced' materials come from? Is it China?
Answer by • Feb 25, 2020
KONG rubber toys are made in the USA. KONG plush and non rubber toys are made in China. Toys made in China are designed and tested in the US.
---
Does this toy fit most kibble? I feed purina pro plan. would the kibble still be able to come out?
Answer by • Sep 22, 2020
The KONG Wobbler Dog Toy is suitable for any size kibble. Use smaller snacks for easier sessions and larger pieces for more of a challenge.
---
---
---
By unhappycustomer on Aug 16, 2022
This should be described as large
This kong measures 6L" - 4"W. It is marked for dogs up to 25 lbs. My dog weighs 17 lbs. This thing is WAY too large for her. My other dog looked at it like he was intimated by it, weighing 38 lbs. Something is very wrong with the description on the packaging -I will be returning two of these. I bought two of these, both will be going back.
---
By Tina on Jul 16, 2022
Another Fail
$20 down the drain. My dog just sits there and stares at it like he is waiting for it to do something. I tried to encourage him and show him how to work it but he just stares at it like he is confused or afraid of it. It would be nice if it had a rope coming out the top so he could grab it, I might drill a hole in it and try something like that but he is not interested. It's like a haunted relic that no one want to make eye contact with.
---
By Terri on Aug 9, 2022
Good for picky eaters!
My dog loves this toy. I often put his dog food in it, throw in a couple treats and he bangs it around till it's empty. Just bought another one for a new puppy gift bag.
---
By Pyrenees on May 12, 2022
Clever/lazy dogs can hack this
My Pyrenees gained weight after an orthopedic surgery, even with the diet kibble she wanted more than allowed. This slowed her down and seemed to help with the "requests" for more (flipping her bowl for several minutes). She eats laying down and found a way to use the wobbler while laying down, she pushes it with her nose enough to knock some out and then uses her paw to move it back within nose-range. She's also found out how to tell us she wants this refilled: she nudges it to the nearest wall and will repeatedly thunk it until you either fill it or remove it. Be careful in the dark, this thing is excruciating when kicked by accident. When my sisters sheepdoodle visits he holds it at and angle with his paw and licks individual kibbles out until it's fully empty.
---
By Cooper on May 20, 2022
Confused Dog
I got this for my avid chewer (blue heeler) I tried several times to show him how it works. He has zero interest in working for his treats despite being considered a "working dog." I supposed I would rather not work on my down time as well. It currently sits in the middle of the floor, filled with treats. Taunting all of us daily as proof that he is the ruler of this home and will not be bothered to work for a treat his humans can simply hand feed to him.
---
By ScaredyDog on May 1, 2022
Great Toy!
I use this toy with a 50 lbs. puppy and he LOVES it! I put in his regular kibble. It would be nice if you could control the hole size, but I am not sure how they would do that without sacrificing how easy it is to clean (a major perk!) Make sure to tightly secure the top or your dog will have a feast. I accidently secured the top too tightly and now cannot remove it, but it hasn't mattered. I can still clean the inside with soapy water and a bottle brush, and I fill the treats through the dispensing hole. Be sure to use in an open area as your dog will knock into everything in their excitement, and this thing (I have the large) has some heft to it! Highly recommend!
---
By jvthree on Jun 5, 2022
solid product
My dog loves it. I got the large and he is a medium sized dog (25 lbs) and not big enough to pick it up or bite into it so he just pushes it around. Only negative is it is a little noisy as he pushes it into walls and such.
---
Purchased large for 100# dog
This kong is large even for a large dog. My dog loves the other kongs but this one received a so-so reception. I was surprised that it was made of a hard plastic that can be chewed and not the rubber of the other kongs. He doesn't bat it around like the puzzle kibble balls.
---
By DougsMom on Mar 26, 2022
My dog is furious and it's amazing
I work long hours and always try to find my beloved 90lb mutt monster new puzzles to keep him busy and active and engaged. He flips over every treat puzzle I've ever brought home for him. He can't cheat with this, and he can't pick it up to throw it around to smash it— this is amazing and perfect for him. It slows him down and keeps his focus and even if he's mad at it because he wants more kibbles he keeps going. Also for fellow apartment dwellers— though it's plastic and rolls around, there's a weighted bottom to it so it doesn't bounce or make too much noise. I am thrilled. (I only let him have it supervised so he doesn't keep attacking it once it's empty.)
---
By Jess on Apr 9, 2022
Fun feeding toy! Wobbles as promised
My dog looooves the wobbler and we do most kibble meals in it. Pros: he loves it it's durable it (yes, you guessed it) wobbles Cons: it's too easy for him unless I add wine corks, small balls, etc. in with the kibble it's loud I also add some tape to obstruct part of the hole and that helps. I fold a piece of packing tape in half and then tape a fresh piece over it to secure it. It needs replacing every once in awhile, but ups the challenge.
---