Kurgo Blaze Cross Dog Shoes
---
About This Item
Features an ankle cord that's easily adjustable.
The double closure system helps keep your pup's paws secure.
The ergonomic no-slip soles are designed to mimic the structure of your sidekick's pads.
Made of breathable tight weave mesh and synthetic leather uppers.
Finished with reflective accents to help keep your BFF safe and visible.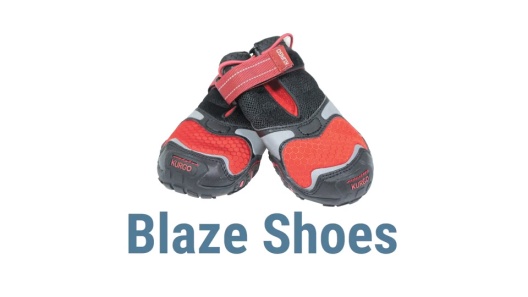 Learn More About Kurgo From Our Team of Experts
---
---
Questions & Answers
23 Customer Questions
---
How do you determine the right size?
Answer by • Jun 19, 2019
While the dog is standing, place paw on a piece of paper. Mark on paper at the widest part of the paw and measure the distance between the two marked points. You can find the size chart in the description by clicking on the "Size" tab.
---
Will these work for dogs with dew claws?
Answer by • May 31, 2022
Where a dewclaw is placed on the leg can affect what size comfortably fits, so it is important to consider this. If your dog's dewclaws are low enough on their leg, you will want to be sure that their dewclaw goes in the boot and/or under the hook-and-loop strap. This should be the best fit to prevent rubbing.
---
Are there 2 or 4 in package?
Answer by • May 23, 2019
This package will be a set of 4 shoes.
---
Will this fit a Great Dane of 140 lbs?
Answer by • Feb 14, 2020
For the most accurate fit, we recommend measuring your pet's paw. Please refer to the following image below.
---
---
---
By Brianna on Jul 26, 2022
Protect Those Paws!
These shoes are awesome, especially when the temperatures outside are getting warmer and the asphalt is extremely hot to the touch! As a service dog my Belgian Malinois, "Zuko" is required to accompany me to many locations, indoor or outdoor. So to prevent injury to his paws during the hot summer months, we wear these! They almost remind me of little sneakers or boots. The rubber on the bottom provides traction and allows your kiddo to walk on hot pavement without getting burnt. Comfort wise, these don't seem to cause an issue. I've had ours for over a year and they still remain in good condition. I would definitely recommend conditioning your dog to the shoes before taking a hike or making them wear them long term though. It's a new sensation and experience altogether, so make it a positive event and take things at slow pace if necessary. I recommend playing with your dog with a toy or recall games with a food or toy reward to create a fun distraction and allow the dog to become fully desensitized to the shoes. I don't recommend getting them wet though! The rubber on the bottom can definitely withstand wet pavement or super shallow water, but be warned that these shoes do take a bit to dry. That said, I wouldn't recommend them for snowy weather. I live in a tropical climate so using them here works out amazingly well, especially in summer!
---
By Kate on Jul 22, 2022
Pretty good
These boots were impressive, primarily bc the thick rubber sole is not just on the pad/bottom, but also goes up around the back of the foot. This is exactly what I was looking for to protect my Great Dane with a sore on her foot. Alas, the XXL is a bit too small for my Dane. I could have forced it on, but... (The Muttluks Mutt Trackers - size 10 - opened wider, and are about 1/2" wider overall, but lack the additional tread on the sole and will probably not stay on as well.)
---
By Booties on Aug 11, 2022
Dog shoes for dogs
Had I known they were as short and stiff as they are, never would have ordered. I will never get these on my dog despite all the treat tricks suggested. Well crafted, but not for my boy.
---
By Gobi on Jul 2, 2022
Got to be kidding
These trail shoes are so stiff that I'd rather get stones in my paws than walk with my human in them, no matter how rough the terrain. I don't blame her for trying. But forget it, unless she figures out a way to get them on me without torturing me.
---
By Jenene on Aug 6, 2022
Quality and Fit
I really like the way they look, and the quality looks very well. They would not stay on my pet. I tried several times and tightened then but still came off.
---
By excellent on Jul 14, 2022
Worth buying.
I have a 90lb German Shepard that I bought these for in a size medium. They fit perfectly, so it's true to size if you measure the right way.
---
By MinPin on Feb 24, 2022
XXS too Big
I bought the XXSmall for my pure bred Miniature Pincher Papi, he has super sensitive paws and we live in a cold climate (Minnesota) and we right now have very cold weather and plenty of snow. I love this brand and have gotten other items that worked for him but shoes have always been a problem for him, he tiptoes with the front until they are half way off his feet, I have included a picture of his foot in the boot not tightened so people can see his leg and the size of the shoe as reference. I will be returning them as due to the expense I spent on them, I will keep looking for the right shoe for my 6yr old boy pupper, if anyone has this problem be fur warned if you have a small or toy breed pup this is possibly not the shoe for them :(
---
By b3mackdaddy on Jan 30, 2022
These are awesome!
I was waiting for the first real snowstorm to hit before I wrote a review and I certainly wasn't disappointed. Got these booties for an 80lb border collie mutt who gets bad ice balls in his paws. I ordered the Large size but these turned out to be way too big. Got a Small size for a replacement and they fit very well. Once my dog realized he gets treats if he wears them it was really easy to use the booties properly. We just got our first real snowstorm yesterday and i only had him wear two of the four booties to try them out. They stayed on the whole time and once my dog realized he wasnt getting iceballs in his paws, I couldn't drag him out of all the fresh snow.
---
By Nanni on Jan 27, 2022
Sad for that price
We bought those shoes for my long legged dog and as much as I liked them with fit and material, they are not worth the money. After about 10 walks in cold weather (each about three miles), the shoes are already open and leaking. For that money I have expected more! They are well made and smooth inside so the feet of my dog were not bloody or irritated in any way on the first walks. But now his feet are getting wet and cold. I will have to try to fix them somehow because walking without shoes is not an option and I do not have the money for another expensive pair :(. It might work for short walks in the woods but not for walks in neighborhoods like we do have to do here :(.
---
By FriendofBurglar on Jan 13, 2022
Boots for good dog Burglar
Burglar lives in snowy Vermont. Burglar is a sweet older dog who does not like water of any sort--not rain or snow or sprinklers or...baths. I conspired with Burglar's owner to get the right size boots for him so he could avoid stepping in the snow. I read reviews and settled on Kurgo. The first ones I ordered for him from Chewy, red to match his red coat, were too small. Chewy refunded my money and suggested donating the boots to another dog. By serendipity, a friend had a smaller dog who needed boots. The medium size boots I next ordered fit Burglar and reports are that he got used to them really quickly. I received a video of him in his red coat and boots that is really cute. Thank you Kurgo and thank you Chewy.
---