Litter Genie Plus Cat Litter Disposal System
Buy 1 Get 1 25% Off
See 'Details' tab for instructions to redeem.
---
About This Item
Compact, hygienic and convenient waste pail uses a Push-N-Lock system to seal off odors and keep your home smelling fresh.
The Plus model includes a litter scoop with attached holder and the Plus refill is 30% larger than the standard Litter Genie refill.
Uses a durable, five-layer bag with barrier technology to lock away dangerous germs and offensive smells.
High-capacity pail eliminates the need to take daily trips to the trash; pail measures 9.5 x 8.5 x 17 inches.
Available in silver or black and comes with one single refill that offers 18 feet of film.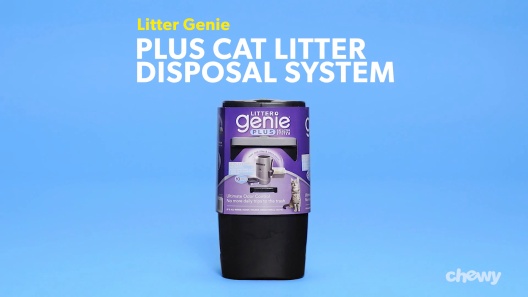 Learn More About Litter Genie From Our Team of Experts
---
---
Questions & Answers
32 Customer Questions
---
Is it mandatory to have the refills? And why?
Answer by • Oct 19, 2017
The litter waste disposal system works with the refill liners to collect waste and seal off odors to make clean up quick and easy.
---
The blade to cut the bags is getting dull in my Litter Genie. Is a replacement blade available?
Answer by • Oct 30, 2017
There currently aren't any blade replacements.
---
What is the capisity of the container?
Answer by • May 29, 2018
The pail holds up to 2 weeks of cat litter.
---
Can the litter genie be used for small to medium size dogs or do the make a dog genie?
Answer by • Aug 06, 2019
Although this system was designed exclusively for litter waste, we've had positive feedback that it works well for dog waste as well.
---
---
---
By magg on May 23, 2022
Great for odor elimination
This genie is honestly amazing. I live in a pretty small apartment, so keeping the smell of liter contained is very important to me. I notice there is absolutely no smell after scooping. It's super convenient since I have it set up right next to the liter box, so its super quick for me to do it... its also really satisfying watching the waste go down the chute lol. I've had it for about 7 months now and I haven't had any issues with it thus far. The '10 week' refill just ran out tonight.. its been well over 10 weeks. For reference, I have a single cat.
---
By Genius on May 13, 2022
Perfect but 1 small flaw
I bought 2 of these & it was THE BEST money spent! Instead of trying to clear the waste out of the apartment daily we can now wait until there is a surprisingly large amount collected. I have 2 cats & my niece has one, so I go through the collection bag a bit faster. It's a breeze to use & there is seriously no smell. My only complaint is that the lid on both of ours, within a week of so, snapped right off. I don't know what happened because it was during regular scooping & the next thing I know it flipped backwards & snapped off. I guess we just lay the lid on top for the time being (I think glue won't work because then it wouldn't open & shut), but without that design flaw this is the best product to come around for cats in a really long time!
---
By Straycatstrut on Apr 24, 2022
Amazing product, terrible instructions
This thing is awesome. My significant other was dragging his feet on saying yes to a cat because he didn't want our home to smell. I told him we'd keep the litterbox in the bathroom and have a good disposal system, but that wasn't good enough for him. Until... I came across this product! This almost entirely eliminates any smell. You flip the lid, scoop the poop with the included scooper, close the lid, and pull the bar out. When the bar goes back in, it completely seals the bag with the waste in it. Sure, it's a little gross replacing the bag since you have to take that all out. Unfortunately you'll have that problem no matter what you use for cleaning the litterbox. I just pop on some gloves, tie it up, drop it in another garbage bag, wash hands, take the bag out, then wash hands again. I knocked off a star because the instructions are terrible. It basically just tells you the purpose of it, not how to insert and remove the refill, which isn't intuitive. There's a good tutorial on youtube: give yourself a few minutes and you'll get it in no time. It's totally worth it!!
---
By BiscuitServant on Apr 18, 2022
This does the trick
I've been using the Litter Genie now for almost a year, and I wanted to come back and review it. I am impressed so far! I have one cat, and I empty the bag every two weeks. I use a clay litter, so that may change depending on what litter you use and definitely will change if you have multiple kitties. It's easy to set up, easy to use, and it DOES NOT SMELL. I was amazed. I have a very sensitive nose, so I was waiting to see if the Genie would let me down. Thus far, it's been great, and my friends have all been shocked that I have a litter box with no smells at all. A few tips: Watch the video online; it is really helpful, because the box came with no directions for inserting the liners. Make sure that the Genie is firmly closed and sealed after you replace bags. If even one corner is slightly open, you will find yourself with a smelly room.
---
By Mark on Apr 15, 2022
Overall, a great product
I've been using the Litter Genie for two weeks now, and I love it. It's convenient (kept right next to the litter boxes) and easy to use. It keeps all the odor inside the unit, and the only time I smell anything is when I open the unit to tie off a used bag and set up a new one. Both those functions were a little awkward at first, but only because it was my first time using it. The only downside, and it's not the fault of Litter Genie, is that the bags don't last as long as I would like. It takes about five days to fill up a bag, a little bit less that what's stated in the description, but that's because we have two cats, one of which urinates about 10 times per day. He's very old, drinks and pees a lot (not kidney disease), so it's understandable. I'm just happy he's still using the litter box! So, overall, I highly recommend this product.
---
By MomOf3Cats on Apr 12, 2022
Excellent idea
So, we had started out with one very spoiled rotten cat when my son adopted a kitten and wasn't able to take him when he moved. One litter box, one cat. No problem. Then…we had a feral cat show up. Come to find out she was pregnant. Two cats? OK. No problem. Well, momma cat has two kittens. I found homes for both babies, however, it didn't work out with one of them and he ended up coming back to my house. Wait…whoa! Three cats? Ugh! We now have three litter boxes and are constantly cleaning them. I did some research on the litter genie and thought it would be a good idea to get 2. I just got them today and have already used both as one of the boxes is nowhere near the two older cats boxes. It's perfect! So glad I bought them.
---
By Callie on Apr 25, 2022
Poorly designed product
Reviews have marveled about how nice this product is and so easy to set up but no one discusses the other end of the routine. This is poorly designed. The product opens in the MIDDLE which means you have to open it partway, stick your hand in and pull the bag down further while holding the top AND pulling on the black part to prevent the litter in the top chamber from spilling out. Litter Genie is a nuisance and I much prefer Litter Genie but they can't ship the refill bags into California.
---
By Catmom on May 2, 2022
Just okay, I don't recommend
Doesn't hold in smell very well. After I wash the litter box with soap, dry it, and pour in fresh litter, I put the dirty scoops in a paper bag, inside of a plastic bag, and then lock it in the genie box. I can still smell it from the other room. So there's no point in using this item for me, personally. I went back to putting the dirty scoops in my trash can since it holds smell better.
---
By Gigi28 on Apr 4, 2022
A diaper genie for litter!
I received one of these as part of a deal alongside our usual bag of litter and I'll admit I was a little skeptical in anticipation of it actually holding in the smell. For those of you who have kids, it's basically a smaller and simpler version of a diaper genie. Dirty litter goes in (we tested this with clumping litter), pull the lever, litter drops down into bag, push the lever back in, done. Had it for two weeks. Results? It does in fact take away the smell. We scoop maybe once a week and you just can't smell anything. What an invention! We have two cats and this genie is just used for one of our litter boxes and we'll probably end up getting a second one because it's just that easy and helpful to use.
---
By Gussie on Apr 5, 2022
Entertainment for gussie
Every morning when I clean my cat's litter box and dump the waste into the Disposal System, Gussie sits and waits for me to pull out the Pleate that releases the litter into the lower part of the System. Then he waits for me to shut the top and then taps it closed. This is his second Disposal system and It has it's advantages, including blocking any odor that might exist and it comes with an insert that allows making a plastic bag to catch the waste. It's easy, it's clean and it's convenient. This is the second disposal system because after years of use, the top snapped off the original. Such is life!!!
---