Marina Aquarium Power Filter
Frequently Bought Together
---
About This Item
Versatile motor is submerged in the tank for ultra quiet operation and an instant start-up.
Adjustable to adapt to water levels of the aquarium.
Compact design to take up less space than standard filters.
Contains Ceramitek, which optimizes biological filtration to ensure a healthy aquarium.
Installation is quick, easy and convenient.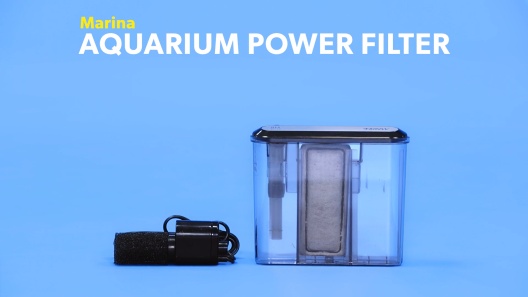 Learn More About Marina From Our Team of Experts
---
Compare Similar Items
| | | | | | |
| --- | --- | --- | --- | --- | --- |
| | | | | | |
| Customer Rating | | — | | | |
| Price | | | | | |
| Fish Type | Tropical Freshwater, Betta, Cichlid, Goldfish | Tropical Freshwater | Tropical Freshwater, Marine Fish | Tropical Freshwater, Betta, Cichlid, Goldfish, Marine Fish | Tropical Freshwater, Marine Fish |
| Aquarium Type | Freshwater, Saltwater | Freshwater | Freshwater, Saltwater | Freshwater, Saltwater | Freshwater, Saltwater |
| Material | Plastic | Plastic | Plastic | Plastic | Plastic |
| Capacity (Max) | — | Up to 20g | — | — | — |
---
Questions & Answers
26 Customer Questions
---
How many filters do you use in the marina s20?
Answer by JustAFishServant • Nov 21, 2021
Get rid of your "replaceable cartridges" if you want to save money. They're a ripoff and do pretty much nothing for your tank. Activated carbon gets rid of essential minerals plants and fish need. When you replace it you're throwing away beneficial bacteria. That's right, the stuff that keeps your tank running and fish healthy. It's the worst thing you could do. To provide your fish and hopefully live plants with a better home, use biological filter media meant to last years without replacing and house beneficial bacterial. Try sponge, bioballs, ceramic or plastic biomedia to provide a good home for beneficial bacteria! It'll save you $100s ;)
---
What kind of filters does this use?
Answer by • Dec 18, 2017
This system uses the Marina Slim Filter Carbon Cartridges.
---
will that work for a ten gallon tank my other filters are not cleaning the tank
Answer by • Jul 19, 2018
Each size will work in a 10 gallon tank. The S10 holds up to 10 gallons, the S15 holds up to 15 gallons, and the S20 holds up to 20 gallons. The Marina Power Filter is also equipped with an adjustable flow control and includes a strainer sponge to keep smaller fish from being pulled into the filter.
---
How long and how wide is this filter? The dimensions are sketchy about which is height and which is width.
Answer by • Jul 17, 2018
The S10 filter measures 7.3 inches long x 6.5 inches wide x 3.7 inches high. The S15 filter measures 9.1 inches long x 6.4 inches wide x 3.7 inches high. The S20 filter measures 11.5 inches long x 6.4 inches wide x 3.8 inches high.
---
---
---
By Brendan on Aug 9, 2022
Great until-
Loved it for the first month, super quiet, did its job and extremely cheap. But, after only a month it began getting louder and louder. I would have to start moving the wire in different positions to get it to be quiet again. Eventually it got too loud and now I have to buy another one because I already stocked up on filters.
---
By Filter on Jul 9, 2022
Horrible Filter
I would not recommend this filter because it states you can put your own type of Media in the filter or use the filters that fit the aquarium filter. Well neither works because it doesn't matter how clean the Media is, the water still overflows and my aquarium is so cloudy I can't even see the center of my aquarium. I was excited when I first saw this filter but once I received it I realized it fails at keeping my aquarium clean or clear.
---
By timboslice on Apr 10, 2022
Best filter I've ever purchased by far
This filter was super easy to setup and it runs amazing. It also comes with some little controls to lower the water pressure or raise it which is neat. Im upgrading from a 20 gallon whisper filter that was actually really loud at times and this one seems to be a lot more quiet and efficient for my tank. The whole setup is great and I can already tell it's going to be super easy to clean and replace the cartridges. So far I've used tetra filter and a few marineland filter, but I'd highly recommend this filter to anyone in the market. I even accidentally purchased the 15 gallon filter on accident and it's cleaning my tank effortlessly. Idk how anyone is giving anything less than 5 stars… A++ rating easy
---
Works well enough
Using for a 10 gallon aquarium, planted freshwater. I'm replacing the media with just biological and no chemical but otherwise i like it. QUIETEST filter I've EVER had, honestly I'm spoiled now!
---
By AmyM72 on Jan 24, 2022
Great budget filter!
This is a great filter and so quiet! It's got a really strong flow and I like that I can adjust it. I picked it up for some extra particulate removal because my sponge filter doesn't get as much as I'd like. I've had no issues with it whatsoever. This is on my 29 gallon planted tank that's heavily stocked.
---
By lexis123456h on Dec 24, 2021
I'm very happy with this product
I got this about 7 months ago and it's still working great I haven't had a problem with it I would definitely get again and it's very quiet which is a plus it keeps my water clean and isn't overly powerful so ot doesn't throw my fish around its a good product
---
By Beah on Dec 17, 2021
Amazing Filter
I love these filters. The water is crystal clear an hour after I set it up. I was struggling with my 20g, every filter i bought had a different issue and I was about to give up on fish keeping until I bought these. They are really quiet and work wonderfully. I love being able to set the flow, since my Betta likes calm waters.
---
By Beth on Apr 9, 2022
Very pleased
This filter is much better than the one that came with my 10 gallon tank.
---
By doghaus on Nov 10, 2021
Dead in three months
I loved this hob...while it worked. Even with meticulous maintenance the motor burned out after three months. I had just stocked up on filters too! I'll stick with a sponge filter I guess.
---
By Catahoula on Oct 25, 2021
Favorite hob
I love the slim fit. Adjustable water flow is nice. The pre filter is perfect for those with fry or shrimp. Compartments for filter media, or the slot in cartridge. I use 1 cartridge, one bag of ceramic balls, and purigen.
---