Marineland Bio-Wheel Penguin Aquarium Power Filter
Frequently Bought Together
---
About This Item
Offers complete three-stage filtration (mechanical, biological & chemical)for both freshwater and saltwater tanks.
Rite-Size filter cartridge traps debris and removes odors and discoloration, providing mechanical as well as chemical filtration.
For maximum efficiency, fast-acting Black Diamond Premium Activated Carbon is used in each cartridge.
An extra-large BIO-Wheel rotates to cultivate the beneficial bacteria that remove toxic ammonia and nitrates from the water.
BIO-Wheel features noise-reducing vented covers and adjustable intake strainers.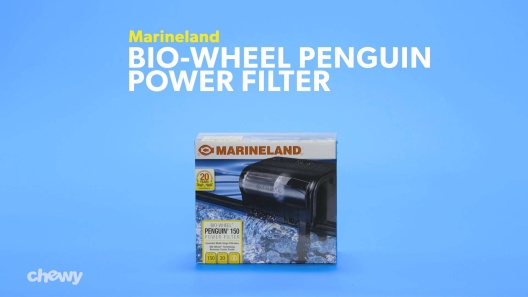 Learn More About Marineland From Our Team of Experts
---
Compare Similar Items
| | | | | | |
| --- | --- | --- | --- | --- | --- |
| | | | | | |
| Customer Rating | | | | | |
| Price | | | | | |
| Fish Type | Tropical Freshwater, Marine Fish | Tropical Freshwater, Marine Fish | Tropical Freshwater, Betta, Cichlid, Goldfish | Tropical Freshwater, Betta, Cichlid, Goldfish, Marine Fish | Tropical Freshwater, Marine Fish |
| Aquarium Type | Freshwater, Saltwater | Freshwater, Saltwater | Freshwater, Saltwater | Freshwater, Saltwater | Freshwater, Saltwater |
| Material | Plastic | Plastic | Plastic | Plastic | Mesh, Synthetic Fabric |
---
Questions & Answers
49 Customer Questions
---
Can you adjust the flow rate?
Answer by • Apr 23, 2018
There is a gray lever that opens and closes, allowing water movement at mid-level. If closed, the filter will only pull water from the bottom of the tank.
---
My bio wheel will not spin.
Answer by • Dec 31, 2019
Usually when the Bio-Wheel won't spin either the water level is low, the filter system needs cleaning or the Bio-Wheel bearings are misplaced or dirty. Take the filter off of the tank, take it apart, and give it a good cleaning using warm water and distilled white vinegar. Make sure to pay close attention to the impeller, motor, intake tube, impeller housing and bearings. Rinse them well after cleaning and re-install.
---
Does it come with filter cartridges?
Answer by • Dec 22, 2018
A filter cartridge is included with purchase.
---
will this work for a 40 gallon "tall" octagon fish tank??
Answer by • May 22, 2018
The Penguin 200 would be an ideal filter for a 40 gallon octagon tank as it should fit on the narrow panels of the tank, and has a long extension tube on it. Also, if you find you need to extend the tube even further, you can buy a mid-level strainer and an extension tube to lengthen it.
---
---
---
By Fishcaretaker on Aug 11, 2022
Love it best product
I have been using one for around 12 years now I bought a new one because I needed parts and they are out I will always use these they work great and do an awesome job have no complaints
---
By Crablady on Jun 30, 2022
GREAT BUY!
These are the best filters ever! I have spent a small fortune on different filters in the past, and these are by far the best. Rather inexpensive, quiet and easy to set up and the cartridge is easy to change.
---
By Meli on Aug 3, 2022
Don't waste your money
Worst filter I've ever bought! Started making a horrible noise a week after I set it up and shut down 2 months after. It will not turn on.
---
By Housco on Apr 25, 2022
LOUDESTFILTEREVER
Purchased to replace a worn out Penguin with two bio-wheels I had used for years. The new one was Loud. I ran it for 3 days and readjusted the impeller to no avail. Laughable it was so loud you could hear it from another room in my house. Will keep as a replacement for the other brand filter I bought which is so quiet I have to check to see if it is running. Filter worked but the volume was unbearable.
---
By filter on May 24, 2022
it's not the best
If you're looking for a high quality filter that you'll never ( or barley ever) have to clean the tank this is not the one. It only keeps my tank clean for about 2-3 weeks then the water is foggy again.
---
By Filter on Jun 19, 2022
Works great but loud
Does a great job cleaning a 29 gal tank with a large goldfish and a growing koi, but it is a bit loud like having a waterfall in the house.
---
By Anne on Mar 15, 2022
No longer useful
Price was great as this item is no longer useful if you need a new tank. The tank I used this for...for over 40 years...for a turtle is now, no longer available and I have to buy a whole new complete set up and this filter does not work for this. No wonder it was a great price! Not Chewys fault, Zilla discontinued the turtle tanks and I wish I had known. They used to be available all over and now I can't find one. I was working up to getting the new tank by collecting the other items needed. Never realizing that I could not get the tank. ugh.
---
By spamd on Mar 31, 2022
Disappointed, don't recommend.
I have this in my 20 gallon tank and it only worked for about 3 months. I noticed last month that the wheel stopped spinning, but it was still filtering through the back. Went to do my water change and when I plugged it back in, it wouldn't turn on again. I bought this when it was on sale, and after my experience and reading the other reviews maybe that's why it was on sale.
---
By Starlight on Mar 12, 2022
Purchased the wrong one.Not happy
I had the 400 for many years and loved it. I purchased this one thinking it was the same. When I opened the box I realized it was not. I should have sent it back but I decided to try it. My power went out one day and it doesn't re siphon like the 400. So when the power went back on it just ran making a loud noise until I was able to add water. It worked okay but I am not a fan. Where I live the power goes out too often. Just purchased the 400. Can't wait to get it!!!!
---
By Noway on Aug 12, 2022
Happy camper
Very happy with the fish filter. This manufacturer has great products.
---