Merry Products Cat Washroom Bench Decorative Litter Box Cover & Storage
By Merry Products
---
About This Item
Works as a litter box cover and kitty washroom, bench style accent table, and roomy storage unit all in one.
Accommodates any size and shape litter pans including extra-large automatic litter boxes with pre-cut holes for electric cables.
Features magnetized doors that open wide for easy access and kitty-sized entrance that can be installed on any side.
Seamlessly camouflages litter messes anywhere in your home with wainscoting details, natural wood grain, and plenty of shelf space.
Includes a removable partition wall that can be used to keep kitty essentials, like food or clean-up tools.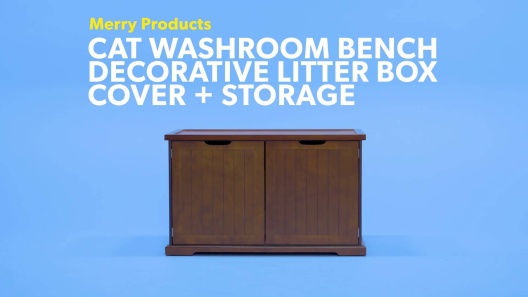 Learn More About Merry Products From Our Team of Experts
---
Compare Similar Items
| | | | | | |
| --- | --- | --- | --- | --- | --- |
| | | | | | |
| Customer Rating | | | | | |
| Price | | | | | |
| Furniture Features | Modern | Modern | Modern | Modern | Modern |
| Furniture Covering Material | N/A | N/A | N/A | N/A | N/A |
| Height Range | N/A | N/A | N/A | N/A | N/A |
| Tools Included | No | Yes | No | No | No |
| Furniture Frame Material | Engineered Wood | Engineered Wood | Solid Wood | Solid Wood | Solid Wood |
| Number Of Condos | N/A | N/A | N/A | N/A | N/A |
| Furniture Mount Type | Free Standing | Free Standing | Free Standing | Free Standing | Free Standing |
---
Questions & Answers
45 Customer Questions
---
I purchased this item back in March of last year. The doors have begun deteriorating as one of my cats keep peeing outside the box. Can I order just the doors to replace these?
---
Won't the wooden box absorb the cat litter odors and start to stink?
Answer by • Nov 20, 2017
The wood is sealed and nonporous so it will not absorb the smell.
---
Can you move the divider to house 2 litter boxes or can you link me to a model that does?
Answer by • May 28, 2018
The divider may be completely removed if needed. The interior dimensions are 34.92 x 19.37 x 18.94 inches so it may be possible to store 2 smaller boxes however, there is only a single entrance.
---
Which dimension is Depth and which dimension is Width? ( I don't need to know how tall/height it is)
Answer by • Nov 17, 2018
The dimensions are read as length x width x depth. The overall dimensions for this bench is 21.26 x 37.4 x 22.64 inches.
---
---
---
By KatLee on Dec 14, 2021
Nice Cat Bench
It gives the cats a"bench" to sit on, and fits a litterbox nicely. It will fit two if you put one facing to the side instead of to the front without the divider for supplies, depending on your litter boxes. If it had a door on either side it would be awesome, but you can cut one if needed. That said, the door side is interchangeable when putting it together, so you can decide left or right entry. The only thing that would make this better, is a water-proof flooring in case of accidents if someone pees over the side of a box. That can be fixed with a piece of flooring or plastic roll applied to the floor of the inside. It's a nice piece of furniture.
---
By Good on Feb 17, 2022
Doors aren't even
Time-consuming setup... definitely needs 2 people and a nice screwdriver. The wood is really sturdy, which was surprising. The only issue I have is that the doors are not even - they close fine, but one is higher than the other.
---
By CheeziesMom on Dec 14, 2021
EXACTLY what we needed
I am so grateful to have purchased this litter cover with storage! We moved from a small apartment to a small house without an obvious place for our Cheezit's litter box. We just stuck it in the bathroom for the time being and it was messy with escaped pine litter...and our 10-month old started walking, so it also became...well, you know. We purchased this cover and put it out in our living room under a window, with a nice pillow cat bed on top, and it is GREAT. It looks good, it functions great, our Cheezies likes being able to escape our walking baby and do her business in private. Highly recom
---
By kayy on Dec 10, 2021
Consider your cats habits!
I bought this about a year and half ago. I will say, it was easy to put together, it's heavy and sturdy which was nice. It looked great, the only thing was the doors didn't align perfectly but it wasn't that bad. I had a covered litter box inside this enclosure to help with cleanliness, or so I thought. If your cat is kinda awful like mine (love her so much but oh my god) she would get pee inside and just outside of this enclosure, so it dripped down the opening getting in all the nooks and crannies and also on the mat outside the enclosure and the floor. She managed that with a covered litter box INSIDE this thing. Even when I made sure there was a gap and it wasn't pressed up against the opening! So, I have used a professional cleaner to clean it and buy myself time but ultimately this thing is wood, and it absorbed and got pretty passed the point of help. We just threw it away today unfortunately. It did help with smell and no one even knew it was a litter box, so I do kind of recommend it but just consider your cats habits and maybe get a spray to seal it or something before it's too late?
---
By Seriously on Feb 13, 2022
Absolute Junk.
The bottom board is pre-made so poorly that one predrilled whole is partially blocked. The factory glued the bottom piece together so screwed up that the item is impossible to assemble.
---
By Liana on Nov 2, 2021
Really Great Litter Box Storage
This box is absolutely fantastic. We bought it back in 2019 when we first adopted our kitties and we found ourselves needing a second litter box this year. Chewy is the only place it is available for a reasonable price. The reason I'm giving this 3 stars though is the drastic change in price this item saw in a matter of days. It went from over $200 to $120 that we bought it at PLUS there was a Chewy discount code so our total cost was even less. Another minor complaint is that the top wooden piece was shipped to us chipped quite significantly in the middle of the side edge. Overall, this fits the PetSafe scoop free litter box perfectly and we love it, but there were some concerns on this piece. We kept it because we really needed it.
---
By Jbiz on Dec 1, 2021
Love love love
This piece has been amazing to have and has reduced down the smells. Love that I can put the litter in the alcove next to it the box along with the other cat fixings. Took around an hour to put together, probably the most frustrating part of the process since instructions were not always clear but all in all worth it.
---
By Nate on Oct 19, 2021
Okay Product
The quality of this item is average, just not necessarily at the current price point. It was incredibly difficult to put together. I've been using it for about 2 weeks now and it works great for keeping odors down. The storage is mediocre and the whole is pretty small (though I have a very large cat so I'm not faulting the product on that one). Overall, I'm happy with my purchase though I have some issues with it.
---
By Natalie on Nov 13, 2021
Good, but…
I loved this piece of furniture and my cat took to it right away. After a while I realized my cat had been missing the litterbox every now and then (she's getting older) but recently there's been a horrible smell that I just can't get rid of. I deep cleaned everything, even moved everything out of the room and shampooed the carpet. It just kept getting worse until I realized the pee had been getting into the crevices and soaking into the particle board… Had to throw the thing out :(
---
By charliegirl on Sep 10, 2021
Great cabinet for 'public' litter stations
This cabinet was easy to put together (according to my DH) and it arrived in great condition. I'm wasn't sure my big boy would be able to get in through the door opening, however. I left the side door open to make it easy for both cats to find the litter pan and get in and out, and the pan had been used when I checked it this morning. However, I had planned to leave the side door open til they got used to it; didn't realize that it doesn't open. I'd like to suggest the design be changed to put that door on hinges, like the big doors. I'll give my cats a few more days using it and then try closing the side door and check out what happens. I had no problem scooping out used litter and it's nice to have it not visible and to have an enclosed space for the waste container and tools. This cabinet goes in my guest bathroom so I'm glad my visitors no longer have to gaze at the litter.
---