MidWest Critter Nation Deluxe Small Animal Cage
Frequently Bought Together
---
About This Item
Premium-quality habitat features an attractive gray-quartz hammer tone finish and half-inch metal wiring for safety and durability.
Spacious living area is ideally suited for rats, chinchillas, Guinea pigs, ferrets, sugar gliders and more; durable leak-proof pans help prevent food, water, pet waste or other debris from reaching the floor.
Full-width double doors feature "critter-proof" latches that open easily with one hand to provide maximum access for cleaning and feeding.
Adjustable shelf includes a ramp ladder with a soft, padded cover for added comfort and a more secure grip while climbing up or down.
Available as a single or double-stacked unit for even more room to explore or for housing multiple pets; assembly is fast and easy with no tools required.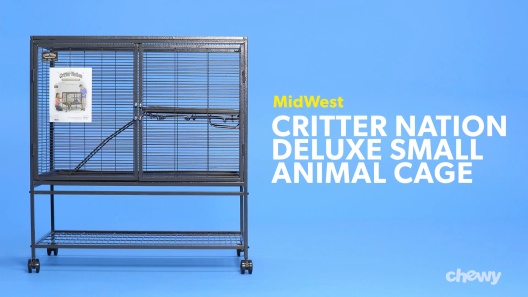 Learn More About MidWest From Our Team of Experts
---
Compare Similar Items
| | | | | | |
| --- | --- | --- | --- | --- | --- |
| | | | | | |
| Customer Rating | | | | — | — |
| Price | | | | | |
| Small Pet Type | Ferret, Chinchilla, Rat, Degu, Sugar Glider, Guinea Pig | Guinea Pig, Ferret, Rabbit, Chinchilla, Degu, Rat | Guinea Pig, Rabbit, Chinchilla | Guinea Pig, Rabbit, Chinchilla, Ferret | Rabbit, Chinchilla, Hedgehog, Ferret |
| Material | Coated Metal, Metal | Coated Metal, Metal | Stainless Steel, Plastic, Metal | Plastic, Coated Metal, Metal | Plastic, Coated Metal, Metal |
---
Questions & Answers
71 Customer Questions
---
how many rats can live in the single story?
Answer by • Jul 31, 2018
The general rule of thumb for rat cage size is at least 2 cubic feet of space per rat. This cage can hold around 3 to 4 rats.
---
Are the shelves metal or plastic? Our chinchilla chews through the plastic shelves so looking for something more durable
Answer by • May 21, 2018
This Cage has wide expanse shelves with full width plastic pan floors to provide maximum play area and to prevent dangerous falls.
---
What's the measurements of the pans?
Answer by • Aug 10, 2018
The pan measures 34 5/8" x 22 7/8" Inches.
---
would this be good for my guinea pig
Answer by • Aug 06, 2020
This multi-level cage is not suitable for guinea pigs. While some small animals enjoy climbing on multi-level platforms in the cage, guinea pigs generally prefer flat, open spaces. Guinea pigs tend to be scared of heights, and even a gentle ramp leading up to a second level may be too frightening for a guinea pig to attempt. For a Guinea pig, we carry the ""MidWest Cleo Guinea Pig Cage", the "MidWest Guinea Habitat Guinea Pig Home" and the "MidWest Wabbitat Deluxe Rabbit Home".
---
---
---
By Tnick3911 on Jul 19, 2022
Lots of work
This cage was the most time consuming thing I've done in one day. I had to take it apart 3 different times. One of the panels was broke so I had to unbend/ fix it. I was missing a few different pieces. Panel bars were bent. It's definitely a big cage, which I wanted. And fast shipping. But overall, plan on at least 2 hrs to put it together.
---
By Trevor on Jun 5, 2022
Overhyped.
I've heard nothing but good things about this cage before I bought it. It's quite spacious, exactly as advertised, and shipped in 2 days. Plenty of room for toys, hides, food bowls, etc. However, the box arrived in a fairly rough condition, with damage and dust. It was clearly stored in a warehouse for months before shipping. Some of the wire was bent slightly, though not enough to be unusable. The parts also struggled to go together in some places and were extremely difficult to build. There doesn't appear to be anything to hold the trays to the wire mesh, and there is a nearly 1 inch gap between the wire and tray on the upper floor. Some of the wire even has little sharp bits that poke out and may need to be sanded down. When I finished assembly, my fingers were coated in a black dust. I expect higher quality from a $300 product.
---
By Michelle on May 31, 2022
Great, BUT...
The cage is great. We are replacing an older one that we had bought used for our ferret, and figured that we should go with something familiar. The only issue was that many of the side pieces of the cage were difficult to place because of bent pegs that required tools to get them unbent. Either parts of the cage were not measured correctly or assembled correctly before packing. These were not issues caused by any sort of damage from travel. Other than that, the cage is sturdy once built, clean, and roomy.
---
By Alexis on May 25, 2022
Beware of bent parts
This is a wonderful cage, best of the market! It's just a shame the parts were bent. Luckily my husband took a hammer and bent some back to shape so it would ring the holes, but we shouldn't have to do this with something labeled as "no tools needed". It's not easy to assemble as one person and you will need another to hold things in place. Not to mention the instructions are printed in black and white and the pictures are blurry, dark, and unhelpful.
---
By DebH on May 27, 2022
Sturdy Cage
Our cage arrived in great condition, not bent or hard to put together. Took my husband less than an hour putting it together by himself. It is a very sturdy cage and perfect for our four young rats. I like the storage rack below it and sturdy enough to put things on top as well.
---
By Millie on Jun 9, 2022
Excellent Cage
Worth the price. It was easy to set up and allows maximum space for small animals. It also can be expanded upwards by adding sections which is a bonus. I highly recommend this cage
---
By Samm on Apr 14, 2022
Great cage, quick shipping.
Haven't gotten my rats yet, but the cage is up and ready. Much easier to put together with two people. We did have to bend a couple pieces slightly and used a mallet a couple of times but it went together nicely. I got custom scatter guards from pet revolutions to keep any debris from being kicked out of the cage.
---
By Victoria on May 15, 2022
Could not fully assemble cage
I could not finish assembling the cage. One of the side pieces were bent and would not fit into square slot. I was fortunate enough to have a spare critter nation and used a piece from that to finish it.
---
By Brianna on Mar 2, 2022
Would be perfect if it had borders... not best for untrained guinea pigs
The cage itself is a great size for my two guinea pigs. Even better that there's space underneath for storage. However, my guinea pigs kick the bedding out (along with their turds) all over the floor! There's no border around the cage to stop them from peeing on the wall and just kicking everything out. Maybe if you have potty trained piggies who use a box this would work. But mine just go as they please off the side of this thing. It's literally the perfect cage if it had some plastic or whatever around the side. Or maybe I just have very evil piggies, lol.
---
By Maddy on Feb 10, 2022
Bars break easily
I've had this cage for about 2 years and now and from the beginning the top of the cage has never fully closed which wasn't really a problem because my chinchilla is too big too fit through the opening but I do not recommend this cage if you plan on using it for a chinchilla or any other small animal that requires ledges. The bars are super flimsy and they break very quick. Ive had to move around the ledges in her cage about 3-4 times a month and I'm running out of places to put ledges so now I have to buy a new cage. Disappointed that with how expensive it was I have to replace it so quick.
---