MidWest iCrate Fold & Carry Double Door Collapsible Wire Dog Crate
By MidWest
---
About This Item
Designed with added security features to keep your pet safe, there is now a patented Paw Block and locking tips on the slide-bolt door latch(es) to create a safer, more secure home for your paw-tner!
Available in multiple sizes! If your pup's weight or measurements are on the higher side for this crate, choose the next crate size up. When in doubt, bigger is better!
This dog crate has protective rubber feet, a carrying handle and comes with a divider panel, and a durable, leak-proof plastic pan.
This portable crate is easy to assemble—you can set it up in just seconds with no tool required! Plus, it conveniently folds flat for travel.
The durable and strong, quality construction creates a secure place for your furry friend to den. This safe crate has proper ventilation, large door openings with low thresholds and patented rounded corner clips.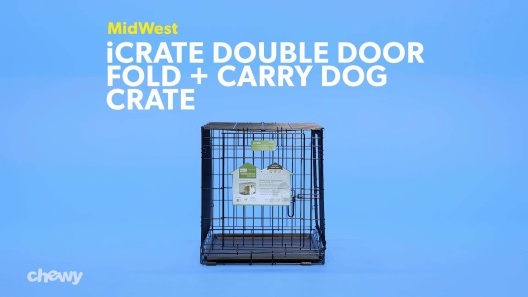 Learn More About MidWest From Our Team of Experts
---
Compare Similar Items
| | | | | | |
| --- | --- | --- | --- | --- | --- |
| | | | | | |
| Customer Rating | | | | | |
| Price | | | | | |
| Features | Collapsible, Divider Included, Double Door... | Collapsible, Divider Included, Double Door... | Collapsible, Divider Included, Removable Pan, Carry Handle | 3-Door, Carry Handle, Removable Pan, Divider Included, Collapsible | Collapsible, Divider Included, Removable Pan... |
| Material | Coated Metal, Plastic | Coated Steel | Coated Steel | Coated Metal | Coated Metal, Plastic |
| Breed Size | Medium Breeds | Medium Breeds | Medium Breeds | Small Breeds, Medium Breeds | Medium Breeds |
| Tools Included | No Tools Required | No | No | No | N/A |
| Assembly Required | Yes | Yes | Yes | Yes | No |
---
Questions & Answers
45 Customer Questions
---
How do you break down this crate after it's set up? Any Video demos?
Answer by • Nov 27, 2017
The crate can be broken down, by pushing in the two end pieces and folding the crate down, the same way when building it up. Attached is a video demonstration.
---
I have a cavalier king charles- he likes to sprawl when sleeping (9 months old). Is there any downside to getting a larger, 30inch crate? He does not have accidents in his crate
Answer by • Jan 30, 2018
Having a bigger crate can encourage puppies to pee in the crate, so we recommend the addition of a crate divider.
---
What is the width and height of the 30 and 36 inch crates
Answer by • Aug 14, 2017
The 22 inch crate measures 22 x 13 x 16 inches and is designed for pets up to 12 pounds. The 24 inch crate measures 24 x 18 x 19 inches and is designed for pets 11 to 25 pounds. The 30 inch crate measures 30 x 19 x 21 inches and is designed for pets 26 to 40 pounds. The 36 inch crate measures 36 x 23 x 25 inches and is designed for pets 41 to 70 pounds. The 42 inch crate measures 42 x 28 x 30 inches and is designed for pets 71 to 90 pounds. The 48 inch crate measures 48 x 30 x 33 inches and is designed for pets 91 to 110 pounds.
---
Does the side door open all the way back against the crate?
Answer by • Feb 06, 2019
When opened, the doors will not be completely flat against the side of the crate. It will open to approximately an angle of 150 degrees, not 180 degrees.
---
---
---
By DogTamer1 on May 15, 2022
Dog Behaviorist & Trainer
First of all, the poor quality of these cages is NOT Chewy's fault. These cages used to be durable and built sturdy. Not anymore. MidWest iCrate must have changed manufacturers to increase their profit margin. Unwise, if so. The super deal on two should have tipped me off but I trusted their name as I have used their cages for almost 14 years as a professional Dog Behaviorist & Trainer. The cages I received are very flimsy and have to be zip tied to prevent collapse if you should, lord forbid, lean on one. The cage floors are simply the WORST. Thin, cheap, they even arrived looking slightly warped, and crack very, very easy. I bought 4 cages. One even arrived with a cracked cage floor and Chewy saw to it that I received an entire new cage, no charge. Chewy is the BEST. Unfortunately iCrate MidWest is letting both Chewy and its customers miserably down with these new cheap version cages. All of the cage floors have now cracked after their first canine occupants used them and the dogs were not abusing them or acting out in them at all. I had to buy several rolls of gorilla tape to salvage the cage floors. I carefully and tediously criss-cross taped the entire span of each floor, front and back so no further cracks will happen but I just think that's pretty lousy that I had to do such a thing. iCrate MidWest, what in the world???
---
By Lori on May 7, 2022
More than impressed!
I've used iCrates for years and have found them to be a quality product so when we needed a new crate for a larger dog I automatically checked them out again. Not only did I find exactly what I was looking for here at Chewy but it was on sale for a GREAT price. Turnaround time was also great and the crate arrived within 3 days!!! UNFORTUNATELY, the plastic tray that forms the floor of the crate was cracked in two places... But that's where the story gets really good!! When I called Chewy's customer service I talked to an AWESOME rep who arranged for a new crate to be delivered as a replacement (it got here within two days!!!!!) AND asked that I donate the damaged one to my local animal shelter instead of going through the hassle of returning it!!!! WOW, WOW, and DOUBLE-WOW!!!!! Chewy, you have just earned a customer for life!!!!!!!!!
---
By Heyitsmjw on May 15, 2022
It's Great but...
It's a great crate. We love the divider and that it grows with the puppy. My only complaint is that the locks on the door are very loose and easy to unlock. My 16 month old son figured out how to unlock the crate. He and the puppy love that he can just go over and unlock it whenever, but.... Lol If you get it and have little kids that you don't want opening the crate, I would keep an eye on it or put something in front of the door so they can't do that. :)
---
By KImO on Apr 30, 2022
I'm beyond frustrated
I'm so incredibly disappointed. First another online store and now Chewey sends me the older model of a crate, instead of the improved and safer one. I don't care how many of the older models are in stock. I should have received the one that was advertised, the one with the patented paw guard and curved door bar. I should have checked out the return policy. I hope I won't have to pay to send the wrong item back.
---
By MomOTrace on May 17, 2022
Great crate
Quality is excellent thus far. Perfect size for my 60+/- dog. I love the 2 door options. I do need to move the crate and that's extremely helpful. To me, worth the extra money. I highly recommend this crate.
---
By NancyTM on Mar 25, 2022
It does the job
My 10-lb dog had disc surgery and is on crate rest for a month so I have become The Crate Queen- there's one in all the places I spend time in my 2 story house. This is the smallest one, he sleeps in it on my bed where he is used to sleeping. Due to having two doors I can easily position it so I can reach in and pet him while I read in bed. It is sturdy and right for the purpose.
---
By Mojo on Mar 6, 2022
Wish it had arrived on time
I'm confident it's a good product, but we never took it out of the box. I ordered it on a Wednesday night as soon as I found out I would be picking up our new rescue the next day. Unfortunately the crate didn't arrive until the following Tuesday, and by then Lucy had taken over our bed and our other dog's bed. I borrowed a crate when ours didn't arrive, and she hated it. After 4 hours of crying (the dog, not us) my husband gave up and let her out. So, we have a new crate still in the box.
---
By Boxermom on May 5, 2022
Great crate
I am very satisfied with this crate from Mid West. I was looking for one with a side door and this one works perfectly. Its light weight compared to my other crate!
---
By CrazyDogMom on Apr 2, 2022
2 doors adds flexibility
Nice crate. The 2 doors provide flexibility for placing the crate in different places. I purchased a wood topper and base on Etsy so I can turn this crate into a night stand. Can't wait to see the finished product.
---
By Newdogowner on Mar 21, 2022
Easy set up - but ours came bent making it hard to use.
This crate seems great. Setting it up and taking it down takes less than a minute. Lightweight, but strong. Unfortunately ours came bent. The side door opens easily, but the front door is very difficult to open and close. Bummer!!
---