Mighty Paw Poop Bag Holder
---
About This Item
Zippered pouch holds a roll of poop bags, while leaving space for keys, money, treats, or a backup bag.
Securely attaches to a leash, belt, or harness with two fuzzy fastener straps, with an easy access slot to pull out bags one at a time.
Made with weatherproof material and durable hardware that is extremely easy to clean.
Equipped with an easy-clip carabiner to attach a training clicker or your keys.
Comes with one roll of potty bags so you're ready to start dog walking immediately.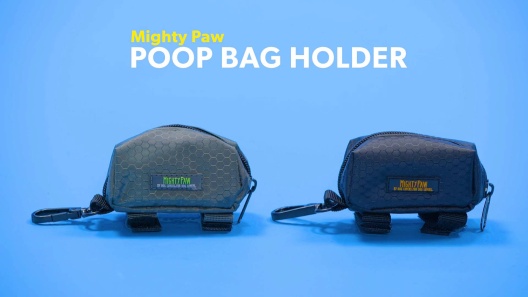 Learn More About Mighty Paw From Our Team of Experts
---
Compare Similar Items
| | | | | | |
| --- | --- | --- | --- | --- | --- |
| | | | | | |
| Customer Rating | | | | | — |
| Price | | | | | |
| Material | Polyester, Synthetic Fabric | Nylon, Synthetic Fabric | Neoprene, Rubber | Nylon, Synthetic Fabric | Canvas |
| Breed Size | N/A | N/A | N/A | N/A | N/A |
| Potty Feature | Unscented | Unscented, Leash Attachment | N/A | N/A | N/A |
| Lifestage | Adult | Adult, Puppy | Adult | Adult | N/A |
| Pattern | — | N/A | — | N/A | — |
| Scent | — | N/A | — | N/A | — |
---
Questions & Answers
5 Customer Questions
---
Does this holder fit on the handle of a large retractable leash?
Answer by • Jan 28, 2021
This poop bag holder easily attaches to the leash, your belt, or even the dog's harness with two durable fuzzy fastener straps, and the durable material is totally weatherproof and designed to last.
---
Can you use any brand of poop bags with this dispenser?
Answer by • Feb 06, 2018
Any brand will work as long as they are small enough to fit. The measurements are 5 Inches in length, 3 Inches in width and 2 Inches in height.
---
Where is it made? Country of origin?
Answer by • Oct 19, 2021
Mighty Paw is an American owned and operated company based out of our hometown of Rochester, NY where the products are designed and quality tested. They have several manufacturing partners with the majority of production in a state of the art facility in Dongguan, China. While they do have strategic partnerships overseas, all of their warehouses and operations are located right here in the US.
---
What are the measurements of the Might Dog Poop Bag Holder
Answer by • Jun 16, 2021
This Poop Bag Holder measures 3.5 Inches in length, 2 Inches in width and 2 Inches in height.
---
---
---
By Sarah on May 9, 2022
Functional holder with one issue
HThis poop bag has a clip & velcro to attach to different types of leash/fanny bags, etc. It has been washed and dried due to poopy accidents and have withstand well. However the zipper does open slightly after a period of time. Not enough to allow bags to fall out.
---
By Dogmama on Jan 26, 2022
Not user friendly!
The bags were very hard to pull out of the holder and kept having to open up the zipper to get one out. Not good when you have a dog on the other end of the leash!
---
By Josh on Oct 30, 2021
A 'Tear'abble Product
We purchased the Mighty Paw Poop Bag Holder as the free one we received with our poop bags had worn so much that it broke. Unfortunately as soon as we received this we noticed that the hole where the bags come out of was beginning to tear. Now we're stuck with a gaping hole that the bags just fall out of. Pretty unbelievable because the company says they're indestructible!
---
By Teen on Sep 28, 2021
Almost great.
This item has many pluses like securing flush on the leash handle so it doesn't jiggle around and having extra room to have treats and house key. There is one thing I don't like. The pouch is a little to roomy and when the bag roll starts getting low the bags get stuck since it twists around. So you have to unzip the pouch and pull the whole roll out. I've tried a few different types of bags. You need a really big roll or to stuff other things in there to keep roll in place. I had another one before this that functioned better it a shame the dog chewed it up.
---
By Jenz on Mar 10, 2022
Excellent quality!
This bag is very nice quality and should last several years.
---
By disappointed on Sep 10, 2021
Not user friendly
Doesn't attach well to most leashes. I don't wear pants with belt loops. Hard to pull bags through the hole. The bag it came with is thin and flimsy
---
By unikkomama on Jul 23, 2021
13 wk lab puppy tore it in less than 3 seconds
Was hopeful for this, but our 13 wk old lab puppy got a hold of it when I accidentally left the leash dangling from a table and tore through the fabric in less than 3 seconds within a week of it arriving. Otherwise, size and design are nice. Sigh.
---
By greyhoundMike on Apr 8, 2021
Best poop-bag holder ever!!
The Mighty Paw Poop Bag Holder is unique in its soft design. There is ample space inside for even the largest role of bags. There is a perforated grommet at the top of the bag that holds the next bag ready for you to use. Two relatively heavy-duty Velcro straps hold the bag to the leash and a light plastic snap-hook can be used as an alternative means to fasten the bag to your leash, or, as the picture shows, provide a way to clip the bags to your keys. I used the Velcro straps, one inside the loop handle of the leash and one just after the stitching to keep the bag from interfering with my hand in the loop. I can see where the Velcro will eventually wear out, and if the bag holder is still intact, I'll probably use a standard keyring in the loop for the snap-hook to continue to use the product. That said, I would definitely buy this product again. I have a problem with holders that are made of hard plastic that are too small for new roles of bags, or soft rubberized plastic that the bags stick to. My one item on my wish list is that Mighty Paw would replace the perforated plastic grommet with a standard grommet made with base metal. It would be cheaper to produce and would make loading the bags easier. I don't need something to create friction while dispensing the bags and trying to get that first bag through the perforations is a pain.
---
By klgoogs on Apr 29, 2021
Best one Ive owned yet
This one is great! I added a key ring to connect to the leash and use the Velcro straps. Fits two rolls plus my keys. The hole to pull the bag out is a little tight, but I assume will loosen with time.
---
By Annette on Mar 1, 2021
Fell off after two days
I bought two of these for each of our dogs' leashes. On the second day of use, my husband came in from walking the dogs and said "Didn't we have two? I thought you bought two of these? Why is there only one?" One had fallen off while he was walking the dogs, and he had to go back out to retrace his steps (he did find it). It's a nice idea with the velcro, but it's not practical. We will have to secure it with a cable zip-tie via the plastic loop.
---