Nature's Miracle Just For Cats Advanced High Sided Cat Litter Box
---
About This Item
High wall design keeps your kitty's litter from finding its way out of the box.
Non-stick surface eliminates litter caking and buildup and makes cleaning fast, simple, and hassle-free.
Antimicrobial coating prevents bacteria from forming inside your cat companions litter box.
Large enough for multi-cat households but can also be used by a single furry feline friend.
Open litter box design makes spot cleaning easy and is purr-fect for cats who prefer easy access to the litter.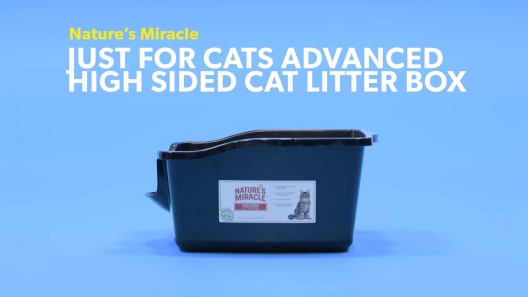 Learn More About Nature's Miracle From Our Team of Experts
Related Items
For Odor Control Charcoal Filters: [Click Here][]
---
---
Solutions You Can Trust
Because pet ownership comes with its share of messes, cleanups and challenges, Nature's Miracle is the answer to your prayers. Offering everything from products that keep both your home and your furry pal clean, to sprays for common behavioral issues, Nature's Miracle is rooted in solutions that are safe, effective and gentle.
Home Sweet-Smelling Home
Nature's Miracle proves that you can have a pet and a clean, fresh-smelling home too. While accidents are inevitable, whether it's a new pup that's training or a kitty that ate something disagreeable, they offer a variety of odor and stain removers that quickly work to save your furniture and floors—as well as your nose.
Well-Groomed
Since a clean home starts with a clean pet, Nature's Miracle has everything you need to keep your little buddy's skin and coat in tip-top shape.
LATHER UP
Working to clean, condition and even soothe the skin, there are plenty of shampoos suited to your pet's needs.
SAVE WATER
Skip the bath and freshen them up with Nature's Miracle's deodorizing sprays and wipes. It's perfect for dogs who prefer to stay dry!
Mind Their Manners
Sometimes your little angel needs a little help in the training department, so consider Nature's Miracle your obedience school in a bottle. From sprays that discourage marking and scratching to sprays that help calm and control anxious behavior, you're just a few spritzes away from a peaceful home.
FOR THE CATS: Give the ruler of your kingdom a worthy throne with the best selection of litter boxes. Including disposable, covered and even corner options, Nature's Miracle is equipped to meet both of your needs. They also have an impressive lineup of litters, plus a litter caddy and liners to keep it all fresh.
FOR THE DOGS: Keep your yard—and your neighbor's yard—clean with Nature's Miracle's handy poop bags and poop scoopers. They're designed to make cleanups quick and mess-free, so you can go back to focusing on the fun stuff.
About Nature's Miracle
Nature's Miracle has a motto that whatever your pet can do, they can undo it. Recognizing the importance of giving pet parents a safe and effective way to clean up after their furry children, they started with just a single carpet-cleaning product. After great success, they expanded their lineup, and today they're a go-to source for keeping your home and your pets spotless.
Shop Nature's Miracle
---
Questions & Answers
19 Customer Questions
---
What it the height of the front entry lip? My cat has arthritis so need a box with an entry no more than 4". Thanks
Answer by • Jul 04, 2021
The overall dimensions of this litter box are 22.8 inches long by 17.8 inches wide by 11 inches tall. For the entry, the lowest point of entry measures 5 inches off the ground while the highest point of entry measures 9.5 inches off the ground.
---
Is the height 11 in all the way around (with the exception of the entrance, of course), or does it slope down on the sides towards the front?
Answer by • May 24, 2019
This litter box does have a slight slope at the front.
---
Does this litter box have a completely smooth, even bottom, no ridges or rough spots that make scooping difficult?
Answer by • Mar 23, 2020
The bottom of the litter box is smooth.
---
Does soiled litter stick to this litter box?
Answer by • Aug 16, 2018
This litter box features a Non-stick surface that eliminates litter caking and buildup, making cleaning fast, simple, and hassle-free.
---
---
---
By Nope on May 17, 2022
Not good for large cats
Bought this because of its size. The dimensions aren't listed correctly. The box is more like 21x15x11, with a 3" opening/entrance. Too small for my large boys. The opening is also too low. They can easily scoop the litter out, and they do! I've had the box 24 hours and have cleaned up numerous messes due to this. The box is not nonstick either. Urine from just a couple hours ago is stuck on like mortar. Lastly, because it's too small, larger cats end up stepping in their own waste and then tracking it all over. I cannot recommend this box to anyone with a large cat. May be fine for kittens.
---
By DebN on May 7, 2022
Chewy shipping fail
I like these Nature's Miracle litter boxes. They're large enough for my bigger kitties. This review is more for the shipping of the litter boxes. I ordered 2 of the corner litter boxes and 3 of the N.M. rectangular litter boxes. The corner boxes were put in one shipping box each. And the rectangular litter boxes, 2 were placed in one shipping box and the third was placed in a separate shipping box. Seriously Chewy?! Are you trying to waste shipping materials? You're doing a good job at it if you are. I tried it out and ALL 5 boxes fit into one of the shipping boxes that the corner litter boxes were shipped in. This is how they should have been shipped. Oh, and I checked the distribution center they all came from; they were all shipped from the same distribution center in Goodyear, Arizona. All shipped the same day/time. You need the train your packaging and shipping employees better. Perhaps have them play Tetris to train them. (I uploaded photos but not sure if they'll show up on review)
---
By GretaR on May 18, 2022
Poor sizing
I purchased this as I was told it would fit the Nature's Miracle JUMBO size disposable litter boxes. I ordered both the JUMBO and the regular disposable litter boxes, and neither fits inside this plastic box. The Customer serviec rep with Chewy was "Oh that's too bad" but would not accept it for return. One would think the size would be consistent with one of their litter box sizes.... It's too big to place a small box insude, and not large enough for the next size (Jumbo). very disappointing
---
By Mikey4ever on Apr 23, 2022
Kitty approves
I've always made litter boxes from storage containers, however, I decided to save myself some muscle work and just order a high sided litter box. I was initially a bit concerned before ordering because the storage containers have been 15" in height. Kitty had no trouble adjusting to the 11" height box, she took to it immediately. It's a fine box, I only wish there were other colors available besides black.
---
By johanna on May 12, 2022
Best of all
I've purchased many litter boxes. They weren't big or tall enough. The 2 piece ones were harder to clean and urine falls into the separate pieces. The pieces never fit together well.This one is tall enough, big enough and very easy to clean. In my opinion, the best of all.
---
By NanD on Mar 29, 2022
Perfect solution
We recently adopted two BIG male cats and found that our usual litter boxes did not keep their urine contained! This litter box has been the best solution for litter box station #1, which is in a narrow closet. While not as high sided as the large Frisco Leaf High-Sided cat litter box (which would have been my first choice, but didn't fit) it is smaller and more rigid and I can turn the box sideways to fit into the closet. Although the cats do spill some litter out the front, that is way easier to clean up than the uncontained urine! Litter box is sturdy, expect it will last for a long time.
---
By LKCMom on May 20, 2022
Perfect litter box!
This is, without a doubt, the best litter box for my 15-lb. long-haired siamese cat. I use Exquisicat micro crystals...everything stays in the box. As long as they continue selling this litter box, I'll be buying it!
---
By Cindy on May 7, 2022
Not for big cats after all
all they did is step in thru the lower entry, squat and pee. about half the time on the lip itself. then when they tried to cover, the litter got kicked right on the floor. had to order extra large with no lower entry. will try to back but sure they will take.
---
By Belle on May 20, 2022
Purrfect Solution!
My messy kitty was kicking litter all over the floor and peeing over the edge of the traditional litter box. This taller, larger box was the answer. Happy kitty, happy kitty mom!
---
By DDDD on Apr 3, 2022
Would be good but...
Sides are high which is great, width kinda narrow but will see .... however the enter drop area is SOOOOOO low the litter gets kicked out badly. Gotta figure out how to block this now... Tape? no litter will stick... Cardboard and tape??? not sure but hopefully will be able to block this area.
---