Nature's Miracle Skunk Odor Remover, 32-oz bottle
Frequently Bought Together
---
About This Item
Fast-acting formula breaks down the oils sprayed by skunks on contact to remove odor.
Helps to neutralize and removes tough skunk odors throughout the home and on household fabrics.
Freshens with a citrus scent.
Tough on odors and doesn't mask them.
Safe for pets and home when used and stored as directed.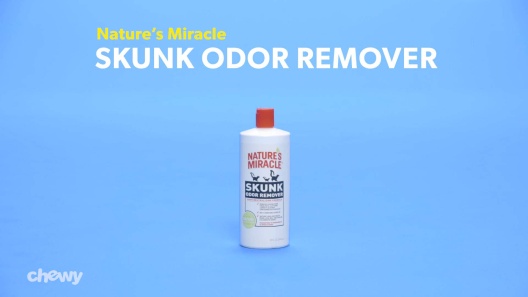 Learn More About Nature's Miracle From Our Team of Experts
---
Compare Similar Items
| | | | | | |
| --- | --- | --- | --- | --- | --- |
| | | | | | |
| Customer Rating | | | | | — |
| Price | | | | | |
| Autoship | — | | | | |
| Top Ingredients | Water, Bio-Enzymatic Odor-Lock, Oxygen Boosters... | — | Purified Water, Nonionic Surfactant Blend, Lanolin... | — | Purified Water, Titanium Dioxide, Sodium Tripolyphosphate... |
| Lifestage | Adult | Adult | Adult | Adult | Adult |
---
Questions & Answers
16 Customer Questions
---
Can I leave this on my cat? I know he won't tolerate rinsing and shampooing
Answer by • Sep 02, 2017
The instructions should be followed accordingly for this product. It should be applied to the pet and allowed to sit for 5 minutes. Afterwards apply shampoo and then rinse off.
---
The key benefits say non skin irritating and safe on dogs and cats but the precautions say dont apply directly to pet??
Answer by • Oct 16, 2017
Nature's Miracle instructs to apply the remover saturated on a cloth. Do not pour the remover directly on your pet..
---
Can you put this product on dog's head? Is it harmful if it get in their eyes?
Answer by • Jul 02, 2018
The product can be applied to all affected areas and undercoat. For face area, apply with a cloth saturated with Nature's Miracle Skunk Odor Remover, avoiding eyes, nose, mouth, and ear areas.
---
Can this be put in a spray bottle to spray the carpet on a trucks inside roof?
Answer by • Apr 03, 2018
This odor remover can be used on carpets, clothing, floors and other surfaces. We recommend spot checking the area before applying to the entire carpet.
---
---
99 Customer Reviews
---
Filter by reviews that mention
---
By Debbie on Nov 11, 2022
Best Stuff Ever
This is easy to use and really works. I live in the country and my dog likes to harass the black & white kitties. You just wet the dog with this, let it sit for several minutes and wash as normal.
---
By Helena on Nov 13, 2022
Was happy with purchase
My chihuahua still had some of the skunk smell still on him after the tomato juice bath. After using this product the smell was gone.
---
By furmomma16 on Mar 23, 2022
I want to give a fair review ...
After my German Shepherd was sprayed by a skunk I ordered this with high hopes. I gave her a bath and followed the directions and followed with washing with her normal shampoo. The next day I noticed she still smelled terribly. I gave her another bath with this skunk remover and followed again with her shampoo. Next day - she still smelled but not as bad ... It's been a couple weeks and the smell is going away on its own but is still there. I wouldn't use this again if she was sprayed - I'd look for something else. This product says you can use it to wash blankets etc but I didn't so I can't give a fair review of that. So 3 stars - giving the benefit of the doubt when it comes to washing linens.
---
By Allison on Apr 6, 2022
This REALLY works !
I live in a rural area where my 5 year old English Shepherd roams freely. But with that freedom comes the occasional encounters with skunks - about once a year. We've been using this product for a few years and it REALLY works when used as directed. I won't use anything else. The scent of the product is even pretty nice too. I highly recommend this item over any other method of skunk odor removal.
---
By Corgigirl on Dec 22, 2021
Works on Cat Urine and Coon Poop
Although a questioner is told this product is not for cat urine, we had great luck with it cleaning our pickup's upholstery and carpet when we mistakenly left our windows down and feral cats got in it overnight and sprayed, peed, and pooped. What a Miracle it was!! Also, we live on a creek with frequent raccoon visits. Our dogs love to roll in coon poop (yes, GROSS!). For 20 years now, we've depended on this product for cleaning and deodorizing their coats. I've always just saturated several old wash cloths, wiped them down, and let them air dry.
---
By PugMom on Oct 16, 2021
Highly Recommended to Deskunk Your Pooch!
Our Belgian Malinois got sprayed by a skunk in our backyard last night. First time my husband and I ever had to deal with this situation and man oh man let me tell you…the stink was completely overwhelming and penetrated everything. Our dog and our house smelled like skunk so bad I was gagging. My husband rushed to the pet store and bought this product. We bathed our dog once with this product and then followed it up with a regular bath. Woke up this morning and the smell on our dog is so faint, it's barely noticeable. I'm amazed and so pleased!! Given how bad our dog smelled I thought for sure there was no way this product was going to work after only one application, but it did!! I would highly recommend having a bottle of this stuff on hand if, or when, your dog gets sprayed.
---
By Leee on Jan 23, 2022
Direct hit with a skunk and in the face.
Great stuff. Soaked his collar and crate with this. It really helped. It was a bad experience. He had the skunk in his mouth.
---
By Joye on Aug 2, 2021
IT WORKS!!
My dog got sprayed in the face at 2am while at a friends house!! The odor flooded the house as well as my pup!! It was pungent!!! We went to to the store and could only find this brand! So we grabbed 3 bottles!!! Let me tell you it works!!! I washed my dog 2 times!! And the smell was gone!!! We used it on our clothes, the upholstery, and even my own hair!!! (no it doesn't bleach your hair) You couldn't even tell a skunk sprayed!!! My dog smelled like a perfectly bathed pup besides the smell in her mouth! I totally recommend this product!!!! It doesn't smell!! It smells like lemon or pledge!!! I HIGHLY RECOMMEND!!!!
---
By SalemLab on May 30, 2021
Saved us!
Friday night at 11pm my Lab was skunked. Great way to kickoff Memorial Day weekend. While friends swear by the "peroxide, dish soap, baking soda mix," I have always loved Nature's Miracle products and knew that I'd want something to mop the floors and maybe use to pre-treat his bedding even if the "home mix" worked to bathe him. For context, I couldn't I bathe him til 12 hours later so the skunk oil really seeped into him. I legitimately said a prayer as I wrestled my dog into the tub, put on gloves, saturated him with this, and used a face cloth to wipe it on his nose, forehead, and neck. Massaged it constantly for 5 minutes, him howling entire time. Didn't rinse; applied his doggy shampoo, left that for 5 minutes and double-rinsed everything. As he was drying I kept sniffing him: smelled clean, no skunk. Also used this, undiluted, to mop the wood floors, wipe the bars of his crate, and pre-treated his crate pad, collar, and leash with a 10-minute soak. Then threw everything into the washer. There was one tiny area of his collar that needed a second treatment but everything else has no skunk smell. Thank you, lord! If you've used NM products you know they leave behind a very light scent (almost lemon-y), nothing too strong. I just ordered a back-up bottle because ideally of this happens in the future, I'd like to bathe him immediately. Grateful for this product and its many uses; hope my review helps pet parents.
---
By Jacquie on May 31, 2021
THE BEST!!
We have tried all the home remedies and had alright results with some. I bought this as a "back up" and just a couple days later my Yorkie got sprayed right in the face. It was 3:30 AM so we tried this product since it is used straight from the bottle (convenience) and it worked faster and better than everything else. This product has the smell completely gone in the first wash!!
---