Neko Flies Foxifur Kittenator Cat Toy, Foxifur Kittenator Mouse
List Price:

$16.29

Price:

$11.39 FREE 1-2 Day Shipping over $49

You Save:

$4.90 (30%)
Description
Already have the rod? The Neko Flies Foxifur Kittenator Cat Toy gives your feline friend another option of prey to pounce. The Foxifur Kittenator mouse has an extra furry body that's just begging to be swatted, jumped on, and bit every time you make it come to life by pulling on the string. The attached 41-inch string has a swivel clip attachment, making it simple to connect to the Neko Flies Rod, sold seperately.
Key Benefits
Aerodynamic, realistic, engaging & eye-catching
Wide, shiny, iridescent wings help produce the unique gliding movement
A great way for your cat to exercise, keeps indoor cats active with feathers they love to chase
Dangly legs, tail hairs and body in colors your cat can see
A satisfying catch which will repeatedly excite your cat's natural hunting instincts
Item Number

57662

Brand

Neko Chan

Lifestage

Kitten
Pet lovers also bought...
Customer Reviews
Rated

4.6

out of

5

 by

39

reviewers.
Rated

5

out of

5
 by
BrooklynJen
They loved it
My 3 cats have had a few Nekko fly toy attachments before this one, but this was definitely one of their favorites, especially for the cats who like to chase things moving on the ground.
January 2, 2017
Rated

5

out of

5
 by
Meggo
Favorite toy yet!
My cats go CRAZY for this toy! My little 6lb kitten turns into a growling, hyperactive "predator". She jumps, chases, and pounces on the kittenator until she's panting. She's never ready to stop playing. The only time she's ever broken into a cabinet, she ignored huge bags of cat food and treats and went right for her toy. She's in love! When she's done playing, she picks it up and walks around with it like it's her prized catch of the day. My older kitten is a little over a year, and he enjoys it as well (though definitely not as much). He seems to have gotten bored with his other toys, so this new wand got him moving again. Right out of the box, he was leaping and tearing around after it. Seems sturdy so far. It's holding up through our frequent tug-of-wars with the kitties.
September 2, 2014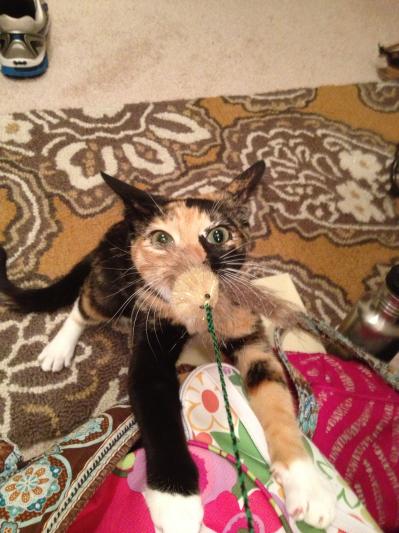 Rated

5

out of

5
 by
heather
Her favorite Neko Fly
My 16 month old cat loves all of the Neko Flies, but the foxifur Kittenator is her favorite. When it's time to play with her Neko Flies she is so excited that she makes little chripping sounds. So cute. I don't have to concern myself that the toy is unsafe in any way, they are very well made. As other reviewers have said I would also like the wand a little longer. Thank you for an exceptional cat toy.
April 17, 2016
Rated

5

out of

5
 by
BrentonN
Both cats love it
This is the only toy that both my cats will play together. Awesome purchase. Will be looking for more like it.
May 21, 2016
Rated

5

out of

5
 by
HipCat
My cat begs for this toy
It sounds odd I admit, but my cat literally begs for this toy. She will come up to me and meow and paw at me until I get it to play with her. I keep it in the closet because if I don't she carries it around in her mouth (pole attached and dragging behind her). We now have to have a play session every night with this toy because she enjoys it that much. I got the toy for my younger cat, but since getting it even our 13 year old cat likes to join in and stalk it. Something about it just drives them nuts. I did just reorder a replacement because the cord got chewed through after I accidentally left it out one night, but I doubt most people will have that problem since my cat is apparently insane.
January 9, 2014
Rated

3

out of

5
 by
Rachel
We LOVE Neko Flies toys, but..
this just didn't hold-up very well. For an attachment to a toy that costs more than some full wands with attachments included, it should last longer than 6 weeks. The furry thing had a little metal loop securing it to the string. The little metal loop completely broke, and it's impossible to reattach it.
April 28, 2016
Rated

5

out of

5
 by
2Furry
More fun than a dead mouse
I ordered the Neko rod and Foxifur Kittenator. It arrived unbelievably fast. How did the cat know the big box it came in was for her? She followed me as I carried the box. I just took it out of the package and she was jumping for it. Yow... after I got it together it was amazing how high she kept jumping for it, then followed me as I tried to put it away. She has other such toys, but never a response like that. Even with the cat dancer. If that level of fun continues, I surely will be ordering the other attachable bugs for the rod. It is a tad expensive for a toy, but hey, better one good one than 5 less expensive ones just laying around. I will post back later if this enthusiasm continues.
February 7, 2015
Rated

5

out of

5
 by
Pualani
Wonderful toy!
The first Neko Flies we purchased was the Kragonfly, and our cat loves it. Then we purchased the Foxifur Kittenator, and he loves it too. Whenever he hears the sound of the ziploc bag that we keep them in being opened, he is right there, eyes big, and ready to play!
April 18, 2016