New Age Pet ecoFLEX Litter Loo & End Table
---
---
Try This Similar Item By Chewy
---
Frequently Bought Together
---
About This Item
Doubles as a real, functional end table and litter box in one stunning design.
Made from eco-friendly, recycled material with sturdy, double-walled construction.
Will never split, crack, warp or even absorb moisture if your cat misses. Just wipe away messes!
Features a cut out for cats to easily access the litter box while keeping it out of sight.
No tools required for assembly! Easily cleaned with a mild detergent.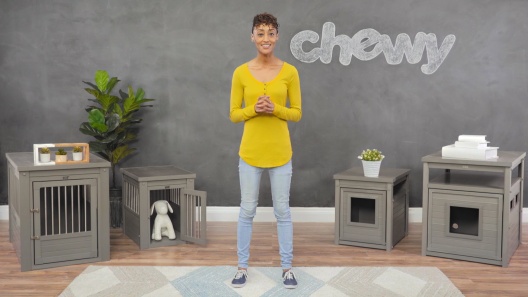 Learn More About New Age Pet From Our Team of Experts
---
Compare Similar Items
| | | | | | |
| --- | --- | --- | --- | --- | --- |
| | | | | | |
| Customer Rating | | | | | |
| Price | | | | | |
| Furniture Features | Modern | Modern | Modern, Condo | Modern | Modern |
| Furniture Frame Material | Engineered Wood, Wood | Engineered Wood, Wood | Engineered Wood, Wood | Plastic | Engineered Wood, Wood |
| Height Range | N/A | N/A | 30 inches & under | N/A | N/A |
| Tools Included | No | Yes | Yes | No | Yes |
| Number Of Condos | N/A | N/A | 1 condo | N/A | N/A |
| Furniture Mount Type | Free Standing | Free Standing | Free Standing | Free Standing | Free Standing |
| Assembly Required | Yes | Yes | Yes | Yes | Yes |
---
Questions & Answers
39 Customer Questions
---
I live in a small apartment and have a limited amount of space. what are the exact dimensions of the box itself?
Answer by • Nov 05, 2018
The overall dimensions for the Standard are 23.6 x 18.5 x 22 inches and the Jumbo measures 30 x 24 x 28.9 inches.
---
Is it possible for you to recommend a litter on that fits inside this? Looking to maximize the length of the pan. Thx.
Answer by • Feb 21, 2020
The recommended litter box size for the Standard is 19 by 16 inches and the Jumbo is 26 by 20 inches.
---
how does it open for cleaning?
Answer by • Nov 08, 2017
This product features a flip down front for easy access making it easy-to-clean, pet urine simply rinses off and doesn't soak in. Just wash down with a damp cloth.
---
does it have a spot for filters to help control odor
Answer by • Sep 14, 2017
The New Age Pet ecoFLEX Litter Loo & End Table does not include a function for filters.
---
---
---
By Yenni on Jun 8, 2022
Finally No More Litter Toes
Not going to lie it took me a while to buy this I had been eyeing it but I wasn't sure I really needed it but after maybe a month the smell started coming in and my nose was way too stuffy for me to leave her litter box opened so I finally used paycheck and bought her a Hidden litter box. Let me tell you it looks really nice and clean and I'm hoping that the smell will be more controlled I won't lie I did just assemble it and it took me a minute because it was a little confusing but it wasn't really the instructions fault you kinda just gotta trial and error it, but there isn't a lot to mess up with, thankful they gave an extra screw for both sizes. Added a picture of me as I was assembling it and Yenni finding out it was for her :,)
---
By Jeam09 on Apr 17, 2022
Great idea, not the best executed
I was looking for a litter enclosure that would fit my boy's extra large size stainless litter box and give him head room, and this seemed the most likely to fit the bill. His box does actually fit (thank goodness), but I'm very disappointed with the state of the pieces. Almost every single piece had multiple scratches and damage, but the packaging was so damaged at delivery that there's no way to return it (plus it fits the big litter box, which seems to be a challenge). I'm disappointed that I spent as much as I did on a damaged item. I will definitely need to paint this once I'm sure my boy will use it in an attempt to cover up the damage. Also, after reading about others' issues with the bottom seams, I'll probably just pop some shelf liner and/or caulk at the seams to keep out any accidental messes, easy fix for the one big design flaw.
---
By 0915BL on Jun 7, 2022
Condo Litter WIN
Bought this over two years ago, moving into a city condo with two big house cats. We only have this one litter box. The enclosure is large enough to accommodate a large plastic tub (we cut out the front of a $8 plastic bin so the cats can enter). A regular low side litter box didn't work when they peed over the edge - it's inconvenient to clean the enclosure when that happens. Anyway, this enclosure great, it hides the litter but is ventilated, and created an additional surface. And it looks okay in an open room. Best solution we've had yet.
---
By catlover on May 2, 2022
A pain to clean
While very pretty and easy to construct, cleaning it was a hassle. My cats on occasion would pee outside the pan and kick their litter out to cover it too. This caused both pee and litter mush to seep into the crevasses of the structure. Many times I had to deconstruct the box to properly it. If you do get this container I'd recommend: A. Putting some waterproof mat down to prevent messes from ruining the box B. Getting a litter pan large enough to fit inside the box w/o gaps.
---
By Molly on Apr 30, 2022
Kind of ugly, flimsier than expected
Well, it was pretty ugly and flimsier than I expected. More cardboard-y than ikea furniture particleboard-y. It was also much bigger than I thought it would be, but that's on me for checking photos for reference and not measuring my own space. I'm also annoyed because I'm having issues returning it--chewy scheduled a fedex pickup for me but apparently it's not showing that fedex picked it up, so now i'm having issues getting my money back.
---
By catlady4 on Apr 6, 2022
Happy overall
Happy with my purchase. I have 1 cat and wanted a discreet litter box for him. I like the plastic like material, it's easy to wipe down and keep clean. Assembly was a bit of a pain, one of the pieces didn't line up exactly so some force was required to finish it.
---
By Steph on May 21, 2022
Puuurrrrrrfect!
This is even better then i was expecting. I like the lightweight eco flex material. It's the perfect size. My cat took to it splendidly.
---
By AmyR on Feb 1, 2022
Nice, Just a Touch Smaller Than Specs Convey
I've had this up about a week and it's good quality and easy to put together without tools. I measured everything carefully before ordering and the inside is about 1/4-1/2" tighter than listed. Our cats need to have high sided litter boxes because we've got a high pee-er in the house. So this is a tight fit! I left the front door off because the doorway is very small, and even without the door, the headspace to get in and out is a bit low. Like other reviewers noted, there is a weird thing with the connection between the side panels and the bottom of the piece where there is an inverted track. If your cat accidentally pees a little outside the box, it would get in those tracks and be hard to clean without dismantling the whole thing. It does keep litter from being kicked out anywhere but the front. Over all a solid piece, just a little bit smaller than expected.
---
By khristy on Mar 9, 2022
10/10 would recommend.
Hello. I bought this for my 2 cats and its so nice. I just put it together today. The material is so nice and i had no issues putting it together. I did have to watch a video on Youtube in order to get clear directions because the pictures were awful. It is a tiny bit flimsy but overall this seems to be a nice buy.
---
By MommaCat on Jan 21, 2022
Exactly what I needed
I love this litter loo. It has plenty of headroom for my two large cats. I left the door open for a day so they could get used to the box in a strange environment, and they took to it right away. It's tricky to put together though if you're doing it by yourself like I did. I ended up using masking tape to hold the sides together to put the top on and to roll it on its side (like the instructions said) without it falling apart (a partner could have helped instead if I had one). I removed the tapes before adding the corner moldings. Also the numbers of 2 of the corners didn't match up to what was in the instructions. They were reversed. So it took awhile to figure out what was wrong. The cutout shapes also were not like in the photos, which is probably why it was wobbly to put together without a friend. So minus 1 star due to installation issues. All in all though, the struggle was worth it. No more unsightly litter box to look at, and happy cats who aren't squeezed into a tiny litter hide-way. I would still recommend it. And getting it on sale was even better. Thank you Chewy.
---