Nina Ottosson Outward Hound Wobble Plastic Slow Feeder Dog Bowl, 1-cup
---
About This Item
Unique puzzle dog food bowl.
A paw-fect way to slow down speedy eaters.
Features a clear lid that allows your buddy to see his tasty treats.
Designed for durability and long-lasting physical and mental stimulation.
Constructed of tough, food-safe plastic free from BPA, PVC and phthalates.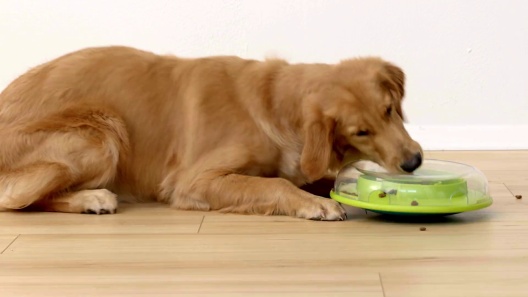 Learn More About Nina Ottosson From Our Team of Experts
---
---
About Outward Hound Puzzle Toys for Dogs
Healthy Playtime Problem Solving
Did you know that 15 minutes of mental exercise can have a similar effect on your dog's emotional well-being as 30 minutes of physical exercise? Dogs love to explore and problem solve and will use their noses and paws as tools. Each Nina Ottoson puzzle toy game is designed with your dog's natural behaviors, senses and safety in mind.
Reduce Unwanted Behaviors
Setting your dog to work on a puzzle or game helps focus his attention and energy. This mental redirection can help reduce boredom, anxiety and destructive behaviors, too. Try using puzzle toys to distract your dog from fireworks, thunderstorms and other stressful situations.
Four Levels of Play
All dogs are different. That's why each treat puzzle toy was designed with a different level of difficulty—to please dogs of all skill levels, whether they are beginners or puzzle-solving pros. Start by choosing a level that suits your pup's skill set and level up as he learns!
Level 1
Perfect for beginners, these puzzles help gain interest and prepare dogs for puzzles to come.
Level 2
Features added obstacles, requiring your dog to combine actions to retrieve each tasty reward.
Level 3
These advanced puzzles challenge your dog to complete several steps in order to reach the hidden treats.
Level 4
This is the hardest level and requires multiple steps and problem-solving skills to solve!
For Bonding and Training
Nina Ottosson puzzle games are a great way to build your relationship with a newly adopted dog or help a shy dog come out of his shell. You can also use puzzles to help train your dog and practice basic commands like "sit" and "stay".
About Outward Hound
Designed for dog lovers by dog lovers, Outward Hound products are made to meet the demands of your pet and your active lifestyle. Their unique lines of gear, toys, treat puzzles and dog bowls create engaging, interactive experiences that foster bonding between pets and their people. Let Outward Hound help you push the boundaries of playtime and Raise the Woof on what you expect from your pet gear!
Shop Outward Hound
Compare Similar Items
| | | | | | |
| --- | --- | --- | --- | --- | --- |
| | | | | | |
| Customer Rating | | | | | |
| Price | | | | | |
| Bowl & Storage Feature | BPA-Free, Lead-Free, Portion Control | Non-Skid, Dishwasher-Safe, BPA-Free... | Non-Skid, Dishwasher-Safe, BPA-Free... | Non-Skid, Dishwasher-Safe, BPA-Free... | Non-Skid, Dishwasher-Safe, BPA-Free... |
| Material | Plastic | Plastic | Plastic | Plastic | Plastic |
| Breed Size | Extra Small Breeds, Small Breeds | Large Breeds | Medium Breeds | Medium Breeds | Large Breeds |
| Capacity (Max) | 1-cup | 4-cup | 2.5-cup | 2.5-cup | 4-cup |
| Assembly Required | No | No | Yes | No | No |
| Lifestage | Adult | Adult, Puppy | Adult | Adult | Adult |
| Tools Included | — | — | No Tools Required | No Tools Required | — |
---
Questions & Answers
Be the first to ask a question.
---
---
11 Customer Reviews
---
Filter by reviews that mention
---
By River on Oct 6, 2022
Wobble feeder
My golden doodle absolutely loves this feeder. I started feeding her with this right away when she came home at 2 mos and she's 10mos old now and still loves it. Occasionally she can pop the lid in the middle but that might just be from me not securing it. She is a terror that breaks/chews everything and she hasn't broken this one. Yeah it's pretty easy but it slows her down enough that she doesn't inhale her food. I've got some harder ones that we use sometimes but this one is the go to.
---
By stephanie on Nov 6, 2022
my dog loves this!
i love this as a slow/interactive feeder for my golden! you can definitely fit over a cup of food in here if you pour it in slow!
---
By labmom on Mar 27, 2022
2 out of 3 not interested and broke
2'out of my 3 dogs weren't j retested and just barked at it. My 3rd it was too easy for and she actually broke one of the plastic pieces that hold the lid on, it's useless now. Not very durable I watched her while she used it, and nothing out of the ordinary was done.
---
By NancyF on Jan 31, 2022
Poorly designed
I gave this to friends for a dog who had never had food puzzles. They found their dog was just confused and didn't want to do it. So they gave it back to my dog who loves food puzzles including rolling a kibble ball and looking and digging for kibble in folded towels. My dog is confused and uninterested in this one. The kibble does not fall out the holes readily- the openings to these holes should slope down so it comes right out. Instead the kibble stays inside and she thinks she has to fish it out with her tongue- but that pushes it back in. The bowl is also a little heavy- maybe a larger dog who paws vigorously at it would do better. My dog is 36 lbs. She rocks it by tipping her nose underneath and seems a little intimidated by the motion of it.
---
By Jenny on Mar 6, 2022
DIY difficulty adjustments
Dog likes it, but it is very easy. Food just flies out. My only complaint is that there isn't a built in way to adjust the difficulty. You have to cut cardboard and tape it to the wholes yourself in order to block them off.
---
By Kimy on Nov 23, 2021
Arrived used and open
I ordered this but it was clearly a returned item. There is a piece of dog hair inside and dog food crumbs stuck on the lid. Also the plastic is scratched up which clearly shows some dog already used it.
---
By Maddy on Sep 2, 2021
Keeps them busy!
I was a little worried to buy this as at the time of purchase, there were only 2 other reviews, but I'm very happy with this product. It took my dog (8 years old) a little bit to figure out and I had to pour the last 5 or so pieces as he didn't seem interested in working to get those out. But I think he enjoyed using it and probably more importantly, slowed him down a lot so he didn't scarf all his food at once.
---
By Cheryl on Nov 19, 2021
Great Puzzle
This has worked so well with my dog to keep him working for part of his meal! He mostly uses his mouth and nose but it has been great so far. Holds up and engaging for him.
---
By Eileen on Sep 12, 2021
Had doubts but finally paid off
Put treats inside for my two cats. After a week, I was deciding which of my cat people to give it to since my cats wanted nothing to do with it. Being treat obsessed, every day I made sure they saw me pour treats inside. Finally, I noticed half the treats were gone, now it's a hit. It's a puzzle to solve, entertaining and rewarding for them.
---
By Brian on Aug 1, 2021
Yes!!! Love it!
Very cool concept, and it definitely works! I wasn't sure what my dog would think about working for his food, but he loves eating more than ever! Like most dogs, he scarfs his food the second I give it to him. With this bowl, he has to paw at it to get the kibble out, and now it takes him quite a bit longer to finish his food, and he doesn't hate me for it, haha.
---