Nylabone Dental Chew & FlexiChew Twin Pack Chicken Flavored Dog Chew Toy
---
About This Item
Proper oral care is imperative to a pup's overall health so it's ideal to have a daily routine for dental care.
These chews are perfect for moderate chewers as it'll satisfy their natural chewing urges.
They help to clean teeth and massage gums, while chewing action promotes fresh breath.
The Dental Chew has little nubs that reduce plaque and tartar from your pet's teeth.
Made in the USA!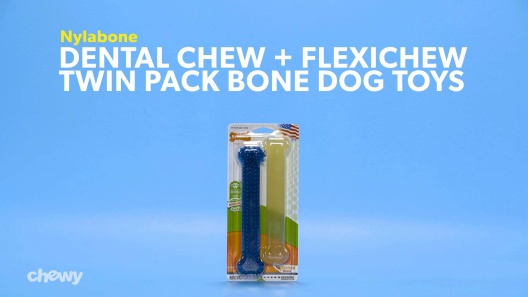 Learn More About Nylabone From Our Team of Experts
---
---
A Chew for Every Chewer
No two dogs are the same and that's why Nylabone chews come in a variety of shapes and sizes. Nylabone satisfies every pup's natural urge to chew, while helping reduce plaque and tartar. Soft Puppy chews are perfect for teething pups and growing mouths, while Flexi chews are made out of a flexible thermoplastic polymer for moderate chewers. And for powerful and determined chewers, Nylabone offers Dura dog chews that are made of a tough and durable nylon.
Go Long, Play Hard, Have Fun
For the active dog in your life, Nylabone Go! Active toys are perfect for endless hours of outdoor play. Bounce, tug, fling or throw—whatever your playtime preference may be—there's a Nylabone Go! Active toy out there for you. Flexible and made to float in water, these toys are built strong for long-lasting interactive play.
Treat Your Pup to a Flavor Frenzy
Give your dog the tastes he loves without all the extra calories. Nylabone Flavor Frenzy rubber chews are vet-recommended and made of an all-natural rubber—perfect for strong chewers. Packed with appetizing flavors like cheeseburger, pepperoni pizza, or meatloaf and gravy, these chews are sure to entertain your dog for hours while discouraging destructive chewing.
All of the Flavor Without the Mess
Inspired by nature, Nylabone Natural Healthy Edibles Wild chews provide alternatives to real animal parts like hooves, rawhide, bones and more, for a longer-lasting, mess-free chew. Made with tough, durable nylon and calcium and minerals, these chews don't splinter or leave a mess. Designed for powerful chewers, these chews satisfy dogs' natural urge to chew while also providing dental stimulation.
Treats and Toys and Playtime Galore
Spice up your dog's playtime by combining two of his favorite things: treats and toys! Whether you have a moderate chewer or powerful chewer, there is a Nylabone Romp n' Chomp treat toy perfect for your dog. These interactive toys provide longer entertainment for your dog and are refillable to keep him interested while encouraging safe chewing.
About Nylabone
Since their first chew toy back in 1955, Nylabone has been dedicated to creating the highest-quality toys, unique dental solutions and long-lasting edible chews. Recommended by veterinarians and designed to promote dental hygiene in dogs and enhance overall mental fitness, Nylabone products help solve problems like destructive chewing and separation anxiety. The wide variety of offerings in all shapes and sizes is sure to have your one-of-a-kind pooch's perfect match.
Shop Nylabone
Compare Similar Items
| | | | | | |
| --- | --- | --- | --- | --- | --- |
| | | | | | |
| Customer Rating | | | | | |
| Price | | | | | |
| Top Ingredients | Inert Soft Thermoplastic Polymer, Chicken Flavor. | Nylon, Chicken Flavor. | Nylon & Natural Flavor. | Nylon & Allergen-Free Artificial Peanut Butter Flavor. | Nylon, Chicken Flavor. |
| Toy Feature | Dental | Tough Chewer, Dental | Tough Chewer, Dental | Tough Chewer, Dental | Tough Chewer |
| Material | Nylon, Synthetic Fabric | Nylon, Synthetic Fabric | Nylon, Synthetic Fabric | Nylon, Synthetic Fabric | Nylon, Synthetic Fabric |
| Breed Size | Small Breeds | Medium Breeds | Large Breeds | Medium Breeds | Medium Breeds |
| Toy Type | Chew Toys | Chew Toys | Chew Toys | Chew Toys | Chew Toys |
| Lifestage | Adult | Adult | Adult | Adult | Adult |
| Chew Style | Moderate | Extreme | Extreme | Extreme | Extreme |
---
Questions & Answers
3 Customer Questions
---
Nothing here confirms size of bones
Answer by • Aug 26, 2018
Nylabone chew sizes vary according to their suggested weight and chew strength. This product is labeled as a giant, moderate chew for dogs up to 50-lbs. This particular giant size is approximately 7 inches in length.
---
How long are these chew toys?
Answer by • Oct 22, 2020
The dimensions of these Large chews are 7.63 x 1.13 x 1.63 inches (L x W x H).
---
Which flavor do these have?
Answer by • Feb 28, 2018
These have a chicken flavor.
---
---
By Margaret on Jul 25, 2022
Not great for big dogs
I probably didn't order the right Nylabone (been a fan of Nylabone for over 10 years!), but my golden retrievers were chewing off pieces of the blue one within a couple of hours. I had to throw it away. I need to stick with the Dura Chews. I start my pups on Nylabone as soon as they get here. I firmly believe that is why I haven't lost any remote controls, shoes or furniture to dog chewing.
---
By MistyMom on Aug 25, 2022
Not for large dogs
Bought these for my 67 pound lab...didn't even last 4 hours :( She literally ate half of one...we have never had this issue before with nylabone. Usually you see worn down corners over time, but to eat half of it? Ughh!
---
By AnimalAddict on Jun 16, 2022
Pup favorite
Both of my 50-ish pound dogs love these. They both spit out chunks that come off, otherwise I would have to stop using them. They like to chew with the satisfaction of progress, and the hard plastic toys don't provide that, these do break down and eventually give in to their efforts.
---
By Sandra on Jul 25, 2022
Not for major chewers!
Both my Lab and Schnauzers made short work of these- chewed chunks off in no time. Don't waste yoyr money!
---
By SLow on Jan 13, 2022
Flexi bone chews chicken flavor
Bought these for my teething 10 week old German Shepherd he seems to like them . Chews them in intervals but I think the blue one with all the knobbies on it is the one he chews on the most. We take it(the blue)and put it in the freezer for him to help w his teething ..
---
By Ponies on Dec 1, 2021
Great nylabones
I sent these to a pet shelter, they took in 60 dogs that needed toys
---
By Elizabeth on Jul 16, 2021
Do not recommend
My dog is a mini golden doodle, weighs only 19lbs. We just opened this pack of bones and he already destroyed one. I wanted something to help him clean his teeth and keep him busy since he is a new diabetic and can't have treats throughout the day. #fail
---
By MollieOutdoors on Mar 19, 2021
Shelby only likes one of these
My dog Shelby, a 5yo 70lb lab/pit mix (we think) LOVES to chew so I got her these. Love that they're softer and won't break her teeth (was very worried about her with the harder nylabone chews). It took her a few days to chew apart the lighter color bone and thankfully she doesn't eat the pieces (but I have to watch our GSD because he will eat the pieces she leaves haha). I don't mind cleaning up the mess if she's happy to chew it apart! However, she doesn't seem to enjoy the blue nubby bone. I thought the unique texture would feel good on her gums and teeth but she is not interested! The dogs take turns walking around with it but ultimately it gets left outside to die in the hot Tucson sun.
---
By Puppylove on May 11, 2021
For the moderate chewer
Loved the large size of these bones and was hoping they'd last longer. Unfortunately when my chewer really started working on them, they came apart in chunks quickly. I think for a large moderate chewer they'd be perfect!
---
By JennV on Mar 14, 2021
Too Soft for safe use
I purchased these as a chewing option for my dogs since my vet doesn't advise using the harder versions which can crack teeth. The dogs LOVED them but within minutes there were rubber pieces chewed off. The entire top of the clear bone was gone. Both bones were thrown out five minutes after giving them to the dogs. Fortunately everyone seems ok. I don't recommend this product for dogs who will actually use it! My one dog only weighs 25lbs and she tore the blue one apart. None of my dogs are hard chewers or destructive in general. Such a shame, if only they were a little more durable.
---