---
About This Item
Long lasting doggy leash is made with chrome plated chain that can withstand even the strongest canine companions.
Leather-feel handle is 100% waterproof, odor-proof and comes in different colors.
Available in 4 feet, 6 feet, lightweight, mediumweight and heavyweight so you can choose the best feel for you and your furry friend.
OmniPet Dog Leash is 100% chew-proof to withstand your pal's natural desire to chew.
Proudly made in the USA and is built to last for you and your furry friend.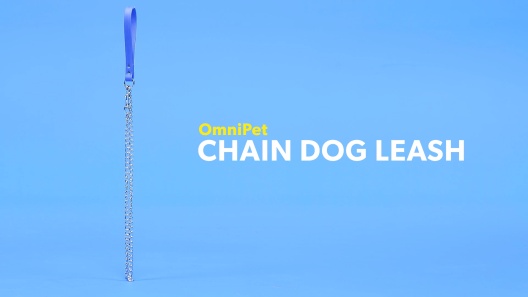 Learn More About OmniPet From Our Team of Experts
---
---
Questions & Answers
4 Customer Questions
---
My dog is 40 pounds hes stocky but short. what weight should i get for him?
Answer by • Dec 14, 2020
The lightweight leash is recommended for small breeds, the mediumweight is recommended for medium breeds and the heavyweight is recommended for large breeds.
---
Will this be okay for a dog that moderately pulls?
Answer by • May 06, 2019
This long lasting doggy leash is made with chrome plated chain that can withstand even the strongest canine companions.
---
How much does the 6 ft. leash weigh ? Will this leash be heavy to hang around my neck during off leash runs?
Answer by • Jan 08, 2021
This lead will weigh 4 ounces.
---
So the handle is faux/fake leather?
Answer by • Mar 02, 2019
The handle is faux leather which is 100% waterproof and odor-proof.
---
---
By Furmom on Apr 22, 2022
Disappointed
We have a rescue dog who chewed through 5 leashes in 3 months . He was 5 months old when we rescued him and I doubt he was ever on a leash. He doesn't chew while being walked but sought and destroyed the leashes. Unfortunately this handle fell prey as well. We were disappointed for the following reasons 1) handle not padded and uncomfortable to hold, also easy to bite off covering 2) if you have to grab the chain for any reason, it scrapes up your hand 3) hard on hands in cold weather 4) we have less control than we did with a double handle leash . 5) only 1/4 walkers will use this leash. Our dog is now 11 months and 46 lbs. Not sure we will ever have the perfect solution but we just ordered a cloth double handle leash.
---
By Miles on Apr 3, 2022
ESSENTIAL ITEM!
I LOVE this leash. I bought this leash for my dog a few weeks ago and my family loves it! My dog is a rescue and suffers from anxiety which caused a bad habit of chewing through leashes. This leash changed our lives. It not only prevents the chewing, but he also can't chew through the leash. I also recommend this for puppies who are just learning to walk on a leash so they learn not to chew on it. Honestly the best thing I ever bought my dog!
---
By 14Jazz on Apr 14, 2022
Great for puppies
I can focus on other puppy walking issues rather than the biting at the leash. Well made, not necessary to get heavy weight as this leash is well made and strong even at the lighter weight. I tied a grab knot half way down to shorten length when needed. I plan to switch to a soft leash after my puppy stops biting at everything.
---
By Satisfied on May 28, 2022
Perfect for puppies
I bought this leash for a 9wk old puppy I bought my husband. Obviously this puppy chews on everything and this leash is perfect for him. I'm able to use it on a daily basis!
---
By JerrysMom on Mar 1, 2022
I wouldn't purchase again
For a chain, this leash is very cheap and flimsy. All other chain leashes I've seen in stores have larger links. I liked that it had the non-fabric handle but also worry that could snap. This is fine for indoor training, but I don't feel safe walking the dog outside with this. We would not buy this leash nor another from this company.
---
By lizzie on Feb 22, 2022
Heavy and durable
I have a super chewer and a weight trained dog so she pulls massively no one in my family can even handle her with her strength and energy. She has chewed through every leash we bought or snapped it, while this is heavy and wouldn't be good for a dog under 20 lbs this is great for my 70 lb bull
---
By Lily on May 16, 2022
Great purchase!
Lightweight enough for a small puppy but sturdy enough to survive the chewing phase!
---
By siftingliners on Feb 11, 2022
Great for chewers
My puppy, albeit a 90 pound puppy, loves his walks but he dislikes his leashes and has eaten them when we're in the car on our way to an outing. He was not able to chew through this one!
---
By Mdrake on Feb 21, 2022
Can't chew through this one!
My JRT's Can chew through ANY leash except good old fashioned chain! Thank you for such a wonderful durable product and excellent customer service!
---
By Lanny on Jan 31, 2022
This is a Great Leash !
I have had three different leashes and my baby pup has chewed through them all, so I found this type with the chain, no more problems.
---