Outback Jack Kitty Compound Cat Playpen Tent & Tunnel
---
About This Item
Cat tent and tunnel combo provides hours of safe outdoor fun for cats.
The tent provides over 30 square feet of space, and the tunnel run is 62" long.
No tools needed for easy setup. The tunnel pops open when you undo the ties!
Zippered doors at each end of the tunnel let you attach to tent at one end and keep your kitty safe at the other.
Great for the backyard or patio to share some outdoor time with your pet.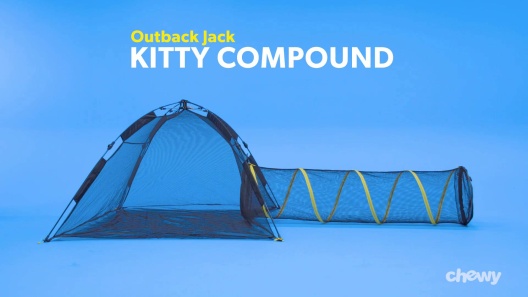 Learn More About Outback Jack From Our Team of Experts
---
Compare Similar Items
| | | | | |
| --- | --- | --- | --- | --- |
| | | | | |
| Customer Rating | | | | |
| Price | | | | |
| Material | Polyester, Mesh, Synthetic Fabric | Polyester, Mesh, Synthetic Fabric | Polyester, Mesh, Synthetic Fabric | Polyester, Synthetic Fabric |
| Features | Collapsible, Ground Stakes, Carry Bag, Pet Door | Collapsible, Ground Stakes, Carry Bag, Pet Door | Collapsible, Ground Stakes, Carry Bag | Collapsible, Water-resistant |
| Tools Included | No | No | No | — |
| Assembly Required | Yes | Yes | Yes | No |
| Small Pet Type | — | Rabbit, Guinea Pig, Chinchilla... | — | — |
| Pattern | — | — | — | Plaid |
| Litter Box Type | — | — | — | Accessory |
---
Questions & Answers
36 Customer Questions
---
How is the bottom (floor panel) attached to the tent? Zipper all the way, permanently attached, or velcro? My cats can get out of the play pen because the bottom was velcro and they get through in between.
Answer by • Oct 30, 2017
The Compound tent area is all one piece, so the floor is not detachable. The tunnel may be removed, it is kept on with a zipper.
---
Is the Kitty Compound simply the tent and tunnel packaged together? can they be used separately? are each completely enclosed if used by themselves?
Answer by • Jun 24, 2017
The Kitty Compound includes a cat tent, tunnel, pegs and shoulder-style carry bag--all packaged individually. The tunnel itself has zippered doors at both ends of the tunnel to attach to the tent and keep them secure. If you'd like to use them as separate items, you're more than welcome to do so too.
---
Can you attach more tunnels, if you can, do you sell additional tunnels?
Answer by • Nov 15, 2017
Additional tunnels may be added. We also carry the ABO Gear Fun Run which is sold separately.
---
Hi Does it come with the sane bags in the picture? I don't have a yard. I have a concrete patio so pegs will not work for us.
Answer by • Jun 02, 2020
This tent and tunnel comes with stakes to secure it to the ground.
---
---
---
By Mindi on Jul 11, 2022
An easy option for letting indoor cats play outside
My two cats are loving (and needy) creatures who go wild, standing on hind legs and scratching madly against the French doors from inside the house whenever we have the nerve to eat dinner outside on the deck. I bought this tent, thinking they could spend time safely outside with us while we eat and all would be calm. It did not turn out that way exactly. Instead, on first use, they paced around with anxiety, miserably meowing. They couldn't wait to go back inside. On the second use, however, I put a blanket inside and climbed into the tent through the little hole myself along with them. They wandered through the tube, took turns sitting on me, and were overall much calmer. We spent an hour in there and they were very at ease by the end. I am hoping that soon they can enjoy their tent and tube while I am outside of it! The tent and tube are pretty easy to set up and take down. I mean, I kind of did it wrong both times and needed to get help. But, like my cats, I think practice will make perfect. And it's nice that these items have their own bags for storage. I am happy with this purchase!
---
By HappyCats on Jul 4, 2022
Best play area for cats
The outback Jack is the easiest tent I have ever put up. Just open, pull and it's done. I still haven't put the tunnel on the tent, but my cats play in both anyway. And it is sturdy. What I'm doing with mine is having it out on my patio and connecting the tunnel to mt kitty door in the screen. They can play outside at night and I get fresh air. Thank you Outback Jack and Chewy for this tent.
---
By alliecat on Apr 22, 2022
It's 50 degrees and windy but he's out there!
This is our second season with the Outback and it's a great option for our 2 adult indoor cats! The wild and crazy panther boy especially loves it. I dream of a larger catio option for them, but this is getting it done. Like many cats (and humans, etc) you gotta give them time and quiet to check things out the first time we set it up, took maybe a day and a half before they checked it out. Set the tent up on our 2nd floor balcony and rigged the tunnel to snake out the window, secured with a heavy duty cardboard, and supported by some metal shelving. It's been a chilly spring so will probably be blocking it off at night with some plastic bags and more cardboard. Watching them lounge in the nearly open air is a such a good feeling for everybody involved. I put a little pot of cat grass in there. Planning to expand on that this year, and put some kind of dirt-filled flats in there they can walk or lay on, and also grow grass or other cat safe plants. WiIl have to be bendy or flexible so the containers fit through the tunnel hole. That's the only drawback to this thing for me--the tent part needs a large side door or window that zips open/closed securely, so you can more easily prep it with blankies and whatever stuff or objects you want in there for the furry ones. Still, so grateful for this awesome addition to catification land! : )
---
By RW2050 on May 12, 2022
All 13 of my cats love the tents
So as my headline says - yes I have 13 cats and with that being said I have tried multiply tents. I tried other tents only because this particular one doesn't have multiply exits, which would be my preference. With that being said none of the other tents even compare to the durability of this tent, so it's sad that this tent isn't made with multiply exits. I was reading some of the other reviews because I was surprised that this tent didn't have a higher 5 star percentage. So with that sent - yes sometimes the zippers don't work - I just zip tie them then because connecting to another tent made by another company the tunnels don't line up so I'm used to zip tying them. In reference to the nails cutting through the material I've never had that experience & I have 3 cats who's nails I can't cut myself but I guess I'm lucky and they don't claw at the tent.
---
By Nanny on Apr 5, 2022
Our previous adult cat and our new kittens absolutely love it.
We can't even describe our joy with this item. Our adult cat that we had to have put down this year and our new kittens love it. It's totally easy to put together (don't understand how people are having a hard time with it). We've had it for 4 or 5 years and the tunnel is starting to wear out. I'm looking for a replacement for it. Our kittens have given us hours of fun just watching them and so many people in our campgrounds stop by to watch!
---
By KittyPlaypen on Jun 3, 2022
GREAT CONSTRUCTION
I was so excited to receive my cat's playpen! I immediately set it up! It's made very well and easy to use. I would definitely recommend this item.
---
By Sherona on Feb 26, 2022
So worth the money
I have an indoor cat. I purchased the cat playpen at the start of summer to allow him safe space outside. He loves it. We use it almost every day. I put a pad in it which he likes to lay on but he also likes the feel of grass too. It's very secure, comes with 'spikes' to anchor the tent's corners for windy days. For us, the tunnel, which can be zipped on/off, is too much trouble when it's time to get him out, so I only use the tent which is a great size. I think you can buy just the tent. I move the tent around so he has new views. In the beginning, I folded/unfolded and stored the tent daily but now I just leave it up. It will be a year soon from purchase date and I've had no issues with it. When it eventually wears out, I'll definitely buy another.
---
By sarin on Apr 26, 2022
Great toy for non chewers
This toy will last in our house but with just the tug of war that we play it has ripped a little. Definitely not a toy that would last long for chewers but great toy just to play with!
---
By Susieq on Apr 4, 2022
My indoor cats love this tent!
Finally, a pen I can trust to leave my indoor cats in outside so they can enjoy the outdoors! Very well made, durable, and so easy to set up and take down! I ended up buying another for my elderly cat and she loves it too!
---
By ButterBean on Apr 22, 2022
Whale of a problem
Soft, beautiful, and loved... but the eye fabric lasted about 2-3 minutes. We can only play for a few minutes then it goes in time-out until the next supervised play time.
---