Outward Hound Fun Feeder Interactive Dog Bowl, Purple
---
About This Item
Promotes fun, healthy eating.
Helps prevent bloat, regurgitation & canine obesity.
Features non-slip base to hold bowl in place.
Top rack dishwasher safe.
Made with high-quality, food-safe material, BPA, PVC & phthalate free.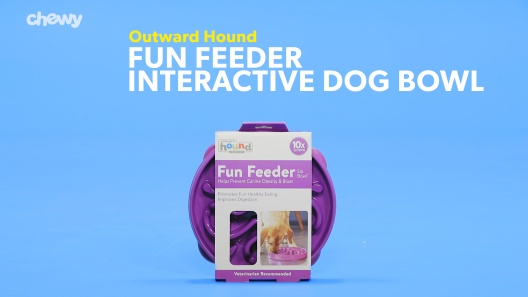 Learn More About Outward Hound From Our Team of Experts
---
---
About Outward Hound Bowls and Fun Feeders for Dogs
Promotes Healthy Eating and Fun
These cleverly designed bowls encourage healthy, slower eating to help prevent bloat, regurgitation and canine obesity. Their cool patterned maze design also makes mealtime a fun and engaging challenge for your dog!
Fun, Unique Designs
Fun Feeder Slo-Bowls come in unique colors and designs that combine form and function into one. They are slip-resistant, top-rack dishwasher safe and made to slow your pup's pace as he eats. They come in several sizes, too!
Veterinarian Recommended
Vets recommend Fun Feeder Slo-Bowls to slow down eating, which can aid digestion and help prevent bloat. Each Slo-Bowl is made with high-quality, food-safe ABS plastic to help ensure the safety of your pet.
Food-Safe and Non-Slip
Fun Feeder Slo-Bowls feature a non-slip base, so they won't slide around while your dog eats. They are made from food-safe materials that are free from BPA, PVC, phthalates and lead, so you can use them without worry. And you can put them in the dishwasher for easy cleaning!
Choose the Right Bowl Size for Your Dog
Slo-Bowls come in various sizes, allowing you to give just the right amount of food every time. Proper portions are essential for good digestive health and weight control, and these Fun Feeders are just what you need to serve them!
Large Bowls
Large-sized Slo-Bowls come in a variety of styles, and each holds up to 4 cups of dry kibble.
Small Bowls
Small Slo-Bowls hold up to 2 cups of kibble and come in a range of eye-catching designs.
X-Small Bowls
The smallest Fun Feeders hold up to ¾ cups of kibble, perfect for petite pups or just for serving smaller portions.
About Outward Hound
Designed for dog lovers by dog lovers, Outward Hound products are made to meet the demands of your pet and your active lifestyle. Their unique lines of gear, toys, treat puzzles and dog bowls create engaging, interactive experiences that foster bonding between pets and their people. Let Outward Hound help you push the boundaries of playtime and Raise the Woof on what you expect from your pet gear!
Shop Outward Hound
Compare Similar Items
| | | | | | |
| --- | --- | --- | --- | --- | --- |
| | | | | | |
| Customer Rating | | | | | |
| Price | | | | | |
| Bowl & Storage Feature | Non-Skid, Dishwasher-Safe, BPA-Free... | Non-Skid, Dishwasher-Safe, BPA-Free... | Non-Skid, Dishwasher-Safe, BPA-Free... | Non-Skid, Dishwasher-Safe, BPA-Free... | Non-Skid, Dishwasher-Safe, BPA-Free... |
| Material | Plastic | Plastic | Plastic | Plastic | Plastic |
| Breed Size | Large Breeds | Large Breeds | Large Breeds | Large Breeds | Giant Breeds |
| Capacity (Max) | 4-cup | 4-cup | 4-cup | 4-cup | 6-cup |
| Assembly Required | No | No | No | No | No |
| Lifestage | Adult | Adult | Adult, Puppy | Adult | Adult |
| Tools Included | — | — | — | — | No Tools Required |
---
Questions & Answers
28 Customer Questions
---
Could this be used for a kitty who likes to gobble his food and then subsequently vomits?
Answer by • Dec 08, 2017
The feeder has a meal-lengthening design that promotes healthy eating. It also slows eating up to 10 times to prevent bloating and regurgitating.
---
Does the maze design between the different colors of the same size change anything or do they all perform they same?
Answer by • Jun 27, 2019
The purple slow feed bowl is the easier because it has the most stops, or areas where the dog is able to push the kibble up on the side of the bowl. The orange is the most difficult because it has the most spirals and areas that the dog needs to use their tongue to get the kibble out. To determine which bowl to purchase, consider how much food your pet eats at each meal. The mini measures 9.5 x 8 x 2.2 inches and holds up to 2 cups of food. This would be best for smaller breed pups. The regular feeder would be better suited for larger dogs, as it can hold up to 4 cups of food and measures 12.5 x 11 x 2.3 inches.
---
Do you offer an elevated stand that will hold this slow bowl?
Answer by • Oct 27, 2017
Outward Hound does not make a stand for their interactive bowls.
---
Is this bowl hydroquonine free? We have an allergy to this bleaching/stain-preventing ingredient in plastics and beauty products.
Answer by • Aug 29, 2017
This feeder is made with all original raw materials, they never use recycle materials so there shouldn't be any trace of hydroquinone in these fun feeders. They conduct 3rd party chemical testing on their feeders for lead, phthalates, BPA and PVC but not for hydroquonine specifically therefore we cannot guarantee this 100%.
---
---
---
By 2pactowels on Jun 20, 2022
Groovy, cute, and works great (2 cup model)
My pup is a fast eater. I went looking for something to slow her down because after eating she would always belch and seem like she wanted to throw up (although she never did throw up). I looked at several models, and really couldn't tell what would be best, but when I saw this one it seemed like the right price and style to try it out. Lo and behold, it is just right for my dog. She has a medium length snout (3") and the ridges in this bowl are just deep enough that she can get to every morsel and clean out all the gooey toppings from each nook and cranny. It has made her slow down considerably, she seems to belch a lot less, and she no longer looks like she is ready to throw up after she eats. I was suspicious that this idea would not work but it really has helped my pup. This model is the perfect one for your dog with a medium snout. The surface cleans easily. I just noticed that this product may no longer be availablenbut I hope this review will help someone decide on another company's style of slow feeder.
---
By 3dogs on Mar 15, 2022
Great bowl
We have 3 dogs and a couple of maze feeder bowls for enrichment and to slow down their eating. This one fit into the rotation great and our 9 month old puppy eats way too fast even with some of our other slow feeders but this one really slows him down. It's deeper than some of our others. One of the others is 3 cups and wider so it isn't as deep so this 2 cupper is very helpful for him to make him take a little longer
---
By CinnaMom on Mar 2, 2022
Perfect for what we needed!
My dachshund/beagle mix struggles with her weight - especially during the long winters in Upstate NY. Got this to help spread out her meals and actually timed her. Regular bowl: 30 seconds to done. This Slow Feeder bowl: 5 minutes! It seems to have helped take the edge off her constant hunger and she's destroying less non-dog toy items around the house. We feed with Fresh Pet and the bowl still works perfectly. The best part is that I can put it on the top rack of the dishwasher each night to keep it clean!
---
By KCSunshine on Mar 6, 2022
Interesting way to slow our lab's eating down
This works pretty well for slowing our lab's fast eating habits down. She normally gobbles her food without even chewing (and then sometimes gets sick to her stomach because of it.) We like this dog bowl. It stays in place while she eats which is great. The only reason it didn't get 5 stars is because it is not the easiest to clean because of the curves. (You can throw it in the top rack of your dishwasher though, which is convenient.)
---
By Ellie on Feb 15, 2022
Works like a charm!
I've been using this product for roughly 2 years now and I have to say it's slowed my dogs eating time drastically. She went from about 30 seconds in a regular bowl to about 6 minutes with this bowl when I first switched her. I do have to say she eventually learned the nooks and crannies of this bowl so I had to add in a different slow feeder to switch the pattern up for her, so if you see your pup speeding up after using this bowl for a while, don't get too discouraged - I recommend buying another slow feeder and switching them up here and there. It'll keep them mentally stimulated and it'll help prevent bloat. It's also very easy to clean and has a grip on the bottom to stop from skidding. A+ from me
---
By bowl on Feb 22, 2022
Interactive Dog Bowl
I honestly was super worried to get this for my pup! He is an old English bulldog with a short snout. I was worried he was not going to be able to get the food out of the bowl! The purple bowl is perfect for him!! He was very Capable of getting the food! This maze bowl slowed him down SOO much! He use to eat within 5 seconds and gulp it down. He use to gag and not able to breathe after eating! This bowl has made a huge difference! No gagging he is able to breathe and now he eats within 10 minutes!! Highly recommend!
---
By Junebug on Mar 21, 2022
Is effective at slowing down a gobbler
We got the 2 cup size, our dog gets 3/4 cup dry food in water. Size works. She went from 30 seconds to 3-4 minutes to empty her bowl. We were initially concerned she'd pick up the bowl and toss it (in frustration to empty the bowl more quickly) but that hasn't happened (yet). Using it for 2 weeks so far.
---
By Bogey on Feb 8, 2022
Works perfect!
Picture a 3 month old Great Pyrenees. He made his food disappear in about 60 seconds out of his old food dish and was giving himself hiccups from eating too fast. Fast forward to purchasing this feeder for him and it was a night and day difference! His first try at it took him 30 minutes to eat, and he looked like he was enjoying himself! Now after having it for over a week, our boy has figured out how it works. Now it takes him about 10 minutes to finish his meal, which is still a whole lot better then 1 minute. I would definitely recommend.
---
By Hammer on Mar 23, 2022
Insanely Complicated
This bowl is incredibly complicated for the dogs to eat from. The openings are too small and too deep regardless of the dog size. We have 8lb dogs up to 90lb dogs, the dish works too well the dogs have to dump the dish to eat.
---
By Jamie on Apr 22, 2022
Works well
This bowl works very well to slow down my dogs eating! He used to eat so fast before but now this bowl makes him slow down and not gobble all at once. Yeah!
---