Outward Hound Tail Teaser with Refill Dog & Cat Teaser Toy
---
About This Item
Durable nylon cord for tough tuggers
Chase and tug action keeps dogs playing
Faux-fur tails squeak and rattle
Measures 88.5 x 1.5
Includes wand and toy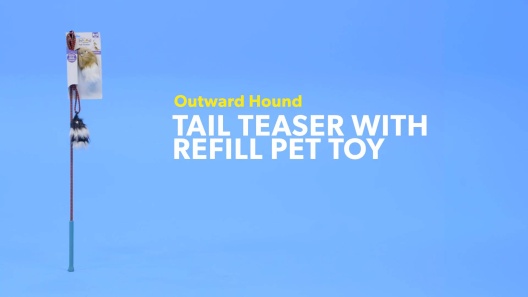 Learn More About Outward Hound From Our Team of Experts
---
---
About Outward Hound Toys for Dogs
Toys for Every Pup
Outward Hound makes a variety of fun soft toys that appeal to all different play styles. The Hedgehogz grunt and rattle, the Puzzle Plush toys create a fun challenge and the Invincibles keep squeaking even if punctured! Outward Hound also offers a wide range of ball, rope and tug toys that are must-haves for every dog lover.
Dura-Tuff
Some Outward Hound toys have a special interior layer of Dura-Tuff material that creates a powerful protective shield. It also features heavy duty binding that adds another layer of strength, so the toys can stand up to a ton of rambunctious fun.
Bound to Become Your Best Friend's Favorites
Whether your dog likes to chew, chase or solve puzzles, Outward Hound has a ton of toys to choose from. Not only do these toys suit a variety of play styles, but they are also perfect for dogs of all sizes. Find the toy that will pique your pet's interest!
Squeaker Ballz
Squeaker Ballz combine two of your dog's favorite things—an irresistible squeaky toy sound with an exciting tennis ball bounce.
Hedeghogz
The Hedgehogz stuffed dog toy is an adorable favorite that's designed with minimal seams to promote longer-lasting enjoyment!
Invincibles
Packed with satisfying squeakers, Outward Hound's Invincibles toys keep squeaking, even if punctured.
Hide And Seek Puzzle Toys
These interactive plush puzzles are designed to eliminate boredom, encourage positive play, and feed your dog's natural hunting instincts.
Pro Tip!
Toys are a great way to keep your canine companion entertained and free from boredom. Supply your pet with plenty of durable toy options, including those that squeak, grunt and crinkle. The more interactive sounds the better! Outward Hound has a ton of fun options to choose from.
About Outward Hound
Designed for dog lovers by dog lovers, Outward Hound products are made to meet the demands of your pet and your active lifestyle. Their unique lines of gear, toys, treat puzzles and dog bowls create engaging, interactive experiences that foster bonding between pets and their people. Let Outward Hound help you push the boundaries of playtime and Raise the Woof on what you expect from your pet gear!
Shop Outward Hound
Compare Similar Items
| | | | | | |
| --- | --- | --- | --- | --- | --- |
| | | | | | |
| Customer Rating | | — | | | |
| Price | | | | | |
| Toy Feature | Squeaky, Outdoor, Training, Exercise | Feather | Squeaky, Exercise | Training, Exercise | Outdoor, Training, Exercise |
| Material | Polyurethane, Plastic | Rubber | Polyester, Synthetic Fabric | Polyester, Synthetic Fabric, Vinyl / PVC | Wood, Polypropylene, Plastic |
| Breed Size | Small Breeds | All Breeds | Extra Small & Toy Breeds, Medium Breeds | Small Breeds, Medium Breeds | Small Breeds, Medium Breeds, Large Breeds |
| Toy Type | Teasers & Wands | Teasers & Wands | Teasers & Wands | Chasers, Teasers & Wands | Games & Puzzles |
| Lifestage | Adult | Adult | Adult | Adult | Puppy |
---
Questions & Answers
13 Customer Questions
---
How durable is this for large, very high drive dogs? Malinois for example?
Answer by • Nov 03, 2017
The nylon rope on this product is durable and has a flexible pull. This item is suitable for all breeds and sizes.
---
How exactly do you get the replacement toy onto the rope? The loop that is connected to the toy is too small to go over the toy.
Answer by • Nov 27, 2020
Pinch red and black rope loop and insert through toy loop. Slide toy over red and black rope loop. Insert toy through red and black rope loop. Pull toy through red and black rope loop. Toy is now attached to end of rope loop.
---
Is this toy good for cats?
Answer by • May 26, 2020
The Teaser Toy was intended for dogs and cats.
---
Is it really ok for your puppy to bite it that the hair falls off the toy and he might swallow it
Answer by • Nov 18, 2018
Every dog plays differently and, since not all toys are created equal, it's always best to keep a close watch on your pup in case things get ruff. Supervised play will help toys last longer and most importantly keep your pal safe. No dog toy is truly indestructible, so always remove the toy from playtime if pieces begin to break off.
---
---
---
By AHar on Jul 19, 2022
Mixed Feelings
First let me say -- my dog LOVES this toy and it is easiest way to wear her out when there is some extra puppy energy or we are on a road trip. I have one at the house and one in the car for this reason. Bad new is it just isn't durable. I have probably bought 5 or 6 over the last 2 years, but the blue plastic handle usually comes off immediately make it much harder to grip. Also, the cord is very easy for dogs to chew through as is the smaller cord that attaches the toy. I try to watch her with it, but it eventually gets destroyed. I can usually tie the loose ends to get a little more life out of it. I also find it VERY hard to switch the toys. The squeaky inside makes barely fits through the tiny loop. At this point I am looking for another brand because I am tired of replacing the cheaper construction.
---
By LunaLoo on Aug 9, 2022
Not sturdy enough
We received this toy and played with it for 15 minutes before my dog (a 7 month old corgi) chewed through the loop attaching the toy to the rope. We attached both toys and both loops were chewed through within minutes. My dog also loved to chew on the rope which started to fray. All things considered my dog LOVES this. The stuffed animals are great. It needs improvement where/how they attach to the rope.
---
By JaneR on Jul 6, 2022
Loads of fun at a great price!
This flirt pole is perfect for my English Shepherd. He is a high energy, athletic 8 month old. Things I like about it - no bungee cord, it's a good length (36 inch pole, 36 inch cord plus the teaser) for playing indoors or out (we play mostly outside), it comes with an extra teaser (both rattle and squeak), teaser can be replaced with other things with a little creativity. The only thing I think would be nice is if it came in a longer size for those who want to get their dog to run more if they don't want to or can't. Before I purchased this, I was using my lunge whip I have for my horses (it's about 7ft long plus the cord). It was too long and I wasn't that interested in trying to figure out how to attach a teaser without possibly damaging it or creating a hazard for my dog. My boy has a high prey drive so training with treats doesn't get us far, but this thing! Wow. He will just about turn himself inside out to have a chance to go after it. For us, this thing is perfect and way cheaper than other flirt poles you can find elsewhere. It should be noted that I do not allow him to tug on the teaser. When he catches it, I let go of the pole and get him to drop it on his own. I'm not certain how the cord is attached to the pole but I don't want to potentially ruin a good thing if I don't have to. I tug or two hasn't hurt it at all but just know know it's for chasing not tugging. I definitely would recommend this teaser toy. It's a good way to add quality exercise to your exercise routine in a shorter amount of time especially for high energy/working breeds.
---
By Danielle on Jul 11, 2022
Dog loves it
We have a Shiba Inu who behaves much like a cat, so we had to try this out. Turns out he loves it! He chases this all around the house because the end piece has a squeaker in it and he's obsessed with squeakers. My only wish is that the string/rope were a little shorter. Sometimes because it's so long it gets caught in places or he gets wrapped in it himself. I love that it came with a replacement piece too.
---
By Ashh on Jun 17, 2022
Best Toy-Even After 1 Year of Use
I originally bought this toy to tire out my Frenchie puppy's energy. Didn't think it'd become his favorite toy. The nylon rope and stick are quite durable. The only weak point is the string that is attached to the tail itself. But other that-even after a year of use, my Frenchie is still absolutely OBSESSED with this toy. He is quite active and this toy helps to get his balls of energy out. Zuko and I HIGHLY recommend it! Especially if you have a high-energy fur baby.
---
By Liza on Jun 3, 2022
All my pets love this
This is the best toy around. My dogs love it and I have a cat that will leap four feet off the ground to grab the "tail" then hide it in his "tunnel". I am ordering a new one because even though the rope is hardy, my dogs and cat over time have almost chewed through the rope and the connecting string to the teaser. But heck, I have had it for 2 and a half years and my animals play with it constantly. Our new pup just drags it around the house on her own without us even playing with it with her. Get one, you will not regret it.
---
By GeorgieGirl on Jun 24, 2022
NOT FOR CATS
This was misleadingly advertised as a cat toy and is nothing of the sort!! Only a fairly large puppy or dog could play with this. The wand is too long and too heavy for playing with a cat. And too heavy and awkward for an elderly person to use it. I had to give it away.
---
By Sloopy on Apr 24, 2022
Big fan of this one
I had originally bought this for my chihuahua thinking that he would love it, which he sort of did but it also scared him because he's weird, so it only ended up being a tug toy with him. but then I got my puppy and it was a little saver, great way to tire him out fast when I need. accidentally left out unsupervised though and he chewed the rope off at the top, but I was able tie a knot to reattach it and it's been holding up with regular use for over 3 months and I'll probably buy another one at some point. not sure this would work for a bigger, stronger dog, but great for dogs under 30lbs like my current crew.
---
By trace on Jul 9, 2022
great and sturdy toy
my dog loves this toy. it's sturdier than I expected. it's nice to know it'll hold up during all her play times to come. it's great that it comes with a spare toy to switch out.
---
By DookietheDobie on May 25, 2022
Best toy I've gotten for my Dog
Got this toy 6 months ago for my Doberman and he has been obsessed from day two!(day one he was scared of the stick and just didn't understand it) This toy has really made me appreciate his athletic ability and has shown me just how much he's capable of! Once he catches it he gets a treat and drops it and we reset
---