Outward Hound Tail Teaser with Refill Dog & Cat Teaser Toy
---
About This Item
Durable nylon cord for tough tuggers
Chase and tug action keeps dogs playing
Faux-fur tails squeak and rattle
Measures 88.5 x 1.5
Includes wand and toy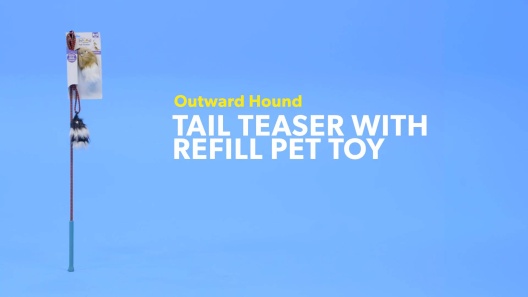 Learn More About Outward Hound From Our Team of Experts
---
---
About Outward Hound Toys for Dogs
Toys for Every Pup
Outward Hound makes a variety of fun soft toys that appeal to all different play styles. The Hedgehogz grunt and rattle, the Puzzle Plush toys create a fun challenge and the Invincibles keep squeaking even if punctured! Outward Hound also offers a wide range of ball, rope and tug toys that are must-haves for every dog lover.
Dura-Tuff
Some Outward Hound toys have a special interior layer of Dura-Tuff material that creates a powerful protective shield. It also features heavy duty binding that adds another layer of strength, so the toys can stand up to a ton of rambunctious fun.
Bound to Become Your Best Friend's Favorites
Whether your dog likes to chew, chase or solve puzzles, Outward Hound has a ton of toys to choose from. Not only do these toys suit a variety of play styles, but they are also perfect for dogs of all sizes. Find the toy that will pique your pet's interest!
Squeaker Ballz
Squeaker Ballz combine two of your dog's favorite things—an irresistible squeaky toy sound with an exciting tennis ball bounce.
Hedeghogz
The Hedgehogz stuffed dog toy is an adorable favorite that's designed with minimal seams to promote longer-lasting enjoyment!
Invincibles
Packed with satisfying squeakers, Outward Hound's Invincibles toys keep squeaking, even if punctured.
Hide And Seek Puzzle Toys
These interactive plush puzzles are designed to eliminate boredom, encourage positive play, and feed your dog's natural hunting instincts.
Pro Tip!
Toys are a great way to keep your canine companion entertained and free from boredom. Supply your pet with plenty of durable toy options, including those that squeak, grunt and crinkle. The more interactive sounds the better! Outward Hound has a ton of fun options to choose from.
About Outward Hound
Designed for dog lovers by dog lovers, Outward Hound products are made to meet the demands of your pet and your active lifestyle. Their unique lines of gear, toys, treat puzzles and dog bowls create engaging, interactive experiences that foster bonding between pets and their people. Let Outward Hound help you push the boundaries of playtime and Raise the Woof on what you expect from your pet gear!
Shop Outward Hound
Compare Similar Items
| | | | | | |
| --- | --- | --- | --- | --- | --- |
| | | | | | |
| Customer Rating | | | — | | |
| Price | | | | | |
| Toy Feature | Squeaky, Outdoor, Training, Exercise | Exercise | Feather | Squeaky, Exercise | Training |
| Material | Polyurethane, Plastic | Plastic | Rubber | Polyester, Synthetic Fabric | Polypropylene, Wood, Plastic |
| Breed Size | Small Breeds | Small Breeds, Medium Breeds, Large Breeds | All Breeds | Extra Small & Toy Breeds, Medium Breeds | All Breeds |
| Toy Type | Teasers & Wands | Teasers & Wands | Teasers & Wands | Teasers & Wands | Games & Puzzles |
| Lifestage | Adult | Adult | Adult | Adult | Adult |
| Pattern | — | — | — | N/A | — |
---
Questions & Answers
13 Customer Questions
---
How durable is this for large, very high drive dogs? Malinois for example?
Answer by • Nov 03, 2017
The nylon rope on this product is durable and has a flexible pull. This item is suitable for all breeds and sizes.
---
How exactly do you get the replacement toy onto the rope? The loop that is connected to the toy is too small to go over the toy.
Answer by • Nov 27, 2020
Pinch red and black rope loop and insert through toy loop. Slide toy over red and black rope loop. Insert toy through red and black rope loop. Pull toy through red and black rope loop. Toy is now attached to end of rope loop.
---
Is this toy good for cats?
Answer by • May 26, 2020
The Teaser Toy was intended for dogs and cats.
---
Is it really ok for your puppy to bite it that the hair falls off the toy and he might swallow it
Answer by • Nov 18, 2018
Every dog plays differently and, since not all toys are created equal, it's always best to keep a close watch on your pup in case things get ruff. Supervised play will help toys last longer and most importantly keep your pal safe. No dog toy is truly indestructible, so always remove the toy from playtime if pieces begin to break off.
---
---
---
By Sloopy on Apr 24, 2022
Big fan of this one
I had originally bought this for my chihuahua thinking that he would love it, which he sort of did but it also scared him because he's weird, so it only ended up being a tug toy with him. but then I got my puppy and it was a little saver, great way to tire him out fast when I need. accidentally left out unsupervised though and he chewed the rope off at the top, but I was able tie a knot to reattach it and it's been holding up with regular use for over 3 months and I'll probably buy another one at some point. not sure this would work for a bigger, stronger dog, but great for dogs under 30lbs like my current crew.
---
By DookietheDobie on May 25, 2022
Best toy I've gotten for my Dog
Got this toy 6 months ago for my Doberman and he has been obsessed from day two!(day one he was scared of the stick and just didn't understand it) This toy has really made me appreciate his athletic ability and has shown me just how much he's capable of! Once he catches it he gets a treat and drops it and we reset
---
By lillian on Apr 9, 2022
great exercise for dogs who don't fetch!
My dog (20 lb adult mutt) refuses to fetch or play tug of war, so it was hard for me to encourage him to play. Problem solved—he loves to chase! We also don't have a yard, so running him around the apartment with this teaser has given him some much needed exercise. The "prey" is much bigger and sturdier than a cat teaser, and it squeaks. The handle and rope are much longer too. I haven't had it long, so we will see how it holds up. One thing is that I wish it wasn't so furry and fluffy, my dog likes to nibble and gnaw, so he is getting some of that faux fur stuck in his mouth, which can annoy him. Overall satisfied, so far!
---
By Celeste on Mar 31, 2022
Phenomenal Toy
No joke this toy changed my life. My dog is a high energy spaniel, and we live in an apartment and this is the only toy I've found that gets him actually tired and panting. He LOVES it; I have to hide it away in the closet, and sometimes if I leave the door open he'll sneak on and start chewing on the toy part hoping that I play with him. He has been noticeably calmer after we added this toy to our playing routine, I cannot recommend it enough!! I was originally worried about durability, but I've had it for over 3 months now, and I haven't had to even use the replacement toy that comes with it. Granted, I don't play tug of war with it often, so if you do it might be different, I'm not sure, but for what it is it's amazing. I have recommended this toy to so many people in real life as well.
---
By Shelby on Apr 26, 2022
Great exercise and stimulation
Our Border Collie and Australian Shepherd dogs love this! So far the handle has held up to play, but we don't allow the dogs to play tug with the toys (they have ropes for that), and we just use this for their hunting-and-catching instincts, so they also don't have a lot of time to chew on the toys, so I can't attest to how well the attachments do with big chewers.
---
even seniors love it
Never had a toy like this, wish I tried it sooner. I live in an apt with wood floors, dog only likes to run on carpet which I have only in the living room and the tennis ball keeps rolling off. So I got this to keep the toy within the bounds of the rug while still giving him a chase. WHAT A HIT! He's chasing and playing as hard as he would with his dog friends. I'm so pleased to see him get this excited when we're just home alone. I had no idea my senior dog was THIS agile! My only CAUTION would be that the dog is not watching his feet when he's chasing this fast, so make sure you practice the path you're going to swing this thing and remove obstacles so they don't twist an ankle. Also, I shortened the rope by tying a knot because it was too long for me to control the swing in my little living room. Wish chewy had the replacements, they're amazing because they have a squeak AND a rattle. The rattle outlasts the squeak by quite a long time even with my tough chewer.
---
By Kirsten on Apr 3, 2022
Must have for working breeds
This is my dogs favorite toy. I have a shetland sheep dog and they have a very strong herding instinct. This toy gave him an outlet for this type of energy so we were able to get him to stop nipping behaviors. There was an instant improvement after getting this toy. This toy has lived outside for most of the last year and is still in good shape. The toys wash well in the washing machine.
---
By Erica on Mar 2, 2022
Puppy loves it!
Flirt poles as a concept are a major hit with our drivey labrador puppy (especially useful during his landshark phase where it's best to play with him from a distance so he doesn't chew on us instead). Our little destructor loves to chew drawstrings/shoelaces/leashes and he chewed the first weasel off its little loop within a couple of days and got almost clean through the rope on this in a matter of minutes the first time we played with it - but I'm only taking away 2 stars because the second weasel has held and somehow despite the rope being down to about 5 strands of plastic, it has still held up for multiple play sessions per day in the 2 weeks since? Despite loads of tugging/yanking and a few instances of even more chewing? Frankly I'm impressed.
---
By Simba on Apr 1, 2022
My boy's favorite
For dogs with strong prey drive like our Simba, this toy is the best… He's never lost an interest in it for the past two years. We carry this to our trips with him and he always have so much fun to play with it. The refills do wear out over time, but you can tie something else onto the string and continue to use it. We absolutely appreciate this item!
---
By JeannetteB on May 10, 2022
Endless fun
My dog loves chasing the animal. He could go all day. It really tires him out. When he does succeed in capturing the animal and pulls on it, the handle gets pulled off the rod. It is a little flimsy.
---