Outward Hound Zip & Zoom Outdoor Agility Kit for Dogs
By Outward Hound
---
About This Item
Inspires interactive fun.
Promotes your dog's health and well being.
Packaged in convenient travel bag.
9 piece kit includes weave poles, hoop jump, & tunnel.
Easy to follow instructions for assembly & getting started.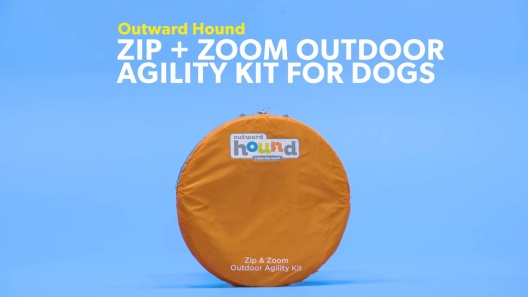 Learn More About Outward Hound From Our Team of Experts
---
---
About Outward Hound Toys for Dogs
Toys for Every Pup
Outward Hound makes a variety of fun soft toys that appeal to all different play styles. The Hedgehogz grunt and rattle, the Puzzle Plush toys create a fun challenge and the Invincibles keep squeaking even if punctured! Outward Hound also offers a wide range of ball, rope and tug toys that are must-haves for every dog lover.
Dura-Tuff
Some Outward Hound toys have a special interior layer of Dura-Tuff material that creates a powerful protective shield. It also features heavy duty binding that adds another layer of strength, so the toys can stand up to a ton of rambunctious fun.
Bound to Become Your Best Friend's Favorites
Whether your dog likes to chew, chase or solve puzzles, Outward Hound has a ton of toys to choose from. Not only do these toys suit a variety of play styles, but they are also perfect for dogs of all sizes. Find the toy that will pique your pet's interest!
Squeaker Ballz
Squeaker Ballz combine two of your dog's favorite things—an irresistible squeaky toy sound with an exciting tennis ball bounce.
Hedeghogz
The Hedgehogz stuffed dog toy is an adorable favorite that's designed with minimal seams to promote longer-lasting enjoyment!
Invincibles
Packed with satisfying squeakers, Outward Hound's Invincibles toys keep squeaking, even if punctured.
Hide And Seek Puzzle Toys
These interactive plush puzzles are designed to eliminate boredom, encourage positive play, and feed your dog's natural hunting instincts.
Pro Tip!
Toys are a great way to keep your canine companion entertained and free from boredom. Supply your pet with plenty of durable toy options, including those that squeak, grunt and crinkle. The more interactive sounds the better! Outward Hound has a ton of fun options to choose from.
About Outward Hound
Designed for dog lovers by dog lovers, Outward Hound products are made to meet the demands of your pet and your active lifestyle. Their unique lines of gear, toys, treat puzzles and dog bowls create engaging, interactive experiences that foster bonding between pets and their people. Let Outward Hound help you push the boundaries of playtime and Raise the Woof on what you expect from your pet gear!
Shop Outward Hound
---
Questions & Answers
1 Customer Questions
---
How tall is the jump
Answer by • Jan 03, 2018
The weave poles included in the Outward Hound Zip & Zoom Outdoor Agility Kit for Dogs are 18 inches tall and the jump hoop is 24 inches in diameter.
---
---
By Carly on Feb 7, 2018
Not my favorite
I got this to start training my dog in agility. In my opinion it's too flimsy, i like that it's portable, and i like that it's not too big and not too small, but it knocked over easily and one of the stakes broke just from pulling it out of the ground.
---
By 4dogs on Jan 26, 2018
Good for the $
With an inexpensive price, this is working well. I haven't been able to use it outdoors yet, but the tunnel and hoop are lasting with indoor training.
---
By Savior on Nov 4, 2017
Outside toy
I have two toy Australian shepards. They weigh about 18 and 22 lbs, and it works really work for them. I'm not sure if this will work for big dogs, but it works wonderful for my small dogs.
---
By SanDiegoLisa on Oct 17, 2017
Only for small dogs less than 10 pounds
This is a very basic tool to see if a dog would be interested in agility. The jump-thru ring is unsteady and I had to zip-tie it to the posts to keep it from collapsing. My dog is 6 pounds and I would venture that 10 pounds max would be able to use this without tearing it apart. Ditto the tunnel. This is the quality you can expect for this low price.
---
By Ashley on Oct 7, 2017
Not awesome
The hoop is meant for smaller dogs and I have a big one. The tube doesnt stay very well either.
---
By aunyabird on Jun 19, 2017
Very flimsy and cheaply made
This is definitely something for a smaller dog. I have a medium sized dog and the hoop gets stuck on her any time she tries to jump through it. All of is it very flimsy plastic. It feels more like a toy than training tool. The metal rods used to hold the tunnel in place were also easily removed by my dog - it was a bit terrifying to find her with one in her mouth. This would probably be great for a smaller dog without a lot of energy or power.
---
By Sher on Sep 20, 2017
Review For agility
The agility poles and the tunnel work great but the ring broke the first day.
---
By AnimalExpert on Jul 2, 2017
Easily Destroyed
Flicker demolished it. He jumped through, knocked the hoop over and tore the tunnel. It's useless. Enough said.
---
By poodlehound on Oct 19, 2016
Flimsy Agility Kit
I'm really excited to start agility work with my 18 month old standard poodle. So I thought this would be the kit. Boy was I wrong! First of all, it's flimsy. Second of all, it's too small for my standard poodle. I thought I bought the right size too. There needs to be dog range sizes on the product. IE for yorkies up to schnauzers, etc. Pretty disappointed!!!
---
By Lyssabd on Sep 9, 2016
Basic and convenient
Not quite what I expected, make sure you read dimensions I thought it would be bigger. All that aside, I would totally buy this again. It's portable and convenient, my 50lb lab puppy loves it and it's great obedience practice even if you have no interest in agility. The hoop is flimsy and smaller than expected but the dogs have fun with it and I love that it takes so little time to set up or break down. A great intro set for anyone wanting to try it out! The tunnel is good quality too.
---