PATPET Dual Power Supply Voice Recorder Timed Dry Food Dog & Cat Feeder, 4-liter
---
About This Item
Automatic feeder's touch screen design is easy to use.
Features a paw-some voice recorder, so you can record a message for your furry friend.
Moisture-proof, airtight feeder keeps food fur-esh.
Removable bowl is dishwasher-safe.
Battery backup comes in handy, so your furry friend won't miss meal, even if the power goes out.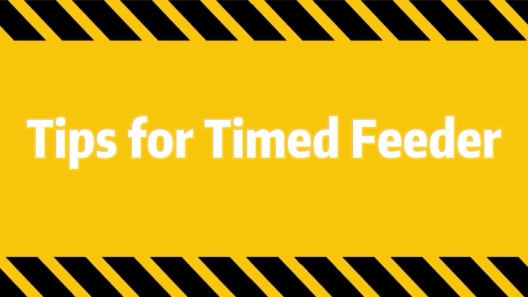 Learn More About PATPET From Our Team of Experts
---
---
Questions & Answers
4 Customer Questions
---
I feed my pet twice a day. Can this be programmed for two times a day?
Answer by • Aug 15, 2022
This feeder features the ability to schedule up to six meals daily.
---
How much food is dispensed per portion. I need 1/8 cup, or 2T per portion.
Answer by • Jul 11, 2022
This feeder dispenses 10 grams as a minimum, and can dispense in a range of 10 grams to 500 grams for one feeding.
---
Is it normal for display lights to be brighter during certain hours and dim during other hours?
Answer by • Sep 07, 2022
When the screen isn't touched for about 30 seconds, it will lock the screen and the display light becomes dim automatically.
---
Can roaches or other bugs get inside the feeder through the spout or bottom part?
Answer by • Aug 23, 2022
This pet feeder has a triple seal design and can avoid most of the pest access, which also can lock fresh and moisture-proof, but it is recommended to put the pet feeder in a clean room and regularly wash the pet feeder to keep tidy.
---
---
By Nel1 on Sep 16, 2022
Good for those who work weird hours
This is such a good product for people who struggle figuring out the right portions for their cat. My cat is chubby and needs a certain amount of food, and I was always worried he was getting over fed when I wasn't around. Now I know he's getting exactly the amount I want to give him. You have to play around with it a bit, it's a little confusing at first but if you give yourself a good amount of time to play with all the features it's not too bad. Just keep the manual somewhere safe in case you forget or need to change anything. My cat is also a coward and was scared of the feeder for about a week, the food on the metal bowl is pretty loud so keep that in mind for nervous pets. But now he runs to his bowl the moment he hears it to chow down.
---
By WilliesMama on Aug 4, 2022
As expected
I love the look. It's small so it doesn't take up much space. It was pretty easy to setup. Took me no longer than 10 mins. My cat still seems pretty iffy about it but I'm hoping he gets adjusted to the change fairly quickly of me not physically feeding him. He finally doesn't have to wait a whole 10 hrs for me to get home from work so he can get fed. So that's always a huge plus! I do want to let pet parents know who want super specific feedings. This can only be increased by 10 grams per feeding, so if it has to be a precise amount of feeding that can't be increased by 10. I suggest to look into a different product. So far so good!
---
By GoodbyeKitty on Jul 30, 2022
Instructions are worthless; YouTube video useless
I have been spending hours trying to set up this feeder. The instructions are very incomplete. I have found a series of instructional videos on YouTube narrated by a young lady who cannot speak English very well. Even using headphones and slowing down the video, and learning the dialect issues (mirror = meals; Pierre = PL, etc.), she is very hard to understand. There is one review on YouTube by some American guy who also mumbles and doesn't give much in the way of intelligible instructions. I called Chewy and they were of no help. After wasting money on buying D batteries, I will be repacking and sending this back to Chewy.
---
By Catguy1 on Aug 14, 2022
patpet auto feeder
Bought this to feed our cat for weekend getaways. Make the settings and your good to go. we feed 3 times a day butk you can go 6 if necessary. Many options to control portions and times. One note read how to set portions, I should have entered f3 for 30 grams instead I entered 30. Food kept coming like a las vegas jackpot payoff. Would definitely would recommend.
---
By Megan on Aug 27, 2022
works great!
very reliable feeder! does take a bit of time to figure out how to set it up but worth it. dispenses pretty accurate amounts of food, just a few grams over. of note is that the slow feeder option either doesn't work or is tricky to figure out — i have no idea how to turn it on lol. but otherwise highly recommend!
---
By Sammie on Jul 7, 2022
Personal message capable
With my Yorkie being 13 years old I worry about how much food she actually eats since we have other fur babies in the house who love to eat. Other auto-feeders I have seen before cost way more than this one so i never took the plunge so when I saw this item for a descent price i decided it was a great time to give it a try. So happy I did!! In a short time of having this item I was able to control how much and when my Yorkie eats and to make it fun we tested the auto-feeder on our golden retrievers. They are so smart and love playing games and figuring things out and they were so mesmerized and intrigued by this new "toy" giving out treats/kibble to them. They sat patiently and waited as we changed the timer on it with a quick click to keep them interested. My favorite feature is how you can record a message with your own voice so when it dispense the food it calls your dog over. love that it comes with a cord but you also have the option of using batteries if you prefer. So it's safe to say that I love this purchase and excited to put it in use for regular feeding for the little fur baby as well as occupy the larger dogs for some fun treat dispensing play.
---
By Cece on Jul 2, 2022
Makes life so much easier
I'm a busy homeschooling mom with a crazy schedule. This makes life so much easier. I love that it feeds a little at a time and I can choose how many times to feed and at what time. I used to fill up her bowl outside and other animals would eat it (we live in the country), it was a struggle. This solved that problem. My kids favorite part was that they got to record themselves calling Casey. My 3 yr old finds it hilarious when she hears it lol. It's also nice looking. I use it connected with the cable but it also has the option for batteries. These pictures were from the first day we got it and were testing it out but it's outside now under the porch. The picture shows what one serving looks like.
---
By Brent on Jul 17, 2022
Love it! On time...even if I'm not.
My days can get a bit hectic at times and I always worry about keeping my fur-baby on a schedule even when I'm not. This is a great feeder! I can program how often, how much and at what intervals and the feature I love is recording my voice and watching my poodle run to the feeder when he hears "Time to eat". That never gets old. lol. The unit has battery backup and where we live in Florida, the power isn't the most stable, so the feeder always keeps the program. I'm thrilled with this and give it 2 thumbs up!!
---
By CathyDB on Jul 14, 2022
I love this automatic feeder!
This is great! I have 3 cats and making sure their food bowl isn't empty requires checking it frequently. This automatic feeder solves that problem. I know they will have food even at night while we are sleeping and they are getting into everything. Lol! Also, my cats like to dump their food bowl over and make a mess. They don't dump this over. Hallelujah! It took a little bit to figure out exactly how to program it and how much food to have it dispense, but I got it worked out pretty quick. I'm really glad I got this food dispenser.
---
By Puffs on Jul 6, 2022
Quiet and stylish feeder
We needed a timed feeder for our dog because she doesn't like to eat early morning. This feeder works well. It's programmable and the lid seals tightly to keep the food fresh. It's also quiet and stylish. It can be used with batteries in case there is a power outage. Overall, very efficient and stylish feeder.
---