PATPET Outdoor Dedicated 1300M Remote Dog Training Collar
By PATPET
---
About This Item
Choose from 3 training modes—tone, vibration and 16 chock modes—to suit your sidekick's needs.
The new design has separate button features and makes handling the remote both comfortable and convenient.
The transmitter features a belt buckle for hands-free carrying.
This collar is easy to use, and you can train 2 dogs at the same time using one transmitter. You can even customize the settings for each dog!
The device allows you to train a dog at a distance of up to 1300 meters, which is paw-fect for outdoor training.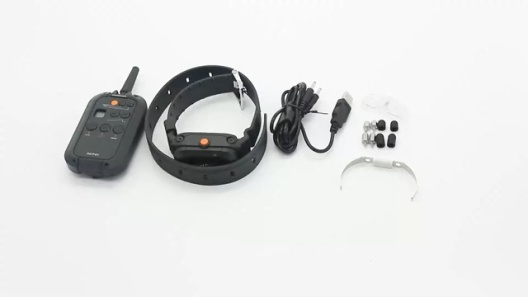 Learn More About PATPET From Our Team of Experts
---
Compare Similar Items
| | | | | | |
| --- | --- | --- | --- | --- | --- |
| | | | | | |
| Customer Rating | | | | | |
| Price | | | | | |
| Collar Type | Remote Training - Static, Remote Training - Vibration, Remote Training - Noise... | Remote Training - Static, Remote Training - Vibration, Remote Training - Noise... | Remote Training - Static, Remote Training - Vibration, Remote Training - Noise... | Remote Training - Static, Remote Training - Vibration, Remote Training - Noise... | Remote Training - Noise, Remote Training - Vibration, Remote Training - Static... |
| Breed Size | Medium Breeds, Large Breeds | Medium Breeds, Large Breeds | Medium Breeds, Large Breeds | Medium Breeds, Large Breeds | Medium Breeds, Large Breeds |
| Material | Polyurethane, Plastic | Polyurethane, Plastic | Nylon, Plastic | Polyurethane, Plastic | Plastic |
| Compatibility | Rechargeable | Rechargeable | Rechargeable | Rechargeable | Rechargeable |
| Leash & Collar Feature | Multi-Dog System | Multi-Dog System | Multi-Dog System | Multi-Dog System | Waterproof, Long Prongs |
| Closure Type | Buckle | Buckle | Buckle | Buckle | Buckle |
| Technology Feature | Programmable | Programmable | Microchip / RFID | Programmable | N/A |
---
Questions & Answers
2 Customer Questions
---
I need to get another tip for my remote. My puppies chewed it.
---
can you purchase just the collar?
Answer by • Jan 19, 2022
At this time, additional collars are only available when requested directly through the manufacturer.
---
---
By JaeCae on Feb 28, 2022
Excellent Product As Always
The PatPet outdoor training collar works exactly as you'd expect it to. Strong feedback in the vibrations as well as the tone. The stimulation (Shock) works exactly as it should as well. I recommend using it on yourself to test the strength before putting it on your dog, as the highest levels can be fairly intense. Depending on how fluffy your dog is you may need to adjust the sensitivity. Comes with a lot of extra pieces just in-case, which is a real plus! Very waterproof, and durable build. Another home run from PatPet!
---
By Michele on Feb 7, 2022
Lab Training Year #4
I recently purchased this PatPet Training Collar since the one we have had for over 6 years has started to misbehave. The new collar is working Great! Our almost 7 month old lab is doing great with it. Bodhi listens very well and responds to the collar well. We live on a very busy Parkway and need a collar that responds quickly and haven't had any issues so far with our new purchase. Most of the time, he comes back from our 2 acre back yard on his own. I'm usually always outside with him anyway since he is still young. Attached a little silly picture of Bodhi with his girl, Charleigh, with our purchase. He is wearing his collar but hard to see. Thanks again for a Great Collar!!
---
By IvySloan on Jan 25, 2022
Works wonders with my lab!
Overall, this collar is great! It is the most durable one I've used, with the longest range. I've only had to use the shock feature once with my lab - she very quickly learned. Usually just putting the collar on my dog is sufficient. Sometimes I use the the buzz feature to get her attention. If she's very distracted, I occasionally use the vibrate. She responds very quickly to that - she does not want the shock! While she's wearing this collar, I feel very comfortable letting her run free while I walk on the trails in the woods, along the river. She wears this collar in the river with no trouble. Another advantage of this collar over others is the material - it cleans easily (just wipe it off!) and dries quickly, no odor after she gets it wet in the river often. The only thing I don't love about it is that the remote lacks a strap to hold it. It has a belt clip instead. I prefer to keep it around my wrist, so I just added a strap myself.
---
By Dogbuddy on Feb 4, 2022
Very functional and rugged
I recently purchased the 1300M remote training collar. Found it to be well made. 24" collar was long and strong and easily fit around my large dog's neck. The unit is very heavy duty. the remote is waterproof - dropped in the snow for over an hour and still works great. The new button style reduces likelihood of pressing the buttons accidently. The unit functioned well even over long distances. I really liked the flatter remote style.
---
By RonM on Feb 25, 2022
Long Range Training Collar
This training collar has excellent range and comes equipped with a adjustable collar and a belt clip so it is always at your side. Being waterproof is a benefit, especially for outdoor dogs. I like how big and easily identifiable the different buttons/modes are. I highly recommend this training collar!
---
By Mapmaker on Jan 26, 2022
Lower priced PATPET trainers have longer ranges
I also bought and tried the PATPET Outdoor Dedicated 1300 meter Dog Training Collar because of the extra range of 1300 meters. This review is for this unit. Compared to my PATPET Oudoor Remote Dog Training Collar -1000 meters, I was very disappointed with this unit mainly because it did not work at a distance more than 185 yards. At my 300 yard and 475 yard test points through a mixed deciduous forest on a 25 degree F day none of the three functions worked. It was falsely advertised with a 1300 meter range. It has a poor buckle system for the receiver with only ½ of a metal buckle that looks like it could come unfastened. The function buttons are all black, arranged horizontally, and are hard to read. With gloves in winter, which is half of the year in Northern New York it is awkward to use with gloves on. There is no neck lanyard like the one that comes with their lower priced units. Only a belt clip that is awkward to use, esp with a coat on, and easy to accidentally shock your dog when you did not mean to. This unit does not seem as waterproof as the lower priced unit, as the rubber charge door on the receiver does not fit tight. I would recommend this unit only for indoor training or outdoors on a leash because of the limited 185 yard range. If you want an outdoor unit for your pet off leash save yourself some pesos and for about half the price of this 1300 meter unit buy the PATPET Outdoor Remote Dog Taining Collar -1000 meters that I reviewed just prior to this review. The 1000 meter unit has much greater range than the 1300 meter one reviewed here I have given this trainer a low rating because there are other models by PATPET that are much lower priced and user friendly . Value per dollar plays a major roll in this review. New is not always better.
---
By good on Mar 31, 2022
Great training collar
5 on this collar is the perfect amount for my Malamute Nova has been really complient with the collar and its not even the shock the vibration is enough for her
---
By Erika on Feb 19, 2022
Training beast
This is a training beast for your canine. Waterproof, 1300m distance, and heavy duty. This is so far my favorite training tool for my 3 dogs. The range is great for training off the leash. So excited to have purchased this great product.
---
By Rachel on Mar 5, 2022
Super high tech
I love this collar! It is super hi tech and works at an incredible 1300m range! Like all Patpet products, this is well made, easy to use and can be used on almost any size dog. I will always buy products from Patpet. :)
---
By Dogo4EVER on Jan 11, 2022
High Quality
The collar and remote feel solid, almost like a military grade device. The collar's buckle feels strong and is easy to put on and off, much better then other rubberized collars I have used. The remote feels good in hand and I like the fact that the multi-collar feature uses two individual buttons for easy operation without needing to look at the digital display while toggling between collars. Well done Patpet!
---