PATPET P-C80 Lightweight Remote Dog Training Collar
By PATPET
---
About This Item
The colorful light makes this training collar cool and fashionable!
Designed with your canine's comfort in mind, this collar features silicone contacts instead of metal contacts.
Features stimulation in static ranges from levels 1-16.
The lightweight receiver makes this collar paw-fect for most dogs.
You can train up to 2 dogs at once!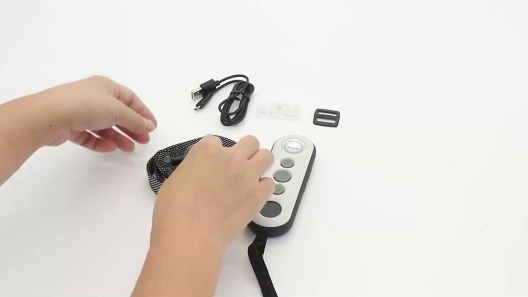 Learn More About PATPET From Our Team of Experts
---
Compare Similar Items
| | | | | | |
| --- | --- | --- | --- | --- | --- |
| | | | | | |
| Customer Rating | | | | | |
| Price | | | | | |
| Collar Type | Remote Training - Vibration, Remote Training - Noise, Remote Training - Static... | Remote Training - Static, Remote Training - Vibration, Remote Training - Noise... | Remote Training - Static, Remote Training - Vibration, Remote Training - Noise... | Remote Training - Noise, Remote Training - Vibration, Remote Training - Static... | Remote Training - Vibration, Remote Training - Static, Remote Training - Noise... |
| Breed Size | Small Breeds, Medium Breeds | Small Breeds, Medium Breeds | Medium Breeds, Large Breeds | Medium Breeds, Large Breeds | Small Breeds, Medium Breeds, Large Breeds, All Breeds |
| Material | Plastic, Silicone | Plastic | Plastic, Nylon | Plastic | Nylon, Plastic, Silicone |
| Compatibility | Rechargeable | Battery Powered | N/A | Rechargeable | Rechargeable |
| Leash & Collar Feature | Waterproof, Adjustable | Reflective, Long Prongs | Multi-Dog System | Reflective, Waterproof | Multi-Dog System |
| Closure Type | Buckle | Buckle | Buckle | Buckle | Buckle |
| Technology Feature | N/A | N/A | N/A | N/A | N/A |
---
Questions & Answers
29 Customer Questions
---
Is the collar just for barking
Answer by • Apr 26, 2021
This electric dog collar comes with a remote control that both professional trainers and first time pet parents can use. You can adjust between 16 levels of stimulation in vibrations, shocks, or beeps to help train your pooch in barking, walking, sitting, and more.
---
Can I remove the shocking posts to disable the shocking? I prefer not to use the shocking part
Answer by • Jun 08, 2021
The posts are not removeable. We recommend the PATPET P630 600M model which does not shock your pet.
---
Is this available in a set with 2 collars?
Answer by • Nov 04, 2021
We carry this set in either a 1 collar or 2 collar set. With the 2 collar set, a single remote is used to control both collars individually. To switch collars, there is a button on the side of the remote.
---
Does this collar help with fear aggression?
Answer by • Feb 07, 2022
If the dog is aggressive or psychologically sensitive, we strongly recommend not to use an electronic collar and consult a veterinarian.
---
---
---
By tara on May 10, 2022
life changer!!!
I have a 10 month old puppy that I have been continuously training. She is very good other then outside. She is a mastiff and pit Bull, always dragging me around, getting very distracted. Treats, toys and even peanut butter does me NO help outside. Recently now that she has grown into a beast, when I took her out on her leash to use the bathroom in the middle of the night. She got the collar off her neck and decided to push the gate open and run away for the first time with no regards to the car coming down the street. She thought it was a fun game running around the neighborhood in the mud and rain at 1 am. It really scared me to not have control over her, knowing how unsafe she was. So I bought this hoping for any help gaining control outside. This worked instantly. I have only had it 2 days now and both days we got to go outside off leash. It was a treat for both of us. If she try's to get out of the yard all I do is tell her no when she don't listen all it took was the beeper. She stopped instantly. The second day I didn't have to even beep she listened right off command to stay in the yard and come inside when i told her too. So amazing and it's even better I only have to use the sound and I have her full attention. I now can let my dog safely play in her yard and be a puppy without worrying about her putting herself in danger! Thank you for giving me control of my distracted puppy!
---
By madsncheese on May 11, 2022
I HAVE A NEW DOG
I don't ever write reviews but this collar has changed our lives. I have a highly reactive pitbull / cattle dog mix who barks and lunges at anything that moves. I have never had to use the shock setting yet. Just the sound and maybe a vibration every now and then, and Cleo comes right back to me and I have her full attention. I have been struggling to find something to keep her from pulling on her leash. I feel like I tried everything. This product is a miracle worker, and for the price, I would recommend this product again and again!
---
By Pepper on Apr 12, 2022
does the job
My 6 month blue heeler mix is small and this collar doesn't seem too chunky on her which is what I was looking for. So far I have only needed to use the beep and vibration. I tried the shock on my wrist and can't feel anything for the first 2 levels. It doesn't hold charge as long as I thought. Will probably need to charge it every night if I plan to use it often. But I really like it so far.
---
By Jestck on Mar 22, 2022
Perfect collar!
We have used several different collars and devices for the last 3 years, and finally we struck the best one. We took Jax in off the street and he was very aggressive, but loved my husband! Didn't want anyone else around, barking constantly. He bit me a few times over the 3 years, but this collar was a life sent!! Now he doesn't even have to have it on much!! Just worked after a couple days!! I must say I am thrilled. We have our life back!!!!
---
By SHEILA on Apr 6, 2022
WORKS EVERY TIME
I NEVER use the shock setting... I call this the 'caller collar' because no matter where Ozzie is, he comes running to me when he hears that little noise.... If he is not wearing the collar, I can call him by name, yell 'Ozzie come', offer treats... nothing works. I put the freshly charged collar on him EVERY morning and this awful little labradoodle becomes my best friend.... (if only it stopped him from eating the roses when I'm not looking, life would be perfect)
---
By OdinsMahm on Apr 6, 2022
I'm neutral atm
So we just got the collar today so haven't had a chance to use it. The reviews make it seem like a good buy. I do know that if it doesn't meet our needs Chewy is great about returns. I will add to this once we see it works once it charged. I can say that it would've been nice to get a power adaptor with the USB cord. If you don't already have one from buying phones then you will need to purchase one or you cannot charge the collar.
---
By Remote on Apr 18, 2022
Remote keeps falling apart.
Besides the Remote keeps falling apart when it was together it worked well. We haven't had to use the shock button yet as our puppy responds well to the beep. She did have the vibration used on her once that she doesn't want it again it seems. Wish the remote didn't fall apart every time you put it on your arm.
---
By murph on Apr 10, 2022
the best and what a difference
our dog used to bark a lot, with this device the barking has stopped about 99 percent. we only have used the noise and vibrate mode and have never had to use the shock mode, which we don't want to anyway. this device works wonders for out dog, even when he goes outside without the collar he still almost never barks. highly recommend this collar.
---
By Alex on Apr 23, 2022
Great product for price
The collar purchased came in a timely manner. Very simple design and rechargeable devices makes it easy and convenient for continued use. I like how it has the options for a "sound" and vibrate alarm prior to the option of shock. It is a great color for training your dog.
---
By Dogo4EVER on Apr 24, 2022
Works good for small dogs
The smallest training collar I have found. Collar and remote both feel high quality. Fits the neck of our 13lb Patterdale Terrier perfect after trimming collar shorter with scissor. We also melted the end with a candle flame after trimming so it would stay perfect.
---