PATPET P640 Outdoor Remote Dog Training Shock Collar
---
About This Item
Choose between loud beeps, 16 levels of vibration and 16 levels of mild electric shock to discourage bad behavior.
A warning at more than 8 levels of stimulation lets you know if the intensity may be getting too high.
The 600-meter transmission range is suitable for most medium-sized yards and the 1,000-yard transmission range for most large yards.
The transmitter is rainproof and the collar is waterproof—both are powered by 2-hour rapid-charging lithium polymer batteries.
The thermoplastic polyurethane collar is comfortable and discreet.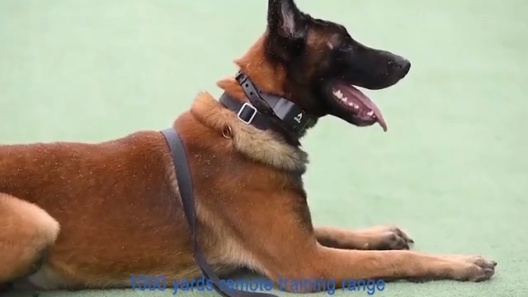 Learn More About PATPET From Our Team of Experts
---
Compare Similar Items
| | | | | | |
| --- | --- | --- | --- | --- | --- |
| | | | | | |
| Customer Rating | | | | | |
| Price | | | | | |
| Collar Type | Remote Training - Noise, Remote Training - Vibration, Remote Training - Static... | Remote Training - Noise, Remote Training - Vibration, Remote Training - Static... | Remote Training - Static, Remote Training - Vibration, Remote Training - Noise... | Remote Training - Vibration, Remote Training - Static, Remote Training - Noise... | Remote Training - Static, Remote Training - Vibration, Remote Training - Noise... |
| Breed Size | Medium Breeds, Large Breeds | Medium Breeds, Large Breeds | Small Breeds, Medium Breeds | Small Breeds, Medium Breeds, Large Breeds, All Breeds | Small Breeds, Medium Breeds, Large Breeds, All Breeds |
| Material | Plastic | Plastic | Plastic | Nylon, Plastic, Silicone, Synthetic Fabric | Plastic |
| Lifestage | Adult | Adult | Adult | Puppy, Adult, Senior | Adult |
| Compatibility | Rechargeable | Rechargeable | Battery Powered | Rechargeable | Rechargeable |
| Leash & Collar Feature | Waterproof, Long Prongs | Reflective, Waterproof | Reflective, Long Prongs | Multi-Dog System | Waterproof |
| Closure Type | Buckle | Buckle | Buckle | Buckle | Buckle |
---
Questions & Answers
37 Customer Questions
---
Can the shock feature be disabled? This seems like a good model but was looking for something without that shock feature - humane beep and vibration only.
Answer by • Jul 07, 2021
This collar also features tone and vibration and using the shock is optional.
---
How long do the battery's last I know they are rechargeable my question is how long can you keep recharging the battery
Answer by • Jun 14, 2021
A fully charged battery can last up to 3 months.
---
What are the dimensions of the receiver on the collar
Answer by • Jun 10, 2022
For this collar the receiver is 2.45 inches long, 1.15 inches wide and 1.4 inches high. The overall length of the collar strap is about 26.3 inches.
---
How do you connect a usb without the adapter that plugs into wall.
Answer by • Jul 24, 2021
This training collar includes a charging adaptor which plugs into a wall outlet.
---
---
---
By bean on Aug 11, 2022
Remote barely holds charge
Initially I got this and it worked great for getting my dogs attention. Really big game changer for us in regards to training and being able to go off leash. And it has excellent range. However, I noticed that remote was holding charge less and less as time passed. Now, just a few months into using this, I will check in the morning and it will have a full charge. By the evening time, around 6 pm, it's completely dead without me having used it at all. I always charge according to instructions and never leave on the charger after it's done charging. Will be looking into something higher quality in the future, as this one slowly dies and probably soon won't hold charge at all.
---
By Larry on Jul 27, 2022
PATPET P640 Outdoor Remote Dog Training Shock Collar
We received this product on 05 June 2022, on 26 July the transmitter will not charge. We had charging problems from the beginning since only two bars on the charge indicator were ever visible; the third bar was never visible even after charging per the instructions. We never used the shock feature. At first the tone was sufficient to capture our dog's attention, but after only two hours the tone became ineffective. However, the vibration function was very effective in stopping inappropriate behavior such as jumping on people, barking, and non-malicious, play biting. We initially stopped using at the end of June because it worked so well. We decided to begin reusing in late July because our dog began chasing cars and 4-Wheelers. Although we live in the country, we have a canal road on our property and there is limited traffic on it as well as the irrigation crew's 4-wheelers. He began chasing cars and the 4-wheelers on 25 July so we attempted to charge the collar and transmitter. The collar charged but the not the transmitter. Now that we need the the shock feature to stop this potentially lethal behavior, it's unavailable.
---
By eemmiillyyy on Aug 17, 2022
Perfect Training collar
I love this collar! It works great when training my 2 year old German shepherd! I like that I do not have to immediately shock her, and she responds great when just hearing the tone. It is nice that I have full control.
---
By Tara on Aug 13, 2022
Perfect for my pup!!
I got this to work on recall with my dog and it works so well!! I only use the vibrate option (shock only when absolutely needed) and my dog reacts immediately to it. Its completely water proof as well which is a great addition!
---
By Charlie on May 16, 2022
It's pretty good
I bought the collar to help get my dog's attention when he's distracted. So far, I have only needed the tone, and I hope I don't need to escalate beyond the vibration! Here are the downsides to the collar: Need to check if it's working before putting it on the dog. The collar seems to turn itself off from time to time. After pushing the button on the collar, the connection is reestablished. The description states there are different levels of vibration and shock. In fact, there is only one vibration level. I tested the shock function on myself, and there is NO shock on levels 1-3. I could feel the zap on level 4. Don't know how much it increases as you turn up the signal. The collar is useful to me since the dog is so responsive to it (I think someone may have used one on him before and he is wary). But it's not exactly as advertised, and it's disappointing that it stops working intermittently.
---
By Kassidy on May 20, 2022
We really like it!!
We bought this for our 45lb border collie. He's just turned 1 and we live in a rural area. My boyfriend loves to go on long walks in the woods with the dogs but our border collie would wander too far. I also love to go on walks down our quiet back road and not leash the dogs but I need them to listen to me when a car does come. Tone of voice was just not working. This collar is great for this. We have not even needed to use the shock. Just the tone. He responds great to it. This has really been a great tool working on obedience with him.
---
By IndianaMamaw on Jun 20, 2022
Tone Setting Sufficient
We purchased these for our two puppies who are almost one year old. So far the tone setting is sufficient they are quick to respond. We have been teaching them the parameters of the property and so far so good. We would recommend
---
By Sharon on Jun 11, 2022
Great training collar.
Our dog has a habit of not coming to us when called. Now we put the collar on him when we take him out. I've only used the tone on him twice. Now, when he sees me walking to gate he comes running immediately! No tone at all now.
---
By Zelda on May 3, 2022
The perfect solution
I bought this training collar to stop my dog from chasing cars and ignoring me when I call her back. This collar gets her attention and now she obeys me instantly. I like that it has 3 options (beep, vibration, and shock) and 16 levels of intensity. I mostly use the beep, and I've only had to use the shock once. I also like that the receiver is waterproof, because she likes to swim in ponds.
---
By 333777 on Jul 5, 2022
it is amazing!
It has help me train our dog and he can now be off his leash and stay by my side. This product is great and I have told two or three people about this item.
---