PATPET P650 1000ft Anti-Bark & Remote Dog Training Collar
---
About This Item
Choose between 3 harmless modes—beeps (standard), vibration (standard) and 16 levels of safe shock to help you teach your pup to behave well.
Has a dual-channel feature, which allows you to train 2 canine companions at the same time! The remote training range of this e-collar is almost 1000FT, so you and your dog can train in your backyard, the park, at the beach and other locations!
The collar is sleek, small and lightweight, which is comfortable for Dogs of most sizes. It weighs just 0.12 pounds and measures 2.3"(L) x 1.4"(W) x 1"(H).
The lithium battery is rechargeable and the IPX7 receiver is 100% waterproof.
On a single charge, the receiver will last for 11-15 days, while the remote battery will last for over 1 month.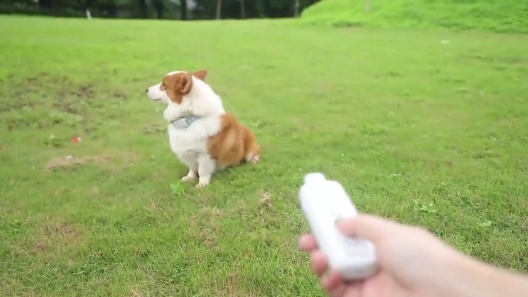 Learn More About PATPET From Our Team of Experts
---
Compare Similar Items
| | | | | | |
| --- | --- | --- | --- | --- | --- |
| | | | | | |
| Customer Rating | | | | | |
| Price | | | | | |
| Collar Type | Bark Control - Static, Bark Control - Vibration | Bark Control - Spray, Bark Control - Vibration, Bark Control - Noise | Bark Control - Noise, Bark Control - Static, Bark Control - Vibration | Bark Control - Static, Bark Control - Vibration, Remote Training - Noise... | Bark Control - Noise, Bark Control - Vibration |
| Breed Size | Small Breeds, Medium Breeds | Small Breeds, Medium Breeds, Large Breeds | Medium Breeds, Large Breeds | Medium Breeds, Large Breeds | Large Breeds, Medium Breeds |
| Material | Plastic, Silicone | Plastic | Plastic, Nylon, Synthetic Fabric | Nylon, Plastic, Synthetic Fabric | Nylon, Plastic |
| Lifestage | Adult | Adult | Adult | Adult | Adult |
| Compatibility | Rechargeable | Rechargeable | — | Rechargeable | — |
| Leash & Collar Feature | Waterproof, Adjustable | — | Water Resistant | Multi-Dog System | Waterproof |
| Closure Type | Buckle | — | Buckle | Buckle | Buckle |
---
Questions & Answers
44 Customer Questions
---
Is this a bark caller?
Answer by Jman • Jun 01, 2022
No, unless you manually do it and even then it might not correct.
---
Does this help train a dog to not chase vehicles?
Answer by Shiloh • Nov 08, 2021
You can use it to train come and leave it to get them to not chase the car but it will likely not stop them unless you are there to give them the command
---
can you orfer a replacement charger
---
My dog is just under 6 pounds. He can get very aggressive and bite. Is this something that I can use on such a small dog?
Answer by • Jul 30, 2021
PATPET products are only suitable for pets over 10 lbs. And if the dog is aggressive, please do not use this product. Dogs with aggressive tendencies are sensitive. They are easy to get out of control when exposed to external stimuli and may hurt themselves and others. We recommend taking the dog to a vet or trainer who will provide more useful advice.
---
---
---
By DogMom on Nov 17, 2022
Success!!!
Our mini Aussie barks at my husband every single time he walks in a room. It was really getting on his nerves, so I thought I would try this. It worked great! The only thing that I would add is that you need to have a consistent command in mind when you turn on the collar. The dog needs to have a different behavior instead of barking. So, if she started barking, I would give her the command come and then praise her like she invented sliced bread when she stopped barking and ran to me. My neighbors gave me that tip after they spent thousands on a dog trainer.
---
By Natasha on Nov 25, 2022
Pretty good
Worked like magic to get my dog to stop pulling on our walks I only use the vibrate setting. I gave it a 4 out of 5 only because I accidentally hit the shock button one time and I dont think it even worked my dog didnt flinch so then I tried it again and still nothing so I guess that setting is broken on my remote or collar. Either way I dont use it so its fine but kind of annoying that they sent me one that doesnt fully work. Also you do have to charge the collar pretty frequently the remote stays charged a long time.
---
By Curley911 on Nov 8, 2022
Excellent but needs a wrist strap
Product is fine, works well but there is no strap to carry the remote while walking your dog. When my husband picked up her poo, she was clearly in distress because the remote in his pocket kept buzzing her without him realizing it. I bought a neck lanyard, it solved the problem but I should not have had this issue.
---
By Claire on Nov 27, 2022
Gentle training tool
I'm excited to use this product in our everyday training. Our husky pup is still learning boundaries and this product allows us to give gentle reminders via different settings. The vibrate setting is just a nice reminder to get his attention without harming him, just to keep his focus. We got the two set for our other high energy dog as well!
---
By Glen on Nov 5, 2022
PATPET Dual Training Collar System, Excellent!
Excellent training system for two dogs. Provides an audible tone (beep), vibration and 16 levels of static shock to choose from based on your dogs level of stubborness. The two channel remote also allows for individual static shock settings for each collar. Thus making it ideal for each individual dog. The range on this training system is far superior to an older inferior one I had from another brand. Extremely pleased with the performance and it covers my 2.25+ acres with ease. For the price, this system is outstanding!
---
By DenverSteph on Nov 3, 2022
Amazing!!!
I have two super yappy dogs--they bark at everything: the mailman, dogs walking by, the wind. You name it. I've tried so many things, but nothing worked, so I thought this collar was a last resort. I put these collars on and used the "chime" function twice. They stopped barking in their tracks. We're only on day 2, but so far, so good. So glad to have some peace in the house and I feel good that they are responding without having to use the "shock" function. There is also a vibration mode, too, if your dog doesn't respond to the chime.
---
By Allygal4 on Nov 24, 2022
Easy 2 dog training system
I had a Patpet 320 with remote and one collar. I got a new puppy to train as service dog, wanted to get a second collar for hyper puppy habits of chasing the cat, jumping up, barking. She is very smart so I think she'll catch on very quickly and won't need the collar very long. I couldn't find to buy just a second collar, but saw this newer 2 collar package with much slimmer and lighter collars, so ordered that. Came quickly, well packaged. Followed easy directions, charged both collars and remote. Didn't have to go thru the pairing it describes, just set remote on 1, turned on first collar, set the shock level to 5, I couldn't feel anything below that. The 650 doesn't allow you to set the level of vibration like the 320 did, and it is quite a vibration! I think a low shock is going to be less disconcerting to the dogs, than the strong and long vibration. I set remote to 2 and turned on that collar and set the shock level. Only comes with short contact points. The 320 came with short and long, and rubber covers for the contacts. I used the longer ones from the 320 for my Great Pyrenees and the short ones for the new Aussie-Border-Labradoodle. Also comes with "springs" but doesn't really say what they are for, just says you can use the collar with just contact points, or with the springs and points. My GP I use for barking, being a guardian breed, she stays outside mostly and watches the neighborhood, and alerts me to every cat, person, car, dog, leaf, traffic cone, that is going to murder us all. I have worked with her - "thank you, I see, you told me, leave it, not yours, no bark" I let her have 1-2 barks and if she doesn't respond to leave it, not yours, then she gets the beep. And that's all I have to do, she will continue to grumble but that's ok. I have occasionally had to use the (low) vibrate if the beep isn't working, and only ever shocked her twice in 2 years. The new one, I plan to use the low shock at the same time as "leave the kitty" or "down" to reinforce those commands and make the training time faster. I think the vibration is too strong and long and would scare her, distract her from her action and the command. However, I am glad I got these, 2 collars, 1 remote. One is whitish and one is blackish. They are slimmer and more lightweight than the old clunky one. I think they will work well.
---
By Tiff1194 on Nov 23, 2022
Not reliable
I ordered this collar for my 4 month old GSD. The sound & vibrate functions work well, however, the shock part was unreliable. I even took it off of my dog and held it in my hand to see if I could feel it and there was no shock unless I pressed the button repeatedly. 5 months later and one prong has broken off.
---
By MacMur on Nov 8, 2022
Love This!
I bought this for my 3 month old puppy and it has worked wonders. I never use the shock function so I can't speak much to that except that you do have to manually install it. It would be nice to have it as a lanyard so I don't have to pull it out of my pocket each time but in terms of my puppy reacting to the beep as she was trained this is golden!! So glad I went with this.
---
By frann on Oct 23, 2022
Can't get it to work
First I question the design of the mechanism on the collar that delivers the correction. I order to charge the collar, you have to take the metal guard off which means unscrewing the connectors. Second -- mine came with no silicone caps. Third -- No directions. NONE. I found them here, but they should be in. the box. Fourth -- I charged the collar and remote overnight. The collar is charged but the remote only has one bar. Do I charge with it on? Off? Is it defective? No idea because there are NO DIRECTIONS. As a rule, I purchase this brand because it is usually very good and very reliable. This particular box missed the entire last step of having the silicone caps added to the box, directions and a check on the remote. Not happy
---