PATPET P650 1000ft Anti-Bark & Remote Dog Training Collar
---
---
Try This Similar Item By Chewy
---
---
About This Item
Choose between 3 harmless modes—beeps (standard), vibration (standard) and 16 levels of safe shock to help you teach your pup to behave well.
Has a dual-channel feature, which allows you to train 2 canine companions at the same time! The remote training range of this e-collar is almost 1000FT, so you and your dog can train in your backyard, the park, at the beach and other locations!
The collar is sleek, small and lightweight, which is comfortable for Dogs of most sizes. It weighs just 0.12 pounds and measures 2.3"(L) x 1.4"(W) x 1"(H).
The lithium battery is rechargeable and the IPX7 receiver is 100% waterproof.
On a single charge, the receiver will last for 11-15 days, while the remote battery will last for over 1 month.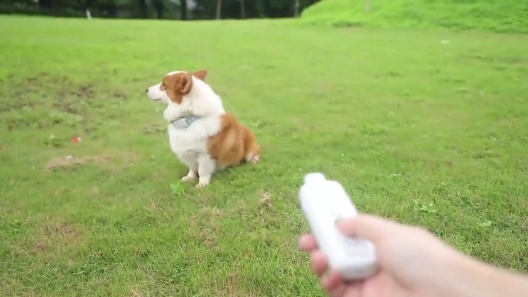 Learn More About PATPET From Our Team of Experts
---
Compare Similar Items
| | | | | | |
| --- | --- | --- | --- | --- | --- |
| | | | | | |
| Customer Rating | | | | | |
| Price | | | | | |
| Collar Type | Bark Control - Static, Bark Control - Vibration | Bark Control - Static, Bark Control - Vibration, Remote Training - Noise... | Bark Control - Vibration, Bark Control - Noise, Bark Control - Static | Bark Control - Vibration | Bark Control - Vibration, Bark Control - Static |
| Breed Size | Small Breeds, Medium Breeds | Medium Breeds, Large Breeds | All Breeds | Small Breeds, Medium Breeds, Large Breeds | Small Breeds, Medium Breeds, Large Breeds |
| Material | Plastic, Silicone | Nylon, Plastic, Synthetic Fabric | Nylon, Plastic, Synthetic Fabric | N/A | Plastic |
| Lifestage | Adult | Adult | Adult | Adult | Puppy |
| Compatibility | Rechargeable | Rechargeable | Rechargeable | N/A | Rechargeable |
| Leash & Collar Feature | Waterproof, Adjustable | Multi-Dog System | N/A | N/A | Long Prongs |
| Closure Type | Buckle | Buckle | Buckle | Buckle | Buckle |
---
Questions & Answers
44 Customer Questions
---
Does this help train a dog to not chase vehicles?
Answer by Shiloh • Nov 08, 2021
You can use it to train come and leave it to get them to not chase the car but it will likely not stop them unless you are there to give them the command
---
Is this a bark caller?
Answer by Jman • Jun 01, 2022
No, unless you manually do it and even then it might not correct.
---
what happens when they get to 1000 yards does it give a correction to come back automatically?
---
can you orfer a replacement charger
---
---
---
By Paulina on Jun 20, 2022
Great way to train
After reading a few good reviews, I decided to buy these collars. I have 2 two year old labradoodle sisters who have become extremely territorial and their barking sounds very aggressive. We live on a corner lot on a busy pedestrian street, so there was a LOT of barking going on. I started with the 'beep' at first. One of my dogs -that's all she needs, she stops barking because she gets scared (it's a relatively loud beep). My other dog takes a little more training as we've learned, and I've used the "vibrate" on her a few times which helps to distract her. The amount of barking has gone down by 50-75%, and it sounds less aggressive too. I have only had the collars for 3 weeks and I don't use them everyday. I have not once had to use the "shock" option so far. Highly recommend as positive reinforcement previously did Not work on my two dogs. Very satisfied with this product.
---
By Morgan on Jun 17, 2022
Immediate Results- wow!
We have tried so many different techniques to train our dog over the past two years. He is a very hyper terrier that I often feel chooses not to listen to us. This collar changed that almost immediately. We have not even had to utilize the shock functionality yet; he truly responds to the weirdness of the vibration. It is so handy to be able to "enforce" a command when you are not close to your dog. He has started to respect us more and come to us for a safe feeling. I highly recommend reading up on how to properly and effectively train with an e-collar before just going at it. There is definitely an art to when you "buzz" and how to make sure the dog doesn't associate the collar or the remote with the correction. Anyways- highly recommend to re-align your dog to your teaching. This has been huge for us.
---
By Harlowe on Jun 9, 2022
LOVE THIS!
My dog is still a puppy but nothing would calm him down on walks when we would walk by other people or dogs. He is friendly but just very annoying about it and would bark his butt off and lunge so it would look like he is mean and aggressive, even though he isn't. I think he was just showing authority. But I didn't like that so I looked into this collar and it honestly works great and helped so much! I like the option of sound, vibrate, and shock. Depending on the mood he is on that day we have gotten all 3 options to work. Unfortunately still using shock on him around other dogs because he is just a lot. But hopefully that gets better since he is still in the learning process! Again this is great and I would definitely recommend!
---
By Benj3 on Jun 3, 2022
Best training device.
We have a very stubborn Cocker Spaniel. If he ever got past someone coming in the front door he wouldn't come back until he was ready. The range is perfect, never used the shock and only vibrate a few times. Now, only have to hit the beep and he will stop immediately and come back. Second collar was for dauschund with excessive barking. Same goes for her. I always say command first, then beep, and then vibrate if she doesn't stop, same for Cocker Spaniel. Only used vibrate 2 times and now just the beeper. Have had these for 1 1/2 months and no charge yet for any of the devices and yes they are used fairly often. They both are becoming trained to act on just voice command. We have tried many other training devices and thrown away good money..
---
By MamaMary on Jun 9, 2022
Double Dog Duty
I bought this product for our two one year old dogs. One is an F1B Mini-Goldendoodle (Chloe), and the other is a purebred Beagle (Sofia). These two gals are quite the tandem, and they will gladly try to out bark the other. I am so impressed with the ease of the remote and collars. The ability to go between dog 1 & 2, all on one remote, is a life saver for sure! If you have more than one dog you are looking to train, then these are the collars for you! They are affordable, quality made, and have easy-to-use instructions. The added smart tag was a great surprise!
---
By Labdoddletx on Jun 15, 2022
Stops Unwanted Behavior
We have two Labradoodles that needed extra help in training them for unwanted behavior. The unwanted behavior was reinforced only using the tone and vibration modes. The range is perfect for my property which is roughly 1 acre on each of the house. Since we have two dogs, it is very easy to use the two channel remote to control both collars separately. Set up was painless. Recommend this product, however I cannot comment on the shock modes, as I have not tried them yet on our dogs.
---
By ADRIJANA on Jun 14, 2022
AMAZING PRODUCT
I PURCHASED THIS PRODUCT AFTER READING A LOT OF REVIEWS, AND REVIEWING A LOT OF DIFFERENT COLLARS. THE REASON I CHOSE PATPET IS BECAUSE IT WORKS UP TO 1000FT. IF MY DOG STARTS RUNNING AWAY ONLY COUPLE OF VABRIATIONS WERE ENOUGH TO GET HER BACK. AND ALSO WORKS WONDERFUL AS BARK CONTROL. I PURCHASED 2 COLLARE PACK. I HAVE TWO DOGS AND I CAN CONTROL THEM AT THE SAME TIME FROM THE SAME REMOTE. REMOTE HAS 1 AND 2 BUTTON TO SWITCH BETWEEN DOGS. MY DOGS CHANGED THEIR ATTITUDE AFTER ONLY 2 DAYS
---
By Marissa on Jun 22, 2022
Love this device!!
The beeper and vibration feature work so well we don't even have to use the shock option in most scenarios!! I love that we can adjust the shock voltage so easily on the remote. Although we don't have two dogs (I plan to get another eventually) and it's such a great feeling we'll be able to use the same remote for two dogs at the same time!
---
By MrsBruno on Jun 6, 2022
You need these collars
I gave this 5 stars cause 10 wasn't an option. I have three very loud dogs and live in a close community. I love that they are rechargeable, as previous collars I'd bought I was replacing batteries twice a week. It has three options, noise, vibrate and shock and various levels of intensity. It has become so effective that when my dogs go out and start barking I just put the collars on and they are silent. If this didn't work I would have spoken to the vet about debarking them so I'm very glad it didn't come to that. Can't recommend enough
---
By Micco on May 25, 2022
Great for big fluffy furbabes
We have a 120lb thick furred german shepherd/husky mix. This collar is amazing in the fact that, this is the first one we've purchased that comes with the contact spring sheet. IT MADE THE DIFFERENCE! He responds so well! He's learned that he gets treats on the beeps and to come back on the vibrate. We haven't had to use the shock mode, and hopefully never will. We only use it when we go outside or have guests over. Works like a charm and he actually gets excited about it because we use the beep function a lot to associate it as a positive thing. ** one upgrade I would suggest is moving the charging port on the collar. In order to charge with the spring sheet you have to remove the contact points and the sheet.. but I've had it for a week or so and it is still fully charged!
---