PAW5 Wooly Snuffle Dog Feeding Mat
Temporarily Out of Stock
Get notified when this item is back in stock.
Compare Similar Items
| | | | | | |
| --- | --- | --- | --- | --- | --- |
| | | | | | |
| Customer Rating | | | — | | |
| Price | | | | | |
| Lifestage | Adult, Puppy, Senior | Adult | Adult, Puppy, Senior | Adult, Puppy, Senior | Adult, Puppy, Senior |
| Material | Cotton, Polyester, Natural Fabric, Synthetic Fabric | Synthetic Fabric | Polyester, Rubber, Synthetic Fabric | Polyester, Rubber, Synthetic Fabric | Polyester, Rubber, Synthetic Fabric |
| Pattern | Solid | — | Graphic | Bones | Graphic |
| Breed Size | — | Small Breeds, Medium Breeds, Large Breeds | — | — | — |
| Bowl & Storage Feature | — | Non-Skid, Travel | — | — | — |
---
About This Item
Feeding mat mimics hunting for food in grass and fields, as your dog's ancestors did.
Stimulates your pup's nose and brain to find the food.
Made from sustainably sourced materials that are non-toxic and safe.
Perfect for all breeds from small to large.
Easy to clean—simply throw the mat in the washer and dryer.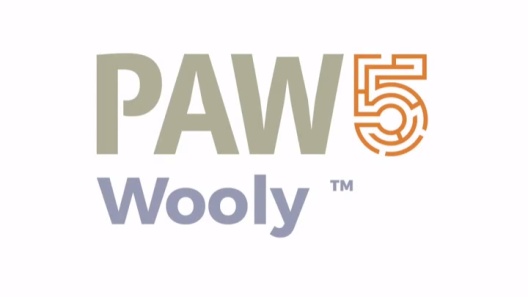 Learn More About PAW5 From Our Team of Experts
---
---
Questions & Answers
14 Customer Questions
---
What is the country of origin of the material and where is it made?
Answer by • May 24, 2019
The Wooly is sustainably sourced and handmade by one of PAW5's global community partners in Thailand and Ghana.
---
This material is not felt, is it? I ordered a couple made from felt and my lab just tore it into pieces
Answer by • May 20, 2019
This feeding mat is made from cotton and polyester and is very durable.
---
Is this product machine washable? How frequently should the mat be washed?
Answer by • Mar 17, 2021
This mat is machine washable just toss it in the washer (warm water) and tumble dry (low). It can be washed when you feel its dirty.
---
what are the dimensions?
Answer by • Apr 13, 2019
This feeding mat is approximately 18 inches in length, 12 inches in width, and 3 inches in height.
---
---
---
By Amanda on Sep 8, 2022
Better than any slow feeder!
We've tried MANY different types of slow feeders to slow down our dog's eating and they barely made a difference. This snuffle mat is absolutely superior to all that we've tried before and makes his meal last for 5-8 minutes instead of literally 30 seconds. Also, there isn't really a way he can outsmart it due to the nature of it. Occasionally he'll pick it up to shake out whatever's left when he gets to the end but even then it's essentially "scatter feeding" (look it up) so he can't inhale it in three bites. It's also super durable so it doesn't get torn apart by his teeth - and we have a 70 lb. dog who's a power chewer and can tear apart a stuffed toy in mere seconds! So whatever fabric they use is pretty strong but we do put it up between meals to be safe because we don't want him to use it as a chew toy. Also, super easy to shake out or wash. I will say that it can be messy if your dog shakes it but it's not a big enough con for us. I just wish they'd offer it in a bigger size though as our dog eats 2 cups of food twice a day, so we typically have some spill over since it holds 1.5 cups or less best.
---
By KaylaM on Aug 25, 2022
High quality snuffle mat
My dog loves to root around to find & eat bugs in grass, so I thought she would enjoy a snuffle mat to eat her kibble out of. This is a high quality mat, durable, and easy to clean. I was initially concerned because in the past, she has "figured out" puzzle toys (for example picking them up and dropping them onto the hard floor to break them open), but that has not been a problem with this mat. I see other reviews of people who's dogs pick up this mat to shake the food out of, but my dog hasn't tried that so far - she roots around and eats from the mat as it is designed to be used.
---
By John on Aug 3, 2022
Could be better but I don't know how???
The mat does what I wanted it to; for a little while. It makes Luna search for her treats. It works for a few seconds but after that first treat is found, like someone else reported, she is smart enough to just pickup the mat and shake the rest of the treats out. But I do like watching her excitement finding that first treat. When it's empty, she'll walk past and and sniff around to see if I reloaded it. I don't like her being able to pick it up and shake out the treats. Maybe I should try some double sided tape and stick it to the floor? I just don't want to deal with stucky glue on the bottom of the mat.
---
By Barb on Jul 16, 2022
Good for bored dogs
Our recent rescue dog is turning out to be fairly high energy and quickly bored. I bought this snuffle mat initially as a distraction for him while I work (from home). However, it has turned into the mandatory breakfast food delivery system. He will not eat breakfast until part of it is served on this mat. If he eats all of the food off the mat and is still hungry, he will pick up a mouthful from his bowl and drop it on the mat before informing me the mat needs a refill.
---
By Jackie on Jun 17, 2022
The Best Slow Feeder
This is hands down the best way to feed fast eaters and dogs at risk for twisted gut. One of my dogs would bloat like a balloon. None of the slow bowl feeders helped at all, not even a little, he was still able to suck in air, this changed all that. Be sure to shake it a little before adding food so the shag fluffs back up. If there is a flaw it only holds about 1 cup well, so feed more often if needed. It takes my dog several minutes to eat, he's even relaxing a bit at the dinner table now. We also bought one for our small dog that eats fast and doesn't get much food. I think she feels more satisfied looking for her few pebbles of food. This also allows them to use their nose at dinner. Seriously this is great idea and product.
---
By DoggieSparkles on Aug 3, 2022
Snuffle goodness
my 3 month old standard poodle puppy loves this snuffle mat. his baby shark teeth have not torn it apart after a month of having it, so, it's all good for us! He gets a lot out of it. it keeps him busy, he eats slowly and it's perfect for his late night additional snack.
---
By trace on Jul 9, 2022
never knew I would need this
my dog loves the snuffle mat. any time she sees me pick it up she she gets excited. she knows she's going to get to forage through it for treats. I let her sniff for treats while I'm working. it gives her a nice 10-15 minute activity to do during the day besides sleep. wish I bought it earlier.
---
By Scar on Aug 7, 2022
good investment
I was looking for some low impact enrichment for my senior golden, and he LOVES this mat. He gets a portion of his kibble scattered on it daily, and he really enjoys foraging for every single crumb.
---
By PipersMom on Jun 2, 2022
Excellent mat for quick eaters!
The mat slows down feeding time and provides a lot of stimulation for my puppy. She's been using it since she was 9-weeks old. It's big for her, but I know she'll grow into it. I occasionally have to help her find some hidden pieces of food, but overall she took to it very quickly and I look forward to having it for a long time. We haven't tried washing it yet, so here's to hoping it holds up.
---
By Barb on May 19, 2022
Very worth it, game changer!
I have two rescues, with opposite personalities but matching play habits that get along well. But one is a very slow eater and the other inhales her food in an instant then eagerly monitors her sister. At first I thought the snuffle mat was a bit silly... but she enjoys it so much! I would recommend switching to a small dog kibble so they have to work harder to find the pieces. It is really a game changer. Instead of thinking the slow eater is getting more than her, she races to the other room for her adventure.
---