PawFlex Basic Disposable Dog Bandage
Frequently Bought Together
---
About This Item
Quick and easy way to treat hot spots, insect bites or wounds, and can simply be tossed out when injury is healed.
Stretchy, non-adhesive bandage won't pull fur or irritate delicate skin, making it perfect for covering surgical sites.
Comes with 2 standard-width and 2 wide-width bandages for the quick and convenient treatment of most canine ouchies.
Non-slip, double-catch touch fastener keeps bandage securely in place but can easily be removed or adjusted if needed.
Water-resistant and breathable material won't retain moisture from licking or get soggy from potty breaks in damp grass.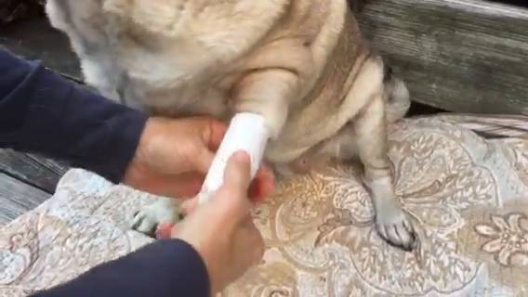 Learn More About PawFlex From Our Team of Experts
---
Compare Similar Items
| | | | | | |
| --- | --- | --- | --- | --- | --- |
| | | | | | |
| Customer Rating | | | | | |
| Price | | | | | |
| Breed Size | Extra Small Breeds, Medium Breeds, Giant Breeds... | Small Breeds, Medium Breeds, Large Breeds... | Medium Breeds, Giant Breeds, Large Breeds... | Extra Small Breeds, Small Breeds, Medium Breeds... | Large Breeds, Medium Breeds, Small Breeds... |
| Health Feature | First Aid | First Aid | First Aid | First Aid | First Aid |
| Lifestage | Adult | Adult | Adult | Adult | Adult |
| Top Ingredients | — | — | — | — | Water, Vp/Dimethiconylacrylate/Polycarbamyl Polyglycol Ester and Vp/Polycarbamyl Polyglycol Ester, Sodium Benzoate (as A Preservative)... |
---
Questions & Answers
5 Customer Questions
---
What are the sizes of the bandages
Answer by • Jun 14, 2021
The bandages come in several different sizes. Size Style Length Width XX-SMALL/X-SMALL Standard 5 inches 1.5 inches XX-SMALL/X-SMALL Wide 5 inches 2.5 inches SMALL Standard 6.5 inches 1.5 inches SMALL Wide 6.5 inches 2.5 inches MEDIUM Standard 9.5 inches 2.5 inches MEDIUM Wide 9.5 inches 3.5 inches LARGE/X-LARGE Standard 12 inches 3.5 inches LARGE/X-LARGE Wide 12 inches 5.5 inches
---
Can these be used on the paw? Or are they made specifically for the ankle?
Answer by • Oct 30, 2022
This bandage is not designed to cover the paw.
---
can they bite this off
Answer by • Aug 25, 2022
This bandage is not chew or bite proof.
---
Do you have the actual dimensions of the large/extra large?
Answer by • Feb 21, 2020
The large/extra large measures 3.5 inches in width and 12 inches in length.
---
---
---
By Buster on Nov 7, 2022
Great help in dogs recovery
These bandages are great help for a puncture wound on the outside of my dogs back foot. Once she was past the daily wound cleaning and dressing changes, these were very helpful to keep the wound clean during the healing process. So easy to use, right size for a large 80 lb dog. She never tried to lick or remove the bandage. I think the cushioning really made her feel secure that this was something helping her get better.
---
By LainsTuesday on Mar 28, 2022
Amazing bandages!
Só I bought this ages ago when I first got my dog (just to be safe) and today I finally had to use them. Took my German Shepherd Ollie to the park to play fetch, and we started playing in the basketball court. I didn't notice Ollie got hurt until Ollie started leaving prints of blood on the floor and I started freaking out. When I checked, I noticed the top of his upper back paw was bleeding (he scraped it both paws in the same area). I felt awful as I didn't realize how hard the concrete was affecting his paws as Ollie chased down the balls like a manic. We walked and arrived home where I was able to disinfect the scrapes and apply these bandages so the bleeding would stop. I was worried that Ollie would remove them but I think he understood that it was to help him (that plus he was exhausted from all the running in the park) and let me put it on and clean his wounds without a problem. I'm extremely satisfied with this product and added more to my shopping cart just in case it's needed in the future (hopefully not). They were easy to put on, stayed on (most importantly), and worked like a charm.
---
By LisaC on Jan 21, 2022
Fell off every time
Waste of money. Didn't work on my dog. She has an cut on her back right left and every time I put this on, no matter how tight, it would come off immediately. I even used additional tape and that didn't work. Notice in the picture it's on the dog's ankle -- mine was further up. Not good for knee area injuries for sure
---
By Jennifer on Feb 7, 2022
Useless waste
These ended up being useless. My dog ripped them off within 30 seconds. I put one on again and it fell off shortly after.
---
By Judy on Aug 23, 2021
PawFlex Basic Disposable Dog Bandage
I needed this kind of bandage for my Golden boy who had a puncture would..did not want to vet-wrap unless swimming etc...wanted breathable to help would heal..and easy to remove. Ordered more of this to have on hand. Also there were 2 sizes of the bandage in the package..one covered more area on the leg. Options were good to have. Will use again for sure. Also nice for nite-time. For the most part it stayed on. Did not seem to bother him having it on his leg..at the bottom, close to his foot. Clever Golden boy..LOL...
---
By Kaki on Jan 9, 2021
Ordered for lick sores
I have a Chessie that is obsessed with licking her front legs until she has open sores. I ordered these to give her a break from the comfort cone. Work very well at night. They don't bother her and don't rub to make sores worse. They Stay in place & I can get several nights from one bandage. Not so useful during day since she is very active & she gets them too dirty.
---
By ALouise on Sep 6, 2020
Highly recommended
I got these for my ole' schnauzer who has a wart who licks and chews on it too much and these are great
---
By lightofmysoul on Jul 12, 2019
i love this bandage
i bought this to cover a boo boo on my dog. other bandages, he took of within minutes of having it on. this bandage is easier to put on and is more comfy for the animal.
---
By Smashed on Nov 5, 2018
Didn't work for us
If the bandage is needed just ABOVE a joint, as shown in the picture, it probably works fine. I needed it to be just BELOW the elbow on a front leg. Without additional taping, it simply slid down the dog's leg. If I have to use tape, I don't need to pay for the fancy bandage - I can just use gauze and tape!
---
By msgreen on Oct 19, 2018
Thank you PawFlex
This is a life saver. I recently adopted a dog that has been hit by car. He had a pretty bad staph infection and enormous wounds on his hind legs. I had to keep everything clean and paired this with the comfy cone. I love that I can check up on the wounds easily and monitor the healing process. He really does not seem to mind these at all and feels comfortable. I am ordering these in all sizes to add to our pets first aid kit. I honestly don't think our cat would mind this either.
---