Perky-Pet Triple Tube Bird Feeder, Copper
By Perky-Pet
---
About This Item
Featuring three individual feeding tubes and 12 patented two-in-one flip feeding ports that adjust to accommodate your favorite seed
A special powder-coating helps protect this feeder in most weather conditions
Features a stunning copper finish that's as lovely as it is durable
Easy to fill and clean, boasts a whopping 10-pound seed capacity, meaning less filling and more bird watching
Perfect for homes with heavy squirrel traffic, it comes complete with a squirrel resistant baffle to keep them out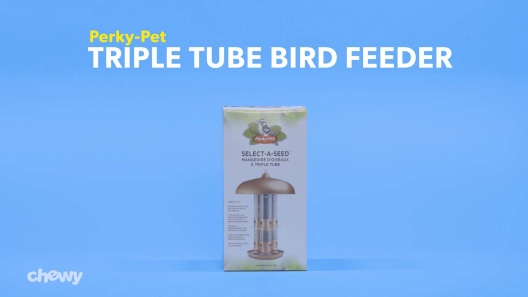 Learn More About Perky-Pet From Our Team of Experts
---
---
Questions & Answers
10 Customer Questions
---
Is this feeder designed to also be a pole mount, or is it only a hanging feeder?
Answer by • Sep 19, 2017
This feeder has a 1 inch hole in the base where a pole can be inserted for mounting. The pole will run the length of the feeder and will line up with an additional 1 inch slot in the lid.
---
Is this feeder just for small birds? We used to get lot`s of crows and blue jays. We only care to see small birds and cardinals. Told to use the smaller tubes because the bigger birds can`t get to the food then.
Answer by • Nov 12, 2017
Many customers have reported that only small birds have been able to effectively use this feeder.
---
can sunflower seeds be used in this feeder? and Is the top big enough to keep water out of food tray?
Answer by • Dec 04, 2017
This feeder holds up to 10 pounds of any type of bird seed such as sunflowers, wild bird seed, and more. The large top shield keeps rain out of the food tray.
---
Can I buy replacement plastic ports for the feeder tubes? 3 of the doors have been chewed by the squirrels.
Answer by • Nov 22, 2020
At this time, replacement parts are not available for this bird feeder.
---
---
---
By stacey on Feb 7, 2022
worst feeder
mostly plastic including the "eyelids" that are to keep the squirrels out, well they do not the squirrels easy got in the holes and broke the little plastic "eyelids" and the seed poured out. the medal rods for birds to sit on do not stay in the plastic housing keep falling out and some get lost. only have had this feeder for a few months and it is destroyed only one bay able to use due to the plastic breaking and the rods lost and it has just fallen from the tree and the bottom plastic completely smashed a complete waste of allot of money
---
By Bear on Feb 7, 2022
The perfect feeder
This is the second feeder I've had like this. The birds love it and I do too. I've had it for several years and it is still like new. It is on a pole with a squirrel baffle under the feeder and the squirrels have to settle for eating on the ground. When I first ordered this one it arrived broken. I notified Chewy and they replaced it immediately, no questions asked. I was so impressed with their customer relations that when I adopted a cat I went straight to chewy for supplies. They are the best!
---
By AuntDD on Mar 19, 2022
Bird Feeder
The above bird feeder was partially broken when I received it. It was still useable though. I found it was very tricky to refill. It will not go back together good. Would not recommend it.
---
By Birdlover on Nov 11, 2021
Do not Purchase this feeder!
bought for our mountain cabin. Had it a few weeks before we could get up to hang it. It has only been hanging in tree two weeks and the little windows have all broken out from pressure from the seeds inside. now we cannot fill it because all of the seed we put into it falls out of all of the holes. Would not recommend this for anyone. Too much money for such a cheaply made all plastic thing of junk. So sad for my little birdie friends.
---
By Feeders on Mar 24, 2022
Birds are happy campers
Once installed, the birds have attacked the feeders and eating the seeds like crazy.
---
By MorkieMama on Nov 4, 2021
Beautiful & Birds Love
This is a beautiful feeder. Replaced a similar one that I had for about 10 years. Have it on a pole with a baffle so no problems with squirrels, and all of the birds love it - small or large. Very easy to refill, but since it holds so much, I don't have to refill often. A great purchase!
---
By Kathy on Nov 21, 2021
Great bird feeder
Replacing the exact same feeder that the bear took down and destroyed. We've been using this one for years and always go back for the same one when it needs to be replaced. We think that says it all.
---
By Pinoke on Sep 16, 2021
Not solid enough to support weight
I had this feeder up for approximately 2 weeks and the plastic that holds the hanging hardware broke off completely. Because the hanging hardware is completely unusable I know either have to find a stand / pole to place that way, or trash the feeder. I enjoyed the design and the amount of seed it held, but this main flaw will keep from purchasing. If you plan on hanging the feeder, don't as the plastic is not sturdy enough to hold the weight of the feeder, the seed, and most likely the squirrels that will make their way to the feeder.
---
By Jude on Jan 14, 2022
Great Squirrel Proof Feeder
The dome on the top keeps the squirrels out of the feeder and the birds have 6 feeding stations.
---
By NanMuffin on Dec 4, 2021
Bird feeder
It is gift for my brother. We have one and love it. He saw it one day at house and talked about. We love it and birds love too.
---