Pet Acoustics Pet Tunes Calming Music Cat Speaker
---
About This Item
Plays calming, frequency-modified music that's clinically proven and veterinarian-approved to reduce stress and calm nervous feline behaviors.
Can also be given as needed for stressful situations like during travel, grooming, separation anxiety or when there are loud noises present, like during thunderstorms.
Small, lightweight design is perfect to lay by your kitty's bed or hang from its lanyard in a safe spot.
Speaker is Bluetooth capable and comes with a Micro SD card pre-loaded with 90 minutes of music.
Built-in lithium battery is rechargeable on most laptops and computers with its USB charging cord; to play music 24/7, simply plug into a USB wall adapter (not included).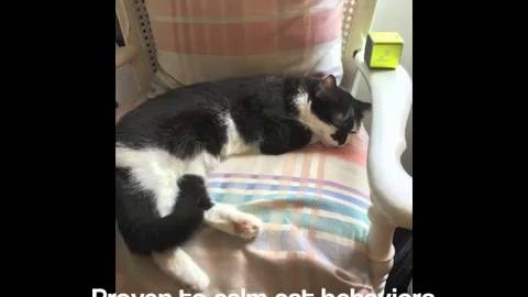 Learn More About Pet Acoustics From Our Team of Experts
---
Compare Similar Items
| | | | | | |
| --- | --- | --- | --- | --- | --- |
| | | | | | |
| Customer Rating | | | | | |
| Price | | | | | |
| Autoship | — | — | | — | — |
| Lifestage | Adult | Adult | Adult | Adult | Adult |
| Compatibility | Bluetooth, Rechargeable, Battery Powered | Battery Powered | — | — | — |
| Health Feature | Calming | Calming | Calming | Calming | Calming |
| Closure Type | — | — | Breakaway | — | — |
| Top Ingredients | — | — | — | — | Isoparaffinic Hydrocarbon (a petroleum distillate) 45.00%, Analogue of Feline Pheromone 5.00%, Other Ingredients 50.00%.... |
---
Questions & Answers
6 Customer Questions
---
Is there a way to keep it on a loop so that it goes longer than 9 hours? Or do you just push repeat?
Answer by • Dec 25, 2018
This speaker does play music 24/7 if plugged into a USB wall adapter (not included).
---
I have a dog as well as cats indoors. Would this at all bother her hearing since a canine and feline frequency are different?
Answer by • Dec 26, 2018
The speaker will not harm your dog's ears.
---
Does it hurt to keep it plugged in all the time?
Answer by • Sep 19, 2018
This is a portable speaker that doesn't require being plugged into an outlet. The only time you might need to plug it into an outlet or your computer is to charge the battery. Pet Tunes plays continuously up to 8 hours on a full battery charge. You do not have to press any buttons to have the music play continuously.
---
Will the sounds also be soothing/calming to my dogs?
Answer by • Dec 23, 2018
This speaker plays frequency-modified music that's clinically proven and veterinarian-approved to reduce stress and calm nervous feline behaviors.
---
---
---
By lisa on Jan 3, 2022
overpriced
This is essentially a blue tooth speaker with a chip, as described, that plays 9 hours of tunes. There is nothing special about the tunes that I can see. One or two of them have birds chirping in the background. I could have done just as well to buy a small speaker and download mellow tunes myself. It should cost half as much as it does!
---
By Mags on Oct 9, 2021
Every cat owner should have one of these
Omg. What a wonderful item. Whoever thought of this is genius. My two shelter boys (5 yo) absolutely love love this. They have become loving and less needy. They even come when I call. I realize there is an apt. But this little box goes with them at night and when there is commotion during day. It's a must have for all kitty owners.
---
By Bilbo on Sep 29, 2021
Good idea but does not perform as promised.
If you think it is going to wrk as promised you will be seriously disappointed. I need mine to run 24 hrs a day. It promises to do do that by simply plug it into a charged computer that is charging. It does not. It stops when it has gone through one cycly and that is it. It does not continue nor does it restart . I am probably going to return mine or replace it if someone at chewy can fix it.
---
By Sarah on Oct 8, 2021
Honestly, I'm obsessed.
I bought this thinking it was going to be a waste of money. It seems to calm my cats a bit but even if it doesn't, I think it was still a fantastic purchase. The music is so calming, relaxing, and pleasant. I put it on for my cats when I'm gone during the day and I like the music so much, I often forget to turn it off when I return.
---
By Ginger on Sep 25, 2021
Great product
About after 10 seconds, my cat laid down and was so mellow. She likes it, I love it, for her and me. It calms my brain down, makes my body relax. No kidding. What a wonderful tool to have for these crazy times.
---
By Sydney on Jul 7, 2021
They Ask For Music
My two 2-year old siblings, Sméagol and Arwen love this music box. Arwen will come up to it, tap it and chirp until we turn on the music. They will both lay down and chill. It really helped him with the fireworks. He didn't run around terrified like he normally does. Sméagol was still scared but she stayed with us, the music box, and her pheromones. I would recommend this a thousand times. The music is soothing for us too. We listen to it while we WFH.
---
By CD187 on Jul 18, 2021
Great Item!
Very peaceful, calming music in a small, convenient package. Keeps the boys calm during thunderstorms and fireworks.
---
By Lovestotravel on Apr 1, 2021
I like this idea
I already play either cat calming music or spa music on my Alexa to relax my cats at night when they want to play and I want to sleep. I'll be purchasing this for car rides since our vet is about 40 minutes away from our home.
---
By Bash on Dec 29, 2018
Made car travel much easier
My cat usually cries most of time during our 9 hour car trip. The speaker plus Feliway spray worked great. She still got carsick :-( , but the speaker was so helpful in keeping her calm. It was very easy to use, held the charge for 9+hours of continuous play, & I could turn volume low enough that front seat passengers didn't hear. I thought it was a bit pricey, but it was well worth it for peace & quiet! Would highly recommend.
---
By SuperSylph on Jan 17, 2019
Does our work?
I'm not sure. My cats do not seem any more calmer.
---