Pet Dream House SPIN Tricky Level UFO Maze Non-Skid Plastic Interactive Slow Feeder Dog Bowl
---
About This Item
Serve a variety of textures and foods, from crunchy kibble to fresh veggies, in the different compartments to shake things up.
Pets actively engage with the bowl's moving and interchangeable parts, creating a fun new feeding experience at each meal.
Holds approximately 8 cups of kibble.
Made with BPA-free and PVC-free plastic.
Dishwasher-safe in the top rack.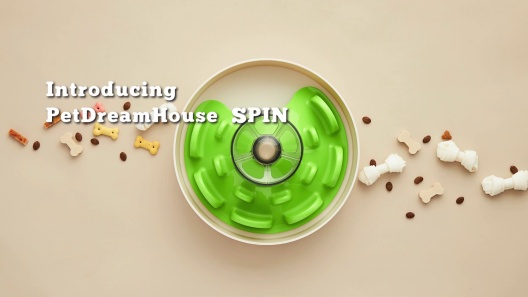 Learn More About Pet Dream House From Our Team of Experts
---
Compare Similar Items
| | | | | | |
| --- | --- | --- | --- | --- | --- |
| | | | | | |
| Customer Rating | | | | | |
| Price | | | | | |
| Breed Size | Small Breeds, Medium Breeds, Large Breeds | Small Breeds, Medium Breeds, Large Breeds | Small Breeds, Medium Breeds, Large Breeds | All Breeds | Small Breeds, Medium Breeds, Large Breeds |
| Bowl & Storage Feature | Non-Skid, Dishwasher-Safe | Non-Skid, Dishwasher-Safe | Non-Skid, Dishwasher-Safe | N/A | Automatic |
| Lifestage | Adult | Adult | Adult | Adult | Adult |
| Material | Plastic | Plastic | Plastic | Polypropylene, Plastic | Plastic |
| Capacity (Max) | 4 cups | 4 cups | 4 cups | 2.5 cups | 11-oz |
| Assembly Required | No | No | No | No | No |
| Small Pet Type | — | — | N/A | N/A | — |
---
Questions & Answers
2 Customer Questions
---
Does this work for small dogs with short snouts?
Answer by • Apr 19, 2022
It can work with flat-face breeds like pug or bulldog as a game, but it won't reduce the breathing issues, and potentially create more stress due to the slow feeding disc.
---
Will this work with wet dog food? I don't feed my boys kibble, they get ground beef & rice for every meal.
Answer by • Jan 12, 2022
These SPIN bowls are dynamic interactive feeders which can be used in many ways. So wet food is absolutely fine to be used on a SPIN bowl. However, the "Rotate", "Drop", "Reward" stimulation will not be as straightforward as the dry kibbles. Also wet food viscosity is also a factor to consider.
---
---
By dogmom on May 9, 2022
Not as good as I hoped
I bought this hoping that it would slow my dog down as he scarfs down breakfast or dinner. While it has slowed him down, it also won't let any food out unless I manually turn the cup on the top. For some reason it will tighten down and not allow any food to fall out as his spins the dish around while eating. He waits for me to spin it now but it raises his anxiety about eating and I'm afraid to switch back as I think this has only made him want to eat even faster now and his chances of choking have now gone up because this doesn't work as ot should.
---
By DogMom on Feb 22, 2022
Border Collie Loves It
I have been through 2 different slow feeder bowls with my 3 year old border collie. He has started inhaling his food again after figuring out the best way to go about emptying out his slow feeder bowl. So I decided to try a puzzle bowl this time to change it up on him. Smart boy tries to eat the food out of the very top where you pour the food in which is probably the only drawback of this bowl. He eats a cup of kibble per meal and it basically fills up the whole center part. I do like that there is a ton of different ways to use this bowl so I can change it up a bunch when he gets bored or figures it out.
---
By FergsMom on Feb 27, 2022
Works great, needs duct tape
Really, really pleased with this feeder. Went from inhaling food in 15 seconds to taking 2-3 minutes to eat 1-1/2 cups of food. When I saw the "tricky" rating I thought it might be too hard for my golden retriever but it wasn't. The only reason I didn't give it 5 stars is that we need to roll up duct tape to stick the bowl to the floor to keep it from sliding around; the rubber feet didn't stick out enough. It washed up easily in the kitchen sink (by hand). I haven't put it in the dishwasher and after reading another review, I might not.
---
By Aaron on Mar 7, 2022
Fine before it broke
I'm not sure if it's just bad QC or a flaw in the design but the center column of the clear piece broke after six weeks. It slowed my dog down really well, so it did its job fine, but I'm disappointed in its durability. My dog wasn't particularly hard on it and most of her interaction with the clear piece was licking it, not pawing it or batting it around.
---
By CletosFam on Apr 9, 2022
Excellent enrichment - add a rubber washer
Love this feeder! By far our pup's favorite interactive feeder and great for slowing him down. As others have said it easily can become too tight but we fixed that easily with a cheap rubber washer from the hardware store.
---
By monofo on Apr 11, 2022
works well for a Rottie!
My 6-year old Rottie started wolfing down his food and then throwing up. This slowed him down well and it's big enough to accommodate his giant snout. The spinner really helps keep him engaged while eating.
---
By Kuna on Apr 1, 2022
Slow feeder for our 3 doggos.
My border collie has figured out that she can use her tongue to dip into the top—but we are finding that it is the right amount of challenge for our three dogs. We have two other dogs bowls as well—but they all start with this one.
---
By Catherine on Jan 14, 2022
Awesome until the dishwasher
This feeder was amazing at slowing my dog down from gobbling down his food. I've tried several different slow feeders and kibble wobblers, but my dog would still have issues with inhaling kibble that caused coughing fits. This bowl kept him occupied for over 15 minutes, he never inhaled his food, and it was so much quieter than the wobbler we used before. BUT sadly it became unusable after it's first trip in the dishwasher. The mechanism no longer spins and is essentially useless. Not sure if mine was just defective, or my dishwasher was too hot, but it was sad we only got a little use out of it. However I'm still considering buying a new one because it worked out so well with my dog. This time, no dishwasher.
---
By Kevin on Feb 26, 2022
Almost worked
Great design with the slow feeder but my pitt mix is too smart when it comes to food. She figured out she can just stick her nose in the hole, spin it a few times an most the food would fall out, she never even tries the green puzzle part of it. Thanks for the great idea though!
---
By carom1 on Jan 26, 2022
doesn't come with any instructions
Okay, so this bowl has me questioning my intellect. The feeder arrived with this additional beige piece that is not listed on the box or in any info I can find on the internet. There aren't any instructions included either. My assumption is that it's supposed to be used to hold the green piece in place if not using the gray translucent piece, but that's really just a guess. Would love some guidance to make sure I'm using it correctly!
---