Pet Fit For Life 5 Piece Squiggly Worm Wand Cat Toy
---
About This Item
Activates your cat's hunting instinct to get him physically active and mentally engaged with colorful wigglers and removable bell.
Stands up to daily, heavy-duty playtime thanks to the carbon fiber and break-resistant fiberglass pole.
Pole features a super strong tip with reinforced eyelet, and the string is made of rope-like nylon that won't strain or fray.
Easy-to-use clasp so you can swap the wigglers as needed to help keep your pal excited, and is made with all pet safe materials.
Comes with five colored wigglers for the playtime variety cats find irresistible, each with a metal swivel for added wiggly action.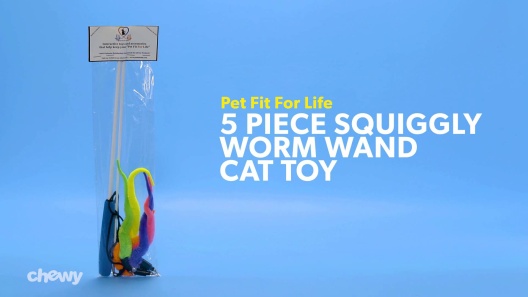 Learn More About Pet Fit For Life From Our Team of Experts
---
Compare Similar Items
| | | | | | |
| --- | --- | --- | --- | --- | --- |
| | | | | | |
| Customer Rating | | | | | |
| Price | | | | | |
| Material | Plastic | Plastic | Plastic | Plastic | Plastic, Vinyl / PVC |
| Toy Feature | Exercise, Feather | Exercise, Feather, Replacement | Exercise, Feather | Exercise, Feather, Replacement | Exercise, Feather |
| Toy Type | Teasers & Wands | Teasers & Wands | Teasers & Wands | Teasers & Wands | Teasers & Wands |
| Lifestage | Adult | Adult | Adult | Adult | Adult |
---
Questions & Answers
9 Customer Questions
---
How long is the pole
Answer by • Sep 13, 2018
This wand measures 33 inches long. The toys measure approximately 8.5 inches in length.
---
How long is the string?
Answer by • Aug 17, 2018
The string is 28 inches long.
---
Where are these made?
Answer by • Jul 11, 2018
This toy is manufactured in China from all pet safe materials.
---
Are those actual googly eyes? How are they attached? How is it not a choking/swallow hazard?
Answer by • Nov 25, 2020
These worms do not have googly eyes.
---
---
---
By Milly on Sep 9, 2022
lasted a week - do not buy
my cat loves wand toys, and after her two year old ones finally began disintegrating, i got this. you can disassemble it, but i found the top half would go flying sometimes. annoying, but i decided i was going to glue it at some point in case it flew off one day and hit my cat or caused damage elsewhere. HOWEVER, the bottom half literally split apart during one very normal (not wild) play session. i was flabbergasted, as was my cat. do not buy this. get the go bird wand or a wand whose handle is plastic, and not this incredibly cheap metal. im so disappointed!
---
By Shelbie on Aug 24, 2022
I created a monster
My cat is easily bored but not easily amused. We've had so-so luck with prior wands, and a friend recommend this one. My cat is OBSESSED. To the point I've had to put it away at night and she yells at me to play with her every minute since we received the toy - which is great, because the point of new toys was for her to have an interest but I've now created a monster and my sole existence is now to play. No working, no eating, no sleeping. Play. The tip of one tail has already been stripped in less than 24 hours, but my cat plays super hard and thankfully it came with 4 other lures. Absolutely recommend, just know you might lose your soul in the process.
---
By Customer on Aug 31, 2022
Almost Perfect
The wand is great, ergonomic handle, easy to put together and pull apart, and good length. The attachments are also approved by my cat. The main issue is the clip breaks very easily even when just waving the wand around. I've bought 4 of these and the clip broke on two. I thought it was just wear and tear or my cat pulling too hard, but the latest one I bought broke after only a few uses when just swinging the toy. Pretty disappointing since everything else was good, but I won't be buying these again.
---
By Angela on Sep 1, 2022
Worms are great, but wand is too loose
These worms are one of my cat's favorite toys, to the point that I've designated one of them to be "off-leash" for her to play with on her own throughout the day. Nothing can rile her up for a play session like these things. My one complaint is that the top part of the wand often slips loose while we're playing, and it will scare my cat. Currently looking for a better wand to attach these worms to
---
By Laura on Aug 14, 2022
Kittens adore this thing
Great toy, the worm moves across the ground in this very nice organic twitchy-wiggly way. The worm fluff does tear away over time, but I've found that each worm is surprisingly durable. I've had this toy for almost two months now, use it almost every day, and I'm only on the second worm. I knocked off one star just because the bell that's attached scrapes across my hard floors and I'm always nervous that it's going to damage the wood. It's been preventing me from using the toy in certain ways for fear of smacking the bell into the floor too hard.
---
By Scellerton on Aug 8, 2022
hard to rate - cat loved it too much?
I have two cats. One barely noticed this thing, the other one turned into another cat. I've never seen anything like it. I jiggled it twice in the air, she caught it, held it in her mouth, and took off. She was kind of trying to hide it from her brother, but wasn't really guarding it in the sense of attacking when I came near… but then when I went to try to pull it away, she was growling! I had to pry her jaws open to get the worm out; for a second, I thought her lip was caught in it. They both have other toys they like, but my girl went apesh*t over this thing. Honestly, it scared me, so it's hiding in the closet. What the heck.
---
By Pouncer on Aug 24, 2022
Loved by kitties but doesn't hold up
I am glad they give you many of the little worms with this toy because they break down pretty fast. My cats LOVE it and are obsessed so I keep it out of reach unless we are actively playing. It tends to shed a lot of fluff around the house but my cats will play with it until each one is almost dead. Not sure if I will order more worms or just try attaching something else to the rod and string. I do love how durable the rod is.
---
By BillAndTedTheCats on Sep 5, 2022
Fun but Flimsy
The fuzzy worms are a hit. The cats love to chance them…on the string, loose in the floor, they don't care. The clasp, however, broke after less than a month's use. Don't know where the missing piece went…hope it wasn't swallowed. I can't say I'd recommend this since it broke so easily.
---
By Laura on Aug 7, 2022
Tux loved it
I recently got Tux neutered and I bought him a present because he looked kind of down. I can't get him a friend because he won't allow any other kitties in the house so I bought this toy and he really loves it. Not only does it engage his mind, but it encourages his body to be more active. If you have a lazy Kitty, I encourage you to get one of these and get your feline friend to be more active. She/He will live longer and you both will have a lot of fun while bonding .
---
By Amanda on Sep 17, 2022
One cat is obsessed
My 2-year-old kitty Pumpkin is absolutely obsessed with this thing. He'll chase it around indefinitely, and cries when we put it away. My other 2-year-old kitty is less obsessed - he'll chase it for a couple minutes, then get bored. So YMMV
---