Pet Gear Expedition No-Zip Dog & Cat Stroller
By Pet Gear
---
About This Item
No-Zip technology means no hassles thanks to the convenient buckle closure system—get up and explore quicker than ever.
Low-maintenance stroller includes a one-hand folding mechanism that makes it easy to set-up and store, plus the removable liner makes cleaning super simple too!
Spacious and protective pet compartment gives your pet a comfy place to relax and mesh windows ensure he doesn't miss a thing.
Multi-position handle with adjustable height makes it easier for you to walk comfortably and match your height to your terrain.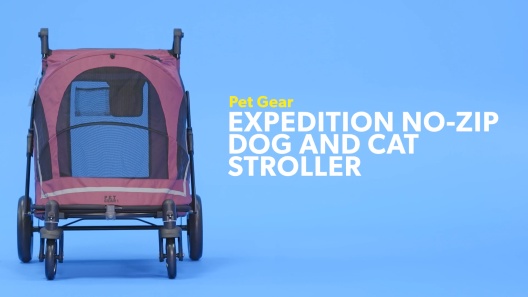 Learn More About Pet Gear From Our Team of Experts
---
Compare Similar Items
| | | | | | |
| --- | --- | --- | --- | --- | --- |
| | | | | | |
| Customer Rating | | | | | |
| Price | | | | | |
| Material | Nylon, Aluminum, Plastic, Rubber, Mesh | Nylon, Aluminum, Plastic, Rubber, Mesh | Aluminum, Polyester | Aluminum, Plastic, Rubber, Mesh | Fleece, Aluminum, Plastic, Rubber, Mesh |
| Breed Size | Small Breeds, Medium Breeds | Small Breeds | Large Breeds, Giant Breeds | Extra Small & Toy Breeds, Small Breeds, Medium Breeds, Large Breeds | Extra Small & Toy Breeds, Small Breeds, Medium Breeds |
| Features | Top Load, Rolling, Interior Tether | Top Load, Rolling, Interior Tether | N/A | Rolling, Collapsible, Interior Tether, Top Load | Top Load, Rolling, Interior Tether |
| Assembly Required | Yes | Yes | No | N/A | Yes |
| Tools Included | N/A | N/A | No Tools Required | N/A | N/A |
---
Questions & Answers
27 Customer Questions
---
Can you clarify the weight limit for this stroller? The picture shows a large dog. One answer says 26 lbs. another says 150 lbs. thank you
Answer by • Oct 23, 2018
The stroller weighs 26 pounds and has a weight capacity of 150 pounds.
---
how do you fold it up?
Answer by • Oct 02, 2018
To fold/pack up the stroller, please refer to the following steps.
---
Where is the cup holder and extra space to put stuff you need to bring on your walk?
Answer by • Dec 03, 2019
This stroller features a multi-position handle with an adjustable height, plus a cup holder and parent tray to store your essentials.
---
i have a stroller for my 35 pound spaniel poodle, problem is it's reaping the bottom of the stroller because of his nails and it has no hard support on the stroller bed. Do this have a some sort of flat board on the bed to support the weight?
Answer by • Oct 03, 2019
This stroller has a flat board on the bed of the stroller for extra support.
---
---
---
By AngelaandDax on May 21, 2022
Almost Nothing I Would Change
I got this for my 12 and a half year old golden retriever who has a torn cruciate ligament. While we were on bed rest, waiting to see a surgeon, we needed a way to get around town so that she wasn't stuck inside all day. We live in a studio and our daily commutes are how she gets to exercise and socialize. This stroller has been nearly perfect and there is almost nothing I would change. It's been over a month of almost daily use on sidewalks and it's still great. I'll identify what has gone wrong, shown wear and tear, right at the top. - When you collapse the stroller, I think there's supposed to be a latch to lock it in place. Ours is either in the wrong place by accident, or by design, it doesn't work. We can never prevent it from opening up when we collapse it. - Our dog has one knee way worst than the other and prefers one side to the other, over time this has started to shift/warp the plastic. We had to get a gasket to insert in one of the front wheels so that it would be level with the other and not spin wildly as we strolled. - Similarly, the wheel she leans on is starting to stretch/strip and we think we'll likely add some sort of bracing bar between to two front wheels. Currently we're noticing one of the front wheels is starting to curl inward. - The tie down straps under the mattress were uncomfortable for Dax. We're these what we were supposed to use to prevent it from opening?? Well we cut them off. She constantly had to adjust and was clearly uncomfortable sitting on them. - She technically fits, but if your dog likes to "sphinx" is what we call it, stick their legs out front, you'll notice it's not that long. This means that we keep the mesh top up 99% of the time. - The cup holder is a novel attachment. And we do use it. But you cannot use anything that's not a completely sealed bottle or thermos. And do expect whatever is in it to jump out a lot. - The handlebar material gets hot and sweaty. I might recommend covering it with handlebar tape. I think this is a pretty exhaustive list of the things that have worn down or are not perfect. Overall, we are incredibly happy with this product and have recommended it to other dog owners. I'd likely get it again if we have critical failure but I think right now with a little maintenance we will be able to keep this one in good shape.
---
By PittyMan on May 5, 2022
Perfect fit
I have a 9 year old pitbull mix; she recent tore her ACL leaving her unable to walk to get outside. She loves her walks. I wasn't sure how'd she react given she's also a very easily nervous dog; but she loves it. I've even witnessed her to allow people to pet her as she pops her head out the ONE AND ONLY zip window. Easy to assemble and easy to collapse. Be patient with the handle; it takes time to get use to. But a great product
---
By Harold on May 12, 2022
A must have!
Originally purchased it when my dog had a leg injury and needed to be on rest. I still wanted him to be able to get out and about so I thought this would be a good idea. Never imagine she would love it so much. His leg is not 100% healed but he's still obsessed. We take it on every walk and when he starts to get tired or prefers to ride instead, he just hops on.
---
By TerrieG on Apr 19, 2022
Pet Gear Stoller
I purchased this stroller 2 weeks ago for my Australian Sheperd Gigi. She is 14 years old and has arthritis, so it's hard for her to go on walks. She loves it! She and my cat Oliver have been rolling in style. The stroller is very well made and has plenty of room inside for my cat and dog to lay down. Pushing my fur babies around the neighborhood is good for me too as I'm burning more calories pushing them around. I would recommend this stroller for any dog or cat that is elderly or arthritic.
---
By Marie on Dec 6, 2021
Improved quality of life
Got this for my elderly & weak dog - she's 50 lbs. & is able to lie down inside the stroller or can sit up and look out the top - this stroller enabled us to bring her on a walk with our other dogs for the 1st time in months - it was breaking my heart to have to leave her behind so this definitely improved her quality of life. Great design that she can enter from the back and exit out the front so doesn't need to turn around. However a larger dog over 50 lbs. would only be able to sit up, not lie down inside.
---
By Chubby on Feb 8, 2022
Well built, easy to maneuver
Easy to assemble. Used it to push my 55 lbs retriever to his beloved trail and park with ease. It also fit comfortably my 2 indoor cats in the cart when I take them out for some fresh air.
---
By Maggie on Nov 24, 2021
Best purchase ever
I bought this for my puppy and going to Holiday Bazaars. It worked fantastic. So many people asked where I had gotten it. So easy to maneuver . Won't have to limit my time because she is in the crate too long or she won't set off the alarm in the car. Great on uneven ground . Love all the mesh especially on top to watch her.
---
By Toro on Oct 31, 2021
She loves it
My beautiful canine daughter Luna loves it. It's so gorgeous. It is obvious that it has such great quality because it feels so firm and strong. She can get crazy sometimes, so we needed a stroller that could tolerate the 50 pounds she has, plus all of the jumping and crazy movements that go on. Not only is it useful, but so pretty. The color is absolutely beautiful.
---
By WinniesMum on Nov 21, 2021
Lifesaver for Injured Pup in NYC
This stroller has been such a lifesaver for me and my pup since she broke a bone in her paw. I can get her outside to potty and to the vet with ease. She also enjoys being carted around like a little queen.
---
By Clara on Oct 7, 2021
I Don't Get It
I got this stroller two weeks ago after my 31 pound, 12 year old terrier mix tore her cranial cruciate tendon. She's too old for surgery. We lost so much of our quality of life which depends on our walks. How do you get the dog to want to get into that scary enclosure? The stroller doesn't look at all as open in person as in the photos. And I am unable to understand how a big dog is able to use this. It just isn't that large. Treats worked the first day and I thought we had a winner. It all surprised her and I was able to gently lift and get the last back leg into the unit. But the second day she realized she didn't have to put her back feet inside at all. She could stretch as faaaaaar as possible and get the treat. I'm stuck! I'm at a loss and thinking I have to find one with a better, larger entry system by the larger door. This one seems to have the front wheels too close together for a lame pup to get up into even though that is the end with the larger opening. I'm so hugely disappointed as I imagined me pulling her down to the park, then her getting out to play and sniff a little, then jumping back in to ride home. I feel like for us to get out of this depression at the changes caused by her injuries I've got to find a solution. A stroller of some sort seems like a good answer but of course only if she'll get into one. This is a lovely looking product and seems very well made in general. For a smaller dog that could be picked up and put into it, it's probably great. I gave three stars because of my personal issues, not so much regarding the quality of the stroller. The quality looks good, but it isn't giving us what I'd dreamed of and I'm not sure it can. Continuing to try.
---