Pet Zone IQ Treat Dispenser Ball Dog Toy
---
---
Try This Similar Item By Chewy
---
---
About This Item
Engages your pooch in mental and physical activities during playtime.
Adjust the toy's difficulty as your furry friend's cognizance evolves.
Disassemble the plastic ball and easily clean in soapy water after use.
Encourages slow eating by providing interactive obstacles for your pooch to overcome.
Extends playtime while limiting the number of treats.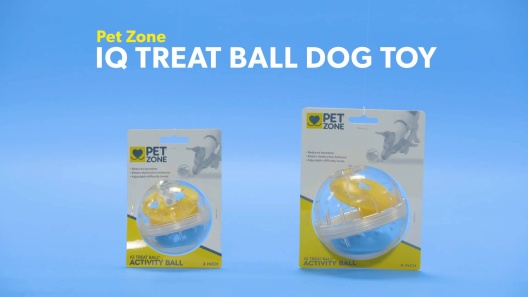 Learn More About Pet Zone From Our Team of Experts
---
Compare Similar Items
| | | | | | |
| --- | --- | --- | --- | --- | --- |
| | | | | | |
| Customer Rating | | | | | |
| Price | | | | | |
| Toy Feature | Exercise | Training, Exercise | Outdoor, Training, Water Toy, Bouncy, Exercise | — | Tough Chewer |
| Material | Plastic | — | Plastic | Thermoplastic Rubber, Rubber, Plastic | Rubber |
| Breed Size | Medium Breeds | Large Breeds | Small Breeds | Medium Breeds | Large Breeds |
| Toy Type | Treat Dispensers | Balls, Treat Dispensers | Treat Dispensers | Balls, Treat Dispensers | Treat Dispensers, Chew Toys |
| Lifestage | Adult | Adult | Adult | Adult | Adult |
| Chew Style | — | — | — | — | Extreme |
| Pattern | — | — | — | — | Solid |
---
Questions & Answers
18 Customer Questions
---
How much does this toy hold? (In cups)
Answer by • Jun 07, 2017
The manufacturer states that the large holds 1 cup and the small toy holds ¼ cup of kibble and treats.
---
What do the dogs have to do in order to receive a treat? Like roll the ball a certain way? And the treat comes out? Or?
Answer by • Aug 26, 2018
Dogs can nudge, roll, and chase the ball to try to release the tasty bites inside.
---
How do you adjust difficulty level? I have 4" and have looked at video. No directions with ball.
Answer by • Sep 30, 2020
This ball has interior pieces that may be removed to adjust the difficulty level of getting the treats out.
---
Which size is better for a 30 lb. dog?
Answer by Karaona • Jun 02, 2022
The larger size
---
---
---
By Kaya on Aug 6, 2022
Great for dogs who love to smack
I got this for my dog who's perfectly capable of being extremely intelligent, but is such a Diva that more often than not she would rather scream and cry than attempt to solve puzzles. We've had success with one in the past that mostly involved smacking it until treats came out, but ones that required any form of critical thought tested her patience. This one however has been absolutely perfect- Being able to see the treats keeps her enticed, and she has currently been batting it around for nearly an hour, knocking out a reward every once in a while. Maybe doesn't encourage a lot of critical thought, but it's definitely got her moving, which is great! I don't think she'll be losing interest in this one any time soon.
---
By TreatBall on Jul 21, 2022
Treat Ball not for us
I had been using an old sock with a pop bottle whose uncapped opening picked through a hole in the heel and added some small treats. One of my dogs loved it, going to town shaking the treats out while the other followed behind snatching the treats. I thought a feeder ball would be better because he tends to chew on the bottle and I was concerned about him ingesting bits of plastic. Sadly, he turned his nose up,(literally, it was comical), at the ball. I thought he just didn't know what it was so I shook out a treat . He didn't care. I tried the ball in the sock. He still doesn't want it. NOTE: The ball itself is fine it's just my picky dog. Kind of like my cats would rather play in the box than any toy it held for them. I would appreciate if anyone knows of a treat toy similar to the sock bottle but stronger and safer I would appreciate it .
---
By PiperAndGracie on Aug 3, 2022
Really fun to watch!
I had originally gotten this ball to entertain my Aussie with. Upon finding out this ball really isn't great for large destructive dogs, I let my senior Pomeranian play with it. It was a hit and she enjoyed it so much! I just put some of her daily kibble in it and it served as part of her meal and also provided lots of exercise as she would roll/chase it around for nearly an hour before she tired of it (long after the food was gone in hopes of more). Love, love, love for small dogs!
---
By Riley on Jul 28, 2022
Most popular toy in the puppy list
My Pumi pup is 14 weeks old, and I picked her up 2 weeks ago. She's a fast feeder so I have a slow bowl, 2 different "intelligent puzzles" and this ball. I put one portion of her daily kibble in here and she is occupied for at least a half hour. Usually more. It makes a lot of noise rolling into walls and whatnot but it sure is better than having my ankles nipped! (she's a herder)
---
By Shey on Jun 28, 2022
Keeps them busy
My 1 year old German Shepherd loves this toy. She's pretty rough so I have to remind her that slamming the ball onto the hard floor is not the way to play with it. Surprisingly she hasn't cracked it yet and she'll let me know when it's time to refill it. My westie enjoys rolling it all over the house and figuring out how it works. My Chihuahua puppy is terrified of it (and also her shadow, anything that moves, anything that doesn't move, etc) but we're working on building her confidence and I think she will eventually learn it's actually a lot of fun. My senior Shepherd would rather I just hand her the treats and leave the toy out of it altogether. I guess you can't please them all. I would purchase this toy again. It keeps my brainy thinkers busy and entertained.
---
By Won4u24me on Jul 18, 2022
Nice concept; however, will not last if there is a big dog in the house!
Purchased a small one for the Yorkie and a large one for the Lab. Was so excited when I received these! Loaded them both with treats, placed them in front of each dog, and went down the hall to my office, closely followed by my Yorkie. Upon returning to the living room, both toys were separated at the seams, treats were nowhere to be found, and toys were chewed up and unrecognizable. Lab was happy. Mission accomplished!
---
By SadiesDad on Jun 20, 2022
Sadie's food dish
Love this little ball (it's the large 4" size) I just have a big dog. The first 1/3rd we play catch with. Then I just fill it a little over 1/2 full and let her push it around as nuggets of food fall out the little hole. She is VERY food motivated but does not mind pushing it around at all! She has learned to keep it out of the danger areas where she can't retrieve it. When it's empty, she picks up the ball and brings it to me for a refill. I fill the ball again with the last of her food. They say big dogs digest their food better if they eat slower. This process takes about 20 minutes. I'm retired so I have the time, and I think she enjoys the regimen. Suggestion to Mfg. Co. make it without the inserts and sell it as a slow-feeding device for a couple of dollars less.
---
By Blondie on Jul 15, 2022
Not Interested!
I have two 7 month old puppies that love to play with each other and doggie toys. I thought they would really love this. I was so wrong. They just looked at it and touched it with their paw and walked away. I rolled it around on the floor with my hand hoping they would take interest in it and I even put kibble in it, but they both took no interest in it at all. Go figure..
---
By Berenedoodlemom on Jul 10, 2022
Hard plastic, loud on tile / wood floors.
Our dog loves this toy. It stays together , unlike complaints on some of the reviews I saw. We had to remove one of the interior pieces at first until he got used to rolling it to get his treats but he rolls it all over the house, until it goes under something or we pick it up. Not sure if it was an older one that had three pieces that make up the ball. Ours has two.
---
By diabloelk on Jun 27, 2022
My dog has fun with this dispenser ball!
This interactive ball keeps my dog busy for quite a while. One reviewer said they're not sure why the top half of the ball is in two pieces and not just one like the bottom half. I, too, wondered about that. It was hard to keep the 2 smaller ball pcs together, so I scotch taped the top 2 small pcs together on opposite sides on the inside so my dog can't get to the tape. Now, the ball holds together and works just fine.
---