Petdiary Smart Bark Waterproof Dog Training Collar, Small, White
Must enter code FALL2022 at checkout to redeem
---
---
Try This Similar Item By Chewy
---
Frequently Bought Together
---
About This Item
Features both beep and vibration modes.
Uses a sensor that will activate only when your dog is barking, from the vibration of his throat.
Fixed or adjustable intensity from levels 1 through 6.
User-friendly LCD touch screen.
Easy to recharge with a magnetic USB charger.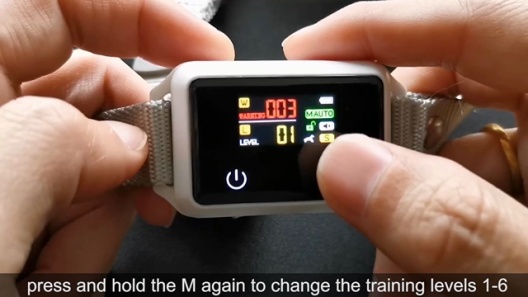 Learn More About Petdiary From Our Team of Experts
---
Compare Similar Items
| | | | | | |
| --- | --- | --- | --- | --- | --- |
| | | | | | |
| Customer Rating | | | | | |
| Price | | | | | |
| Collar Type | Bark Control - Noise, Bark Control - Vibration | Bark Control - Noise, Bark Control - Static, Bark Control - Vibration | Bark Control - Noise, Bark Control - Static, Bark Control - Vibration | Bark Control - Noise, Bark Control - Vibration | Bark Control - Noise, Bark Control - Static, Bark Control - Vibration |
| Breed Size | Large Breeds, Medium Breeds | Large Breeds, Medium Breeds | Medium Breeds, Large Breeds | Large Breeds, Medium Breeds | Medium Breeds, Large Breeds |
| Material | Nylon, Plastic | Nylon, Plastic | Plastic, Nylon, Synthetic Fabric | Nylon, Plastic | Plastic, Nylon, Synthetic Fabric |
| Lifestage | Adult | Adult | Adult | Adult | Adult |
| Leash & Collar Feature | Waterproof | Waterproof | Waterproof | Waterproof | Water Resistant |
| Closure Type | Buckle | Buckle | Buckle | Buckle | Buckle |
---
Questions & Answers
1 Customer Questions
---
Will this work on dogs 7-10lbs? Too big?
Answer by • Jul 10, 2022
This training collar is designed for dogs weighing 11-110 pounds, with an adjustable neck circumference of up to 26.5 inches.
---
---
By Lisa on Sep 12, 2022
Saved my sanity!!
I recently adopted the cutest 3 year old fur baby. He's the sweetest dog. HOWEVER, whenever we would leave him alone, he would bark non-stop. Our neighbors would call the building management every single time we left. To be fair, he would bark for hours if we weren't home. I got him anxiety medication, took him to separation classes, spoke to him through a camera. NOTHING worked. I ordered this honestly not thinking much of it, but I loved that it was anti-no shokc. WOW. From day ONE, minute one, this shut him up. I couldn't believe it. I tried it first to see and it just beeps and then vibrates hard enough to catch his attention. I couldn't figure out how to adjust the levels, but the default level 5 worked wonders. So happy I found a humane quick solution for his barking. Wish I had ordered it sooner.
---
By Alix on Aug 31, 2022
False triggers & stopped turning on after less than 2 weeks
I was hopeful from all the positive reviews but I experienced several issues with this one. 1. When we got it and charged it up we couldnt get it to trigger. Tried it again a few days later just in case and it started working so we tried it in both modes and our dog quickly figured out how to cheat the system to mess with the timing on the triggers. 2. After a few days he became mostly unbothered by it. For context he's a 60 lb mix with short fur and obsessive barking. 3. We noticed our other dogs would set it off from their barking even if he wasnt barking or moving. 4. It would also go off if he just shook his head but no noise. This was with either sensitivity level. 5. Final issue was when the battery died and I put it on the charger, once it was fully charged it no longer powered back on. The screen would light up when it was plugged in to show the battery level and charging animation but the touch screen power button refused to work. I followed all the troubleshooting in the guide it came with and on the manufacturers website to no avail. Chewy refunded this purchase. I dont know if this was a lemon or a bad product but I'm not willing to continue to find out with this brand or other rebrands of the same product. Hopefully others have had better luck than I did.
---
By Bill on Sep 8, 2022
Lifesaver!!
One of the best products I have bought!! My beautiful Miniature Dachshund WAS a incessant Barker, nipper and unfriendly to other dogs and people. Once I used the Petdiary collar, things changed overnight. Teddy stopped barking and immediately became dog and people friendly!! Barking and aggressiveness is RELATED!!! Now I have a friendly, loving and playful barking mini Dux!! Thank you Petdiary!! Couldn't be more happier with a product.
---
By Sharkybobarky on Aug 24, 2022
One dog barks other dog gets corrected
This collar isn't supposed to vibrate if another dog barks, but I observed it vibrating on the dog that wasn't barking twice in the first day of trying it. It also vibrates when your dog shakes. Even on the least sensitive setting it vibrates when the other dog barks. Needless to say this collar will not work if you have two dogs. It's probably ok if you only have one dog but beware of the shaking issue.
---
By Marie on Sep 13, 2022
Good solution for our dog
I only put the collar on my dog when he barked. When he stopped and settled down I would take the collar off. After a few days, I would put the collar on him and I did not even turn it on. He knows when he's wearing the collar he's not supposed to bark. Great solution for us.
---
By Joke on Jul 2, 2022
At last! A collar that works!
My border collie is bossy. That means barky. And does she bark! She drives everyone crazy and gets herself overly excited in the process so there is danger of her nipping. I've been telling her to shut up for 10 years. Other collars, maybe three or four, and room devices have failed. This is not a shock collar. It tones and then it vibrates, I like that. It just distracts her and she knows it's going to vibrate after only one day. She barks to be let out. She barks to be let in. She barks for a treat and it's gotten way out of hand. Tonight, after wearing the collar for one day, she waited quietly at the door to be let in. She stood quietly and waited for a treat. She may bark a couple of times now and them but then she stops.. i am praising her to the skies. Maybe we won't get petitioned out of the neighborhood agter all! Maybe family and friends won't mind visiting! High praise to this collar which has achieved the impossible! PS: Er, one must remember to charge the collar now and the
---
By Jules on Aug 13, 2022
Doesn't work
I've tried all the settings, tested by barking and shaking as the instructions indicate which sets off the collar, but when I put the collar on my dog and she goes crazy barking at the neighbor it does not activate. She whined at the door and it went off. Maybe this works for only certain types of barking dogs?
---
By Castor on Jun 29, 2022
No Bark collar
We have an Aussie Mix that has a tendency to bark at us when she wants to play and it is very annoying. We bought this collar with the hopes of stopping the barking in the house. It has worked GREAT!!! She will bark once and the vibration and noise will stop her immediately!! She will continue to play, but does not bark. We have it on a level 3-4 and it really works well. We do not keep it on all day, only in the evening when she is mostly inside. We also take it off at night, so she has some freedom from the collar while sleeping. We have only had it for about 1 week, so I don't know how long a charge will last. But we are so happy with this collar and would recommend trying it to anyone.
---
By Luca on Aug 26, 2022
Noise maker
Besides annoying my dog it doesn't seem to have a correctional effect on him. He barks, it vibrates and the alarm sounds. He shakes his head. Not sure he's getting the connection between his barking and the collar doing it's thing.
---
By Jose on Sep 10, 2022
Something that works.. finally!
Love this product so far! The barking has decreased and doesn't last as long. Looking forward to using these during camping season when the dogs think the whole campground is their yard. ;)
---