PetFusion Ambush Interactive Electronic Cat Toy
---
---
Try This Similar Item By Chewy
---
Frequently Bought Together
---
About This Item
Captivate your cat's attention and satisfy his hunting instincts with a toy that simulates fast-moving prey.
Focused, interactive play can improve your cat's overall wellness and happiness.
Anti-slip feet help the toy stay put, even on smooth surfaces like hardwood floors and tile.
Includes one replacement feather, for when your kitty defeats his enemy for good.
Features an 8-minute auto shutoff feature that helps to extend your battery life.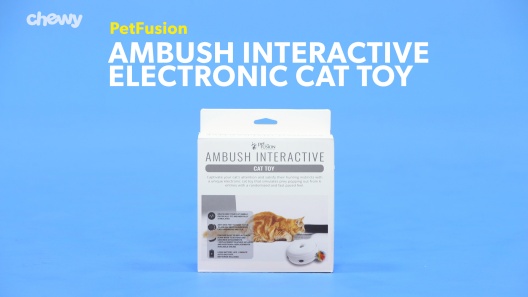 Learn More About PetFusion From Our Team of Experts
---
Compare Similar Items
| | | | | | |
| --- | --- | --- | --- | --- | --- |
| | | | | | |
| Customer Rating | | | | | |
| Price | | | | | |
| Material | Plastic | Plastic | Plastic | Polyester, Synthetic Fabric | Plastic, Polyester, Synthetic Fabric |
| Toy Feature | Glowing & Light-Up, Electronic, Exercise, Feather | Electronic, Exercise, Feather | Glowing & Light-Up, Electronic, Exercise, Feather | Catnip, Electronic | Squeaky, Electronic, Exercise |
| Toy Type | Motion Toys | Motion Toys | Motion Toys | Motion Toys | Motion Toys |
| Lifestage | Adult | Adult | Adult | Adult | Adult |
| Compatibility | — | — | — | Rechargeable | — |
---
Questions & Answers
21 Customer Questions
---
Do you sell extra feathers?
Answer by • Sep 13, 2019
We do have the PetFusion Ambush Interactive Electronic Cat Toy Replacement which is currently listed on our site as item number 179762.
---
My cat loves the catty whack toy but she cracked the yellow rubber part that holds the feather, is the part that holds the feather on this toy secure or replaceable?
Answer by • May 02, 2019
The portion that holds the feathers aren't replaceable, however replacement feathers are available directly through the manufacturer.
---
can it be played with on carpet
Answer by • Sep 26, 2019
This toy does not move along the floor and can be placed on any surface.
---
Does the feather pop put of random holes?
Answer by • Dec 06, 2019
A colorful feather will pop out from one of the 6 holes at random, using LED color lighting and motion to draw your cat in.
---
---
---
By Elizabeth on Aug 4, 2022
Feathered Fun!
Our cats really enjoy this toy! Even if they're not actively playing with it they'll lay around and watch it so it's still a great way to keep them entertained / busy if you need them out of the way for something. I only have 2 criticisms. 1) It would be wonderful to have it go longer than 10mins. I turn the toy on and then have to come right back to turn it one again. I'm trying to train them to turn it on themselves by stepping on the button but no luck so far. 2) You may want to tape it to the floor or something. The toy is extremely light weight and when my cats get really going they can lift it and roll it across the floor.
---
By Catmom on Jun 24, 2022
Cat approved, except....
My cats really enjoyed this toy until they caught the feather a few times and it shred to pieces. There are different speed settings for how long the feather pops out so you can try to control how long the cat has access to catching the feather which is nice. But even the fastest setting bass too slow as my cat was able to catch the feather and hold on to it long enough to pull the feather apart. I comes with one spare feather but I haven't bothered replacing it because I don't feel like picking up all the fine feather pieces. So now my cats just wait for the empty feather holder to pop out, but they are not impressed with that lol
---
By 12345 on Aug 7, 2022
for active cats
My 3 year old cat is very active and loves toys and puzzles. He LOVES this toy! I love any chance for him to be enriched. If you have an active curious cat this is for you! I have another cat who is old and have never cared much for any toys so don't expect this to be some miracle for your non active cat. Not every cat is the same.
---
By Sammy on Jul 9, 2022
A good distraction
This toy is adequate as a distraction for my cats. They don't tend to love electronic toys, but this is one that has engaged them more than some other toys I've tried. I like that you can change the speed of the feather movements, but anything past the slow speed is too fast for my cats to engage with it. They will just get bored and walk away. It is mostly great just as a distraction for a moment if I can't play with them myself. I turn it on, and they sit around it and watch, occasionally batting at the feather. It at least stimulates their brains, but not their bodies really.
---
By Customer on Aug 3, 2022
No Interest From My Adult Cat
This toy may be more suited for younger cats. My 7 year old cat approached it with caution, recognized that it was just an object, sat and looked at it for a while and then walked away. He did not interact with this toy at all. I had hoped it would get him to run around and exercise, so I was dissappointed. It will be donated to charity.
---
By TracyZ on Jul 30, 2022
Thank you, Megan K!
I bought this on a recommendation from Megan K (Chewy customer service). My cats LOVE this toy! It has 3 different speeds, which is indicated by the color of the light. My cats come running when they hear me turn it on! The only thing I would change is the time. It only stays on for 5 minutes, but I don't feel I should deduct a star for that.
---
By hugothecat on Aug 3, 2022
Not Durable
My cat loves the toy, but he's had it only a few hours and all the feathers are already ripped out. I put it on the fastest setting but my cat was still able to catch it and drag it around the house. It definitely has kept him entertained, but I wish the attachment would have lasted longer.
---
By Flabby on Jun 22, 2022
This did not appeal to my cat.
I would not recommend this product. I have a 14 yr old cat who just stared at it and lost interest for a while. I rubbed cat nip all over it later. Eventually she did start to play with it, but for her, there was no point. What happens when her paw touches it? It doesn't do anything. It stays there. What happens when she bites it? It doesn't do anything but robotically retract when it wants to. I'm sure it would eventually frustrate her. I will give this two stars because every cat is different. My cat thought it was interesting to observe. That is about it.
---
By Meagan on Jun 20, 2022
Perfect distraction while working from home!
My cats have been all up in my business while working from home, and I needed something to keep them occupied during meetings. This thing is perfect! The feathers pop out at random intervals from random holes, and sometimes pause for a few seconds so they don't get bored with consistent repetition. I started them on the green setting which is a little slower to get acquainted with it last night, and this morning switched it to blue, the faster setting. At first they didn't know what to do with it but now they absolutely love this thing! My one cat, Rosco, gets super preoccupied with trying to catch the feathers, and my second cat, Keanu, tries to bop them like whack a mole when they pop out. They actually like it so much that when it turns off they whine, even if they are played out, because they love to watch the feathers pop out. I do think the 8 min timer is a little short. I wish it had a setting to have it turn on for longer like just an on off switch and/or turn on for like 15mins every 2 hours or something. The 8 min timer is to preserve battery life, but my cats just yell at me till I turn it on again and getting up every 8 mins sort of defeats the purpose. I've gotten around this with another toy that just turns off on and swings a little feather around, but different settings would be great (I don't care how many batteries I go through if they stay occupied). TLDR; Overall would give it 4.8/5 and say if your cat has high prey drive like my little Siamese boys, this is a perfect toy. It'll take a little while for them to get used to it, but once they do they'll love it! AND, if they distort the feathers you can get replacements on the site (it comes with knee replacement feather)! Great buy!
---
By marieeptx on Jul 2, 2022
Fantastic purchase!
I'm so happy I purchased this toy! I'd been looking at something like this for a while but didn't want to spend the $22. Well, it's worth every penny. This thing keeps my almost 2 year old cat MESMERIZED. He is absolutely captivated, always pouncing on the feathers and when it turns off automatically he hangs around as if he's waiting for it to come back on. I'm so so happy I got this toy for him! He loves it!
---