PetHonesty Advanced Hip + Joint Chicken Flavored Soft Chews Joint Supplement for Dogs
See 'Details' tab for instructions to redeem
---
About This Item
GMP compliant; Made in the US with US and globally sourced ingredients and contains no GMOs, wheat, corn, soy or harsh preservatives.
Helps ease joint stiffness and supports a healthy inflammatory response in joints with natural ingredients.
Glucosamine HCL, methylsulfonylmethane (MSM) and turmeric help support joint flexibility and mobility.
Crafted with a high amount of active ingredients and fewer unhealthy fillers.
Crafted with an irresistible natural chicken flavor.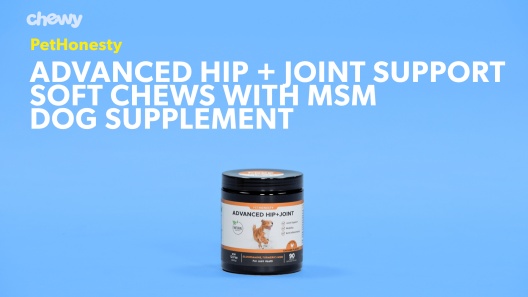 Learn More About PetHonesty From Our Team of Experts
---
---
Resolve Issues Naturally
Some treatments are worse than the ailments themselves and can cause your dog unnecessary harm and nasty side effects. PetHonesty takes a gentler approach, using all-natural ingredients that are safe and effective to protect the long-term health of your pup.
Compare Similar Items
| | | | | | |
| --- | --- | --- | --- | --- | --- |
| | | | | | |
| Customer Rating | | | | | |
| Price | | | | | |
| Autoship | | | | | |
| Top Ingredients | Other Ingredients: Oat Flour, Palm Fruit Oil, Natural Chicken Flavoring... | Active Ingredients: Glucosamine Hydrochloride (Shrimp & Crab) 900 mg, Methylsulfonylmethane 800 mg, Creatine Monohydrate 500 mg... | Active Ingredients: Glucosamine HCI (Shell Fish), Perna Canaliculus (Green Lipped Mussel), Ocean Kelp (Ascophyllum Nodosum)... | CHicken Liver, Coconut Glycerin, Fenugreek... | Active Ingredients: Glucosamine Hydrochloride (Shrimp & Crab), 900 mg Methylsulfonylmethane, 800 mg Creatine Monohydrate... |
| Breed Size | Small Breeds, Medium Breeds, Large Breeds... | Medium Breeds, Large Breeds, Giant Breeds | Small Breeds, Medium Breeds, Large Breeds... | N/A | Small Breeds, Medium Breeds, Large Breeds... |
| Lifestage | Adult, Puppy, Senior | Adult, Senior | Adult, Senior, Puppy | Adult | Senior |
| Health Feature | Hip & Joint Support | Hip & Joint Support | Hip & Joint Support | Hip & Joint Support | Hip & Joint Support, Senior Care |
| Food Flavor | Chicken, Poultry | Chicken, Poultry | Chicken, Poultry | Chicken | Chicken, Poultry |
| Special Diet | No Corn No Wheat No Soy, Non-GMO | N/A | Gluten Free | N/A | N/A |
---
Questions & Answers
26 Customer Questions
---
are there options without chicken? my lab is just beginning to show signs of hip arthritis but is allergic to chicken (& by-products) & white potatoes.
Answer by Oriensmom • Jun 16, 2022
check out their hemp mobility chews, there's no chicken or by products, they use duck in those. my boy has done excellent on them
---
Are these soft dog chews grain free ?
Answer by • Sep 13, 2019
This supplement is not grain-free. Any food made from wheat, rice, oats, cornmeal, barley or another cereal grain is a grain product.
---
Are all the ingredients of this product sourced in the US and is supplement manufactured in US?
Answer by • Nov 01, 2020
PetHonesty products are proudly made in the USA! Their Organic Turmeric is sourced from India and the Green Lipped Mussels come from the waters off the coast of New Zealand, but everything else is sourced in the US.
---
What is the percentage of fat in "PetHonesty Advanced Hip + Joint Support Soft Chews with MSM". My dog has recently gotten over a bad case of pancreatitis on is on a very low fat diet. She has recovered nicely and is still very active and competes in obedience.
Answer by • Sep 09, 2020
The fat percentage of the Advanced Hip+Joint is 0.77 grams per chew.
---
---
---
By Lynz on Jun 21, 2022
So far so good
I've been giving 2 of these to my 4 year old Golden Aussie mix every morning for about 2 weeks now. Her hips have been giving her some issues again. So far these have helped her not be so stiff and will play around more. I wish the price/amount was better...I do plan on buying more since they've helped her so much already. I'm looking into trying some other supplement treats this brand has. Oh, the treats do smell bad but they must taste good. She's sometimes picky.
---
By KatU on May 31, 2022
Even my Picky Seniors Like This
I have two 12-year-old chihuahua/terrier mix dogs (roughly 10 pounds each in weight) that can be very picky with food, treats, and supplements. I've always had a hard time finding joint supplements that they'll like and are not hard to chew. These are actually soft for them to break apart without them being crumbly and easy for them to chew. The first joint supplement I've found that my pups will eat! Even though I started giving these about a week ago, I feel like they're more active and not as hesitant to take the stairs. These also have not caused tummy upset for my dogs, either.
---
By StasiJo0816 on Apr 18, 2022
My doggy loved it!
I received PetHonesty Advanced Hip + Joint Chicken Flavored Soft Chews Joint Supplement for Dogs as part of a free sample program. I have three dogs, my older two are 10y.o. & sisters (they just turned 10 on 3/27/22) & one is about 150lbs & the other is about 130lbs. So with their age & weight combined they are having a lot of problems with their hips & joints. Especially the bigger of the two & my youngest one who will be 5y.o. (she turn five on 9/19/22) & is about 100lbs, isn't having any issues at all...yet. I give it to the older two to help with their joint & hip issues & the younger one to stop her hip & joint issues before they begin. But immediately I noticed a huge difference!! The older two were jumping, hopping around, & playing a lot more. Acting like puppies really. And the younger one plays even more--if that's even possible, hahaha! I highly recommend this product & I will be buying it from here on out and giving it to my girls daily.
---
By Monica on Apr 3, 2022
Great product for picky dogs
I have 3 dogs - 2 chihuahuas and a pit bull/lab mix. All different age ranges. The first thing I noticed is that these treats have a very strong scent but it is covered up by the "chicken flavor" smell, which makes them smell like chicken flavoring we use to cook with. The ingredients on the label are well known ingredients to me so I feel safe giving these to my dogs. One of my dogs is about 14 and has dental issues but where these are soft chews, I can crumble them up and he eats them that way. It provides serving sizes based on your dogs weight as well so that's super helpful. All of my dogs love these and think they are dog treats so they get super excited. The most important thing is that it helps their bones and joints overtime. As of now, I have no complaints and my dogs really love them and they're good for them so that's all that matters! If the product seems to work over time, I will definitely be repurchasing. I received these as part of a free sample program, but I've given my own honest review and opinion.
---
By PeanutsMom on Mar 30, 2022
13 Year Old Chihuahua Still Gets Zoomies
This is my first time trying a joint supplement for dogs. I have a 13 year old Chihuahua and I always add salmon oil to her food at night for her coat, but since she is getting old I decided to try the PetHonesty Advanced Hip & Joint for dogs. I give her one as a midnight snack and it doesn't upset her tummy at all. She is very active for her age and this supplement seems to help her continue to get the zoomies. I personally love that this product is made in the USA and contains no GMOs, wheat, corn, soy or harsh preservatives. I will absolutely buy this product once I run out and would recommend it to anyone whose dog is getting up there in age. Full disclosure: I received this product as part of a free sample program.
---
By Jennifer on Apr 5, 2022
Hopeful For What Is To Come
I noticed my 13-year-old dog wasn't jumping up on the couch anymore and has really started to slow down. Playtime is not as often, or as long as it used to be. I have tried a few other joint supplements with little to no results. I received a bottle of PetHonesty Advanced Hip & Joint supplements through a free trial program. I love the fact that all the ingredients are clean. The PetHonesty supplements don't have a bunch of unnecessary additives. After about a week, I could see a slight change in my dog's movements. She is playing a bit more and seems to be getting around a lot better than she has been. We have only been using this product for a little over a week, so the progress is slight, but very promising. If she is already getting around better, I am excited to continue to use this product. If you have a dog with painful joints, and has a hard time getting around, I recommend trying this product. I am very hopeful for what her future looks like after trying the PetHonesty Advanced Hip & Joint supplements!
---
By Slopez330 on Apr 4, 2022
Simply Amazing!
I received this product as part of a free sampling program. I have a 10 year old Rottweiler who has a hard time getting up. I feel like a horrible dog owner because I never once thought of getting him vitamins that could potentially help him. I am so thankful I was selected for these hip and joint vitamins. For the first time in a long time my dog is able to spring up like he's 6 years old again. He even was running, yes I said running!! Chasing our 10 month old puppy. He literally has a little skip to his step. I haven't seen him this active and happy in a long time. He has been on them for about 2 weeks now and I will absolutely purchase these when we run out. When I first gave it to him he just smelt it and wasn't very interested in them. He ate it and with his old teeth had no issues as they are not hard. He now looks forward to getting his vitamins every morning.
---
By Crazyfrugalmom on Apr 13, 2022
My pups approve
I have 2 dogs, 1 is 12 years young and the other is 4. They both have hip and joint issues from different injuries, so as they are aging they don't seem agile, especially my 12 year old. They both beg for these and gobble them down no problems and I haven't noticed any bad side effects. My 12 year old is now back to jumping up on the bed again and eager to chase squirrels. My 4 year old, I've noticed, does better on walks and doesn't limp like he use to and is so much more playful, even their vet said its like they are more puppy like and seem to be doing very well on these. I did receive these as part of a promo for free, but will be purchasing these regularly and continuing my pups on them as long as my vet still approves.
---
By PaulaG on Apr 4, 2022
My Bella Loves These Soft Chews!
I recently got the chance to try these PetHonesty Advanced Hip + Joint Chicken Flavored Supplements as part of a free sample program and I am happy I did because I may never have tried them with my dog if I had not received them. My Bella loves these soft chews! Bella eats them right up and she is lucky because of her size, she gets 3 of them daily. This container will last us a month since she gets 3. I call her and tell her it is treat time and she gets all excited and can't wait to get them. After the very first time she got them, she didn't hesitate to eat them. I had NO issues with her NOT liking them. I have tried other hip + joint supplements and this one compares just as good or better. The added turmeric and other ingredients work together to fight inflammation which is great at helping ease my Bella's joint stiffness due to her severe arthritis. She is 11 years old and suffers greatly so I am always looking for great products like this one to help her. So far I have seen an improvement in her daily activity and I plan on buying it again for her. I definitely recommend the PetHonesty Advanced Hip + Joint Supplements for any pet who could benefit from a supplement with Glucosamine and MSM. One other thing I love about these chews they are made here in the U.S., which is very important to me.
---
By Nash08 on Apr 18, 2022
Good Joint Supplement
I received this product as part of a free sample program, and I've been very pleased with it. My dog isn't a very picky eater, but he doesn't seem to love the taste. Nonetheless, he will still eat them without giving me any trouble. I think the best approach for us is adding to his regular food. I was pleasantly surprised when I received the product and started looking at the ingredients. The ingredients are things that I recognize and can feel comfortable giving to my pup. I also really like that they are manufactured in the USA. After only short term use, it's hard to know how well it will help my dog's joints. Since he's an active dog that has shown signs of hip dysplasia, I'm glad that I can give him something that might help him stay as active as possible and without too many joint issues.
---