Petpost Tear Stain Remover Comb for Dogs, Fine Comb
---
About This Item
This extra-fine tooth comb has 65 stainless steel pins that will easily remove crust around your dog's eyes.
Using this product just a few minutes a day will help your dog avoid unpleasant tear build-up. You're preventing tear stains at the very source simply by removing the crusty mucus accumulation that tends to stain fur.
The rounded prongs are made out of "smooth" stainless steel. They're designed to go through the sensitive areas around the eyes without pulling, tearing or causing any discomfort.
Whether you are a professional groomer or a happy pet parent, this is an easy to use tear stain remover that is recommended by Veterinarians. Great alternative to harsh chemicals or supplements.
If your dog has had tear stains for a long time, there will be permanently dyed fur that will need to grow out and be trimmed off. Continued use will prevent new tear stains from appearing.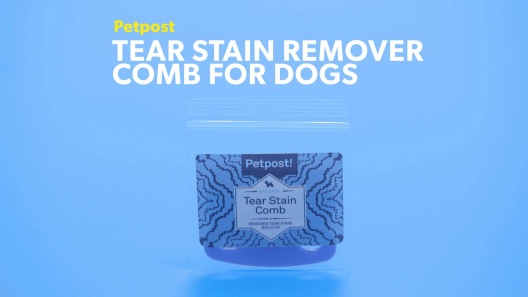 Learn More About Petpost From Our Team of Experts
---
Compare Similar Items
| | | | | | |
| --- | --- | --- | --- | --- | --- |
| | | | | | |
| Customer Rating | | | | | |
| Price | | | | | |
| Material | Plastic | Plastic | Plastic | Plastic, Rubber | Stainless Steel |
| Brush Type | Comb | Deshedding Tool | Slicker Brush | Slicker Brush | Bristle Brush |
| Breed Size | N/A | Medium Breeds, Large Breeds | N/A | N/A | Small Breeds, Medium Breeds, Large Breeds, All Breeds |
| Grooming Tool Type | N/A | N/A | N/A | N/A | Groomer Accessory |
| Lifestage | Adult | N/A | Adult | N/A | Adult |
---
Questions & Answers
4 Customer Questions
---
Is this comb any different from a flea comb?
Answer by • Oct 26, 2017
The Petpost Tear Stain Remover Comb for Dogs is a fine-tooth comb that gently removes tear stain buildup without the use of solutions. The tips of the teeth are blunt so the comb can run smoothly through the hair without pulling. It's just the right size to reach all the small areas around the eyes and remove the crust without causing pain.
---
Is this comb suitable for small dogs? My 3 are all under 10 lbs. with the smallest , a Yorkie, only 4 pounds
Answer by • Dec 28, 2020
This comb is suitable for dogs of all sizes.
---
What are the dimensions of this comb?
Answer by • Oct 26, 2017
this comb measures 2.25 x 0.01 x 2.75 inches
---
This comb doesn't pull the crusty stuff? I'm afraid it will hurt and my guy doesn't like to be touched near his eyes.
Answer by • Jun 11, 2021
This Tear Stain Comb has 65 fine tooth, stainless steel rounded pins designed to remove crust gently around the sensitive areas. By removing the crust and goop that stains fur, this tool can prevent future tear stains from appearing.
---
---
By Lily on Apr 26, 2022
Tear stain remover comb
When you wet the tear stain, I never expected this comb to do much, but it did! And it was gentle. I do recommend it.
---
By Edie on Mar 24, 2022
Petpost comb
I found that it was too hard and stiff. Although this might be good for larger dogs I did not find it good for my small. Dog
---
By Anna on Dec 6, 2021
When you want perfection for your dog, this is a good tool
I have Bichon Frises and moving to another state has raised allergy issues. This comb clears out all the gunk beneath the eyes beautifully. It does nothing for stains, of course. You will accomplish that with keeping the eyes clean. First soften the eye gunk (I use a canine eye natural eye stain remover and cotton pads and que tips soaked in that). Then, starting from the outside edge of the gunk, comb carefully so as not to take a piece of gunk that is not softened entirely which may hurt the dog.
---
By Sheryl on May 12, 2022
Tear Stain Comb
This Tear Stain Comb is a simple product that works really well.
---
By Melrose on Oct 22, 2021
LITERALLY OBSESSED
OK y'all, if your pup gets lil goopy tears no matter how often you try to wipe them away - GET THIS PRODUCT. No joke, I was starting to do research about special wipes or magical soaps to help make these clumps disappear, but not even two seconds with this comb and the tears are GONE. My pup is normally quite wiggly, but she stays still for this tiny comb, and the tears are gone in no time. 5 stars, will recommend to literally everyone.
---
By Katy on Jan 26, 2022
Tear stain remover comb
I love this comb. It works better than what I have used in the past. My dog does not fight me using it likes she does with wipes
---
By Dandan on Feb 9, 2022
The best comb
This is such a great comb. It takes the smallest pieces under the eye. Very comfortable for my havansese
---
By PlanoMarsha on Oct 6, 2021
A Must-Have for My White and Apricot Havanese
No more wrestling with my puppy to remove eye goop from the corners of her eyes, the tear stain remover comb saves time and effort. It also helps to use the comb when your pup is drowsy. I tried special eye wipes, but they were less than effective. The comb is also great for detangling furry ears, mustaches and chins, gliding painlessly.
---
By nmhen on Sep 29, 2021
Eye gunk Galore
I have a 12 year old shitzu who has chronic allergies and yeast problems. No matter the amount of allergy shots, grain-free food, or medicine she's always got eye gunk to the point to where a warm wash cloth wouldn't even help. This is the best thing ever. It got the eye gunk out with no issues and it didn't hurt her, or pull the hair either! 10/10 recommend!
---
By minnymo on Nov 20, 2021
get rid of eye boogers
I was reluctant to spend so much on this little comb but it works great to remove crusty eye boogers without a lot of digging and a wet cloth. Easier on my doggie and on me.
---