PetSafe Easy Walk Dog Harness
By PetSafe
---
About This Item
This no-pull harness was created by a veterinary behaviorist in 2004 and is paw-fect for dogs who pull during walks.
The patented martingale loop design safely stops pulling by placing gradual pressure on your furry friend's shoulders.
Unlike collars, this harness rests across your dog's chest, so you don't have to worry about him gagging or choking. The leash attachment on the front lets you direct your dog during walks.
Designed with quick-snap shoulder and belly straps for easy fitting. The different color belly strap makes the harness easy to put on.
With less coverage than many other harnesses, this breathable harness keeps your canine companion cool during your walks.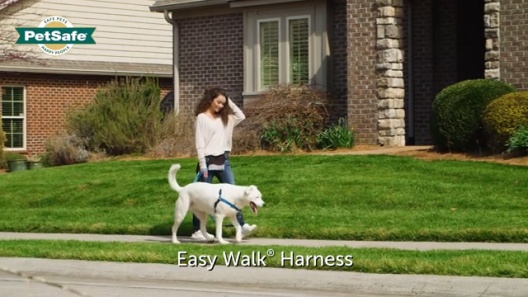 Learn More About PetSafe From Our Team of Experts
---
Compare Similar Items
| | | | | | |
| --- | --- | --- | --- | --- | --- |
| | | | | | |
| Customer Rating | | | | | |
| Price | | | | | |
| Harness Type | No Pull, Front Clip | No Pull, Front Clip | Back Clip | N/A | Back Clip |
| Leash & Collar Feature | Waterproof | Reflective, Waterproof | Reflective, Waterproof | N/A | N/A |
| Breed Size | Large Breeds | Medium Breeds | Large Breeds | Small Breeds | Small Breeds |
| Material | Nylon | Nylon | Nylon | Nylon | Nylon |
| Pattern | Solid | Solid | Solid | N/A | Solid |
| Closure Type | Quick Release | Quick Release | Quick Release | Buckle | Buckle |
| Leash Length | N/A | — | — | — | — |
---
Questions & Answers
40 Customer Questions
---
The process for the chest measurement isn't clear. Am I measuring the chest from the front of one foreleg to the other? Or from the back of one foreleg to the back of the other?
---
My baby is a chi jack with a 5.5 chest and 17 girth. What size is best?
---
Can you turn it so the leash clips on the back?
Answer by • Jul 02, 2018
It's not recommended to alter this harness in any way. The D-ring is meant to be in the front. The martingale loop at the chest prevents twisting and The chest strap rests across your dog's chest instead of putting pressure on the delicate throat, so there's no choking or gagging.
---
Are these Recommened for puppy's?
Answer by • Jul 13, 2018
A harness may be worn by a puppy, adult or senior dog.
---
---
---
By Letajo on Apr 18, 2022
Really like it BUT
Have a 6 month old lab. Got the medium large since he is still growing. Is adjustable to fit him right now and as he grows. Only problem is he still managed to get his jaw and paw through the chest strap causing the adjustment to slip and allow him to chew on it good and also get out of it completely! He usually gets out of it a couple days a week. So not sure if I need to go down a size or try something different. It does work and keeps him from pulling and our morning walks are much better with it. Although the front hook is different and he likes try to grab the leash while I'm trying to hook it so that's always fun.
---
By Wryly on Apr 26, 2022
Better for medium-large dogs / dogs with longer legs
I know multiple people who use and love this style leash. I wanted to try it for my dog so I bought a petite/small according to the size guide. Didn't fit so I contacted Chewy and they refunded me and told me to donate it, super nice. On the box of the collar, there is a weight added to the size guide which would have been extremely helpful with originally purchasing because I would have sized up (and my dog is not overweight). When I bought a new one and took my dog out, he is very used to the harnesses that clip the leash on the back and not chest so he did not like this harness. He also didn't like how the least was by his face and it would get caught under him. So unfortunately I would say this harness is better for dogs with longer legs but maybe it's just my dog.
---
By TeaB on Apr 8, 2022
Packaging malfunction
I measured my small puppy and ordered a black and silver size PETITE. I received what I thought was a size Petite according to the package. I didn't put it on my puppy right away because I ordered it for her to start Service Dog training which didn't start until a month after I received it. When I got it out to adjust the sizing to my puppy I realized it didn't fit. It took me awhile to figure out why it wasn't fitting her. I finally realized that although the package says PETITE, what I received was a PETITE/SMALL (see attached pictures). Since I waited a month to try it on her, I didn't have time to send it back and reorder. I had to order the PETITE from a company that delivered next day. Now I'm stuck with a Petite/Small that will never fit my puppy. The Easy Walk is a great product. It is just unfortunate that I received a size that was packaged incorrectly.
---
By Erin on May 16, 2022
Super easy to put on and adjust, completely stopped leash pulling!
My hound, Bowie, was a big leash puller and we were having some problems training him. As soon as we got this easy walk dog harness it was like night and day. He is so lovely on the leash now and this harness is super easy to put on and adjust. He looks comfortable in it, there is no chafing. Highly recommend!
---
By Boopenhaven on May 2, 2022
Reliable always
This is my 4th Easy Walk, definitely the best harness on the market, IMO. Over the past 13 years of dogs, this harness effectively stops the pulling, yanking, choking of just a collar or other harnesses. Once you decide which clip section works for you and your dog for easy on/off, it's a simple process that means your dog isn't freaking out to put his legs one place and head another.
---
By VRRR on Apr 29, 2022
Broke in 3 Days
2 reactive dogs approached us and as I was pulling the leash to lead my puppy away, I saw the harness tearing. I genuinely feared that my puppy would run away. As soon as we got far away from the 2 reactive dogs, I immediately detached the leash from the harness and temporarily clipped it onto my dog's collar. I do not recommend this product.
---
By Sammy on Apr 19, 2022
This PetSafe Easy Walk Dog Harness is a miracle!
Our 1 year old female Golden Retriever is a very bad walker as she pulls and leaps and she gets scared easily of loud noises which makes her pull harder. So we put this PetSafe easy walk harness on her which is very light and not binding at all and she has calmed right down and walks like she has been to a trainer or something and like she's like a brand new pup! Thank you so very much!
---
By leash on Mar 29, 2022
Nice harness but big buckle did not work for my dog
This is a well-made harness and I liked that the webbing could be easily cleaned and dried. The color coding made putting it on and off easier to figure out. Unfortunately, my dog has a large lipoma (benign fat tumor) in his armpit and the large buckle is located in that exact spot. Even without a tumor, the location of the buckle might have proven annoying for an active dog like mine. I only tried it on him once and went with another model that has two buckles near the top of the strap. Because of the buckle placement, I would not recommend this product although maybe others would not find this an issue.
---
By Julie on Apr 3, 2022
So far so good
We've been using this harness for our 80 and 60 pound dogs and it works better on the big one. We've had the harness for 6 and 5 years respectively without issue. My 60 pound dog has a deep chest and the harness slides a bit to the side and while it reduces his pulling, it doesn't eliminate it. However, my 80lb dog has more of a tube body (rottweiler/lab like) and it totally keeps him from pulling. Hoping the new harness I am buying for the 7th month old last as long!
---
By Amberrrrr on Apr 8, 2022
No more pulling!
After four years of a ruff wear harness that allowed my dog to pull so much I thought I might dislocate my shoulder, finally decided to try a front clasp. He used to pull like a sled dog but this harness has been a game changer! No more pulling and lunging, wish I purchased it a long time ago. He's a 50 lb mix, size medium is perfect. Highly recommend! Thanks, Chewy.
---