PetSafe Eatwell 5-Meal Automatic Dog & Cat Feeder
---
About This Item
BPA-free plastic, dishwasher-safe food trays
Holds 5 cups of dry food, divided into five 1-cup portion sections
Simply put in the 4 D-cell batteries, fill the feeder trays with dry food, and set the times for when your pet needs to eat. You can set up to five feeding times!
Feeder will rotate to the next tray at that same set time every day; all you have to do is re-fill the trays with food
Uses 4 D-cell batteries (not included), batteries last up to 12 months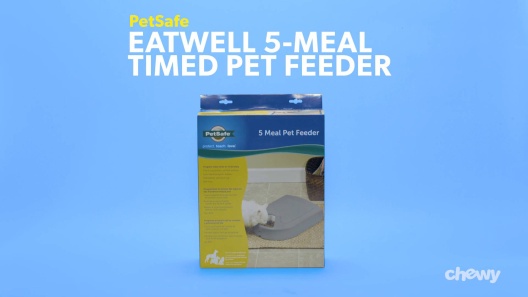 Learn More About PetSafe From Our Team of Experts
---
Compare Similar Items
| | | | | | |
| --- | --- | --- | --- | --- | --- |
| | | | | | |
| Customer Rating | | | | | |
| Price | | | | | |
| Breed Size | Extra Small Breeds, Small Breeds | Extra Small Breeds, Small Breeds | Small Breeds, Medium Breeds | Small Breeds, Medium Breeds, Large Breeds | Extra Small Breeds, Small Breeds |
| Bowl & Storage Feature | Automatic, Dishwasher-Safe, Portion Control | Automatic | Automatic, Portion Control | Automatic | Non-Skid, Dishwasher-Safe, BPA-Free... |
| Lifestage | Puppy, Kitten, Adult, Senior | Adult | Adult | Adult | Adult |
| Material | Plastic | Plastic | Plastic | Plastic, Stainless Steel, Metal | Plastic |
| Capacity (Max) | 5 Meals - 1-cup each | 18-cup | 17-cup | 1.8-gal | 5 Meals - 1.45-cup each |
| Assembly Required | Yes | No | No | No | No |
| Technology Feature | Programmable | Programmable | Programmable | Programmable | Programmable |
---
Questions & Answers
43 Customer Questions
---
Can you set this to feed 2 times in the same day? Like 7 am & 7 pm?
Answer by • Feb 03, 2019
This product holds 5 cups of food divided in 5 one-cup portions. You can set up to five feeding times - feed your pet once a day for five days, five times every day, or any other combination.
---
Does the lid stay open for 24 hours until it switches to the next?
Answer by • Jun 21, 2017
The feeder itself rotates over to the next meal available depending on how often you set up the timer. There is no lid that opens or closes automatically. You would simply fill the dishes up with food, set the timer, and close the lid.
---
Will the feeder make a sound, like a ding, when it's time for the next feeding??
Answer by • Oct 24, 2017
There is no ding or sound made when it's time for the next feeding.
---
what is the size/measurement of the food tray?
Answer by • Jan 30, 2018
This product has a diameter of 11.5 inches and 5 triangle shaped slots. Each slot will hold 1 cup of food and measure approximately 4 x 6 inches.
---
---
---
By jlgk75150 on Jul 20, 2022
Best Auto Feeder Ever!!!
Bought our first one about 12 years ago when we were looking for an automatic feeder for our diabetic cat. We needed something to monitor how much food he consumed and this was the best one we found that met our needs. Programable allowed us to set a time, fill the trays and allowed him to have prescheduled meals and at the right amounts of food. So no more over feedings. We wore out probably 2 maybe 3 motors during these past 12 years and each time we come back to this model. Our diabetic kitty has long since crossed over the rainbow bridge but our new kitty uses this and has since we brought her home. She knows when she hears the motor that means food is ready for her to eat. Highly recommend this for any pet owner that needs to limit the amount of food and that needs to be on a schedule. Excellent for dry food.
---
By John on Jul 29, 2022
Just not reliable
I've had three of these for about 5 years, and found them to be unreliable. They don't get a lot of use, just when I'm gone for more than a couple days. Sometimes they work perfectly, and sometimes.... they just fail, in various ways. Sometimes they just don't work at all, sometimes they skip a day, sometimes they only turn halfway to the next cup; there's no pattern to it that I can tell. And this is always with fresh batteries. Do yourself a favor, skip this feeder, and get something else.
---
By Ip1986 on Jul 6, 2022
Didn't make life easier...
Someone else said this is really only four meals and its true. I bought one for each of my cats so I could travel a bit more confidently. Brand new and BOTH of these feeders skip a meal. Oddly they both skip the exact same meal (#2) programmed. I had to wait around to watch what was going on I couldn't believe BOTH were defective in the exact same way but they are. Also u have to program them at the EXACT same second or else one kitty has seconds of eating before the other even gets served. Caused an uproar of jealousy in my cats lol
---
By Bridget on Aug 11, 2022
Works well, but too deep for my cat
My cat no longer eats out of this feeder, likely because the feeding bowls are too deep. He eats the food if I take it out for him! Any suggestions as to how to reduce the depth of these bowls?
---
By Crookshanksfam on Jun 14, 2022
Automatic Feeder works perfectly!
This five day automatic feeder is excellent! It rotates every day at the time you set, so if you get busy or distracted, you can still rest assured your pet will be fed. Easy setup and easy to refill. A great product.
---
By HollyZ on Jul 13, 2022
Quick Delivery
Discover my existing auto-feeder was not working. Ordered replacement 2 day before I had to leave and arrived on my departure date. Was very pleased.
---
By Catmom on May 9, 2022
Cats cracked the code
I loved this feeder for a while- months actually. However, as my kitties have started to grow (they're 8 months old now) they managed to figure out the rotation device. They are aware that the next pocket has food in it and they prefer not to wait lol They paw at the exposed dish's corners and have managed to manually semi rotate the device to the next feeding so they don't have to wait (defeating the purpose of this feeder lol) This then throws the dish off of the track, so it is no longer aligned with the exposed area and then won't rotate causing them to miss future meals for a glorious second of an early one. I'll be buying a different feeder that doesn't rely on rotation. Good for when they are tiny babies and don't have the strength to paw and manually rotate the device. Otherwise, get another feeder.
---
By Susan on Jun 14, 2022
Great product!
Used for the dog, convenient, easy to clean and fill. Really is a 4 meal feeder as one section has to remain empty unless you are feeding at the time that you have programed- defeats its purpose.
---
By CHTPL on Mar 24, 2022
Stopped Working Immediately
This product stopped working after 3 weeks. It started spinning more than just one rotation, so the dish would be misaligned with the hole. Then it would go multiple rotations, skipping full trays and ending up on empty trays that had already been fed. Well, the last night I used it, it spun around and around and around constantly. My poor cat kept trying to stick his head in the hole but the machine wouldn't stop. I don't think it is powerful enough to hurt him, but I was/am still worried about him getting his head, whisker, or paw stuck. I turned it off immediately. The lack of reliability is a huge problem. I didn't want to be gone during feeding time so I could ensure he was fed, completely defeating the point of an automatic feeder. Also, to echo another commenter - there is a "feed now" button. However, it will not skip the next meal. So if you want to feed your cat earlier (say 5 instead of 7), it will still do the next (7) feeding.
---
By 4CatsOwnMe on Mar 16, 2022
Great feeders!
This is the 5th feeder, this same model, I've purchased for 5 different cats. It's a great feeder, as long as you keep the directions so you can remember how to set the time it will open. ......My best tip - always check to see the food tray is completely seated before you leave it assuming it will open. Put the food tray in the base unit, then use the manual button to rotate the tray into the correct position so that with the next rotation, it will put the food in the correct opening for your pet. ......Our cats are leery of the noise, but they do eventually get brave and will go eat from it.
---