PetSafe Gentle Leader Chic Padded Dog Headcollar & Leash
By PetSafe
---
About This Item
Reduces pulling on the leash and other unwanted behaviors such as barking, lunging, or jumping.
A great accessory for training dogs to heel or focus by providing immediate gentle control.
Collar sits high on your dog's neck, keeping pressure on the back of the neck instead of the delicate throat.
Adjustable nylon straps and neoprene padded nose loop provide maximum comfort for prolonged wear.
Pick a fun and vibrant pattern that matches your pup's personality best.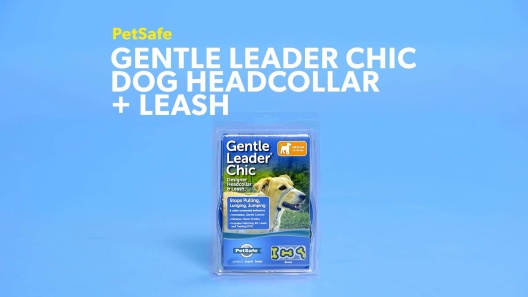 Learn More About PetSafe From Our Team of Experts
---
Compare Similar Items
| | | | | | |
| --- | --- | --- | --- | --- | --- |
| | | | | | |
| Customer Rating | | | | | |
| Price | | | | | |
| Breed Size | Medium Breeds | Medium Breeds, Large Breeds | Large Breeds | Small Breeds | Small Breeds |
| Material | Nylon | Nylon | Polyester | Nylon | Mesh |
| Collar Type | Headcollar | Headcollar | Headcollar | Headcollar | Standard |
| Leash & Collar Feature | Leash / Harness, Waterproof | N/A | Training | Waterproof | N/A |
| Pattern | Floral | Solid | Solid | Solid | Solid |
| Closure Type | Quick Release | Buckle | Buckle | Quick Release | Buckle |
| Harness Type | No Pull | N/A | N/A | No Pull | N/A |
---
Questions & Answers
19 Customer Questions
---
Does the Gentle Leader Chic include the matching leash? It is shown on the page but not in the description
Answer by • Jan 30, 2018
This item includes the headcollar, leash, fitting instructions & training DVD.
---
Is this gentle leader the deluxe model...meaning, is the nose loop padded?
Answer by • Feb 20, 2018
Adjustable nylon straps and neoprene padded nose loop provide maximum comfort for prolonged wear.
---
my puppy is right at 25lbs and his a mini Aussie. do I get him a medium or a small? I'm sorry he might grow out of it in the small but worry the medium might be to big?
Answer by • May 07, 2019
These headcollars are sized by pet weight. The Petite is best for dogs under 5 pounds, Small is for dogs who weigh 5 - 25 pounds, Medium is for dogs who are 25 – 60 pounds, Large is for dogs who are 60 – 130 pounds and X-Large is for dogs over 130 pounds. If your pet is between sizes, we recommend sizing up and adjusting as needed.
---
---
---
By Joshua on May 7, 2022
Strong Scent may be too much for some
The scent of the litter was so overwhelming that it made my family nauseous. If you are scent sensitive I would recommend skipping this product in favor of an unscented lightweight litter. Also due to the lightweight litter we found that it would stick to our cats paws more than traditional litter and they would track it around the house. Other than that the product performed well with clumping.
---
By Jdawg on Apr 2, 2022
Super duper cute
OH MY GAWD, I got this for my dog who already wears a "boring" red Gentle Leader. She is a little bit chonk, so when I saw the Donut style I KNEW she had to have it. It is perfect, as usual. I did notice that they changed the clip under the chin from plastic to metal, which is fine and probably "longer wearing." The short leash that came with it is also cute but I don't use it much. Could have done without it.
---
By PuppyDad on Mar 10, 2022
Prevent Puppy From Pulling
Head collar is simple to use and works well. The only small issue I had was that my puppy was able to unlock the clip for the nose adjustment. I was able to remedy this by wrapping the locking clip with some masking tape. I would suggest that the company find a much more secure locking clip.
---
By Hana on Feb 2, 2022
Very flimsy and confusing snap
I was very excited about this purchase but Bertie was most definitely not. He couldn't figure out why he should have donuts in his line of vision that could not be eaten and immediately started scratching at the nose strap with his paw and easily finagled his way out of it. In my excitement I opened the package and started trying to put the gentle leader on him only to become stumped by the complex design (I have a PhD but it is in a field unrelated to dog gentle leaders). I looked at the packaging and saw no pictures and only tiny font that I could not be bothered to read until five minutes into our walk when I figured out that the method I had cobbled together from the pictures was most definitely not working. No longer having the piece of paper with tiny print on it with us, I looked up instructions of Wikihow (which upon further perusal after our walk match the instructions on Chewy, why those could not be put in an instructional series of graphics on the blank space on the back of the sheet of paper that came with it, I do not know). This worked better but I still am mystified by the snap below the latch. Why anyone would put plastic that feels that flimsy anywhere near a species that is known for its willingness to chew anything and everything I do not know. I am not sure if the snap is broken, naturally weak, or I am obtuse but I cannot figure out how to make it stay put. Bertie started to get used to it eventually but still managed to get out from the nose strap twice more on our walk because the snap did not work (which was no more than 20 minutes total and over the course of which I managed to brainstorm several things that would have made better snaps than the piece of plastic provided, like a paperclip, a twist tie, a rubber band, a hair tie, or, on the makers' end, one of those things used to tighten sweatshirt hoods--why that was not the first solution is really bewildering in all honesty). Bertie would rate this a 0 if he were able to write Chewy reviews. I, being slightly more generous, will give it a two for being a cool concept and because I think the donuts are cute (which is the worst reason to get stars ever, but whatever).
---
By Poppies on May 7, 2022
Best leader ever
Poppies are so pretty in this set. I can't live without the Gentle Leader. My 70 LB dog is completely manageable.
---
By bubba on Apr 4, 2022
padded who??
zero padding have no idea why it's titled that! returned cause also agree with other reviewers that the clasp meant to size the nose loop is flimsy as all getup
---
By Wally on Jan 7, 2022
Walking peacefully
This is our second gentle leader collar. (The first still worked but was a bit raggedy). We'd already bought a new leash so I can't comment on that aspect other than to say it looks fine. At the time that we were ordering, the leash and leader together was the only option in the size that we needed. It wasn't the pattern on the leader that inspired our purchase but our experience with the method. We tried a harness with our adopted, then two year old dog but it didn't help. He still pulled. The gentle lead is easier to fit correctly and makes for a stress free stroll.
---
By Mischiefstuff on Mar 5, 2022
Gentle leader headcollar
Love the head collar. It works great and looks really cute, too. The leash was a nice addition, but not very useful for a puppy - it would get chewed through very easily, saving it for later.
---
By Harleygal on Dec 28, 2021
We liked it, dog didn't
Our 1 year old Golden Retriever is a bad puller when on walks. We have tried different harnesses with no success. We tried this Gentle Leader with leash and once on the dog, she hated it. She would try to pull it off, she wouldn't walk, she basically tried pulling it off with her paws. We removed it and put on her harness and she was fine. So needless to say our Golden did not like it. We will try it again, I don't think so.
---
By Salle on Dec 9, 2021
Poor redesign
I would have given 0 stars if possible. When researching why the buckle is stuck, I learned that in their redesign, they've curved the buckle so if you have part of the collar flipped, because you're putting it on a very wiggly dog (and there's no external, visual hint of this, like contrasting colors for inside and outside of the collar), it will be stuck and the collar will be ruined. We'll be purchasing something completely different, this is unfortunate as our prior versions of this collar were great, and was only replaced because it was lost. This redesign was definitely not made with actual dogs, who would require a gentle leader, in mind.
---