PetSafe Healthy Gravity Refill Dog & Cat Waterer
Frequently Bought Together
---
About This Item
A flow-control valve fills the bowl as your pet drinks the water, assuring bottled water freshness
Reservoir is made of BPA-free durable plastic, which locks in place to prevent knock over and spills
Space-saving footprint and modern style complements most home décor. Ideal for kitchens, laundry rooms, garages and other indoor areas
Wide opening makes it easier to clean by hand or with a cleaning tool
Can be used with optional Healthy Pet Water Filter (sold separately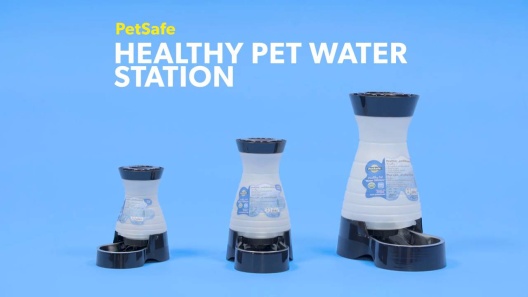 Learn More About PetSafe From Our Team of Experts
---
---
Keeping Pets Happy & Safe Since 1998
PetSafe has helped millions of pet parents care for their pets through every stage and season of life.
US-Based Customer Care
The PetSafe team of customer care experts is available 5 days a week via live chat, email or phone.
Healthy Pets, Happy People
PetSafe is dedicated to helping pet parents keep their furry family members healthy, safe and happy. From irresistible toys to life-protecting pet fences, their innovative products are designed to help bring pet families closer, for a lifetime of love.
Pick of the Litter
What sets PetSafe apart is a team of pet experts who come to work every day with one goal: making the world a happier place for pets and their people. They work with professional trainers, veterinarians and pet behaviorists to keep up on the latest research and insights and use that in developing their products. They rigorously test every product for safety, quality and efficacy, too – because your pet deserves the best!
About PetSafe
PetSafe has been a global leader in pet care since 1998. They pride themselves on empowering pet parents through innovation, education and experiences. Their goal is to strengthen the bond between people and their pets, providing them with thoughtful products, expert advice and compassionate support. PetSafe's US-based customer support team is always ready to help you get the most out of your life together with your pets!
Shop PetSafe
Compare Similar Items
| | | | | | |
| --- | --- | --- | --- | --- | --- |
| | | | | | |
| Customer Rating | | | | | |
| Price | | | | | |
| Breed Size | Large Breeds | Small Breeds, Medium Breeds, Large Breeds | Small Breeds, Medium Breeds | Large Breeds, Giant Breeds | Large Breeds |
| Lifestage | Puppy, Kitten, Adult, Senior | Adult | Adult | Adult | Adult, Puppy |
| Material | Stainless Steel, Metal | Plastic | Stainless Steel, Metal | Plastic | Plastic |
| Bowl & Storage Feature | Dishwasher-Safe | — | — | — | — |
| Capacity (Max) | 320-oz | 2.5 Gallon | 1-gallon | 3-gal | 2 1/2-gallon |
| Assembly Required | Yes | No | No | No | No |
| Tools Included | No Tools Required | — | — | — | — |
---
Questions & Answers
40 Customer Questions
---
Can replacement parts be gotten? Like the cap?
---
Is it possible to just remove the stainless bowl for daily cleaning, or will the station need to be completely disassembled for cleaning?
Answer by • Nov 06, 2018
The stainless steel bowl can be removed from the base and washed separately. The top needs to be lifted first to remove it.
---
How do u fill the container with water and then connect to the base?? Easy or hard to do!?
Answer by • Nov 24, 2020
The container has a flow control cap that can be closed off when refilling, that will automatically release water only when attached to the base.
---
Is this fountain battery operated or plug in?
Answer by • Jul 09, 2019
This water station does not use electricity, it refills using gravity. It features a flow-control valve that refills the bowl with bottle-fresh water as your pet drinks.
---
---
---
By Sanlano on Nov 6, 2022
Love this
I read a few negative reviews about this but I have had no issues with it. I truly believe the few people that had a negative experience likely didn't read the directions that accompany this item. It worked so great after purchasing one unit that I have since purchased 3 more and all work just fine. THESE ARE SUPER EASY TO CLEAN. This is what drew me to the purchase in the first place. Beside that, they DON'T SPILL when you're trying to connect the top with the base. The lid screws on tightly to the water tank and there's a handle to carry it by so you can attach it to the reservoir without spilling a drop. The stainless reservoir doesn't get slimey like a plastic one. Great product.
---
By PrincelyMom on Oct 15, 2022
Cat-approved
My young cat took to this watering device soon after I set it up. He's still a little befuddled by the gradual, automatic refilling of water as he's sipping. But it doesn't seem to deter him. He drinks a lot! :-) But not too much. I got the 320-ounce size device, as I wasn't sure what to get, but also, I wanted to get a long-lasting waterer. I didn't buy the filters that go with this waterer, since I have filtered water in my home. I'm very happy with this item. Now I don't have to keep worrying if I checked the old water dish before I went to work. I'd buy this again, but I don't expect to, since this unit should last for a long time.
---
By Monique on Nov 29, 2022
Good value
This is exactly what we needed. It keeps the water fresh and flowing over several days. The only slight drawback is that the water gets dirty (our cats aren't the neatest) so trying to empty out the bowl means taking the whole thing to the sink.
---
By Cheryl on Oct 8, 2022
Stay Away From This One
This is the worst self-feeder ever! Every time it empties it runs dry and I have to wiggle it. I bought it and 2 packs of cartridges, so I am out over $59.00 plus tax. It has a spring on the bottom which does not sit right. Cannot be trusted if you rely on it when you are not going to be home. Now I am looking for another one and it hasn't been but a few months. Hated it since day one but that is a lot of money. I see on the reviews a lot of others have issues nowadays. Gave it 1 star because they made me.
---
By wickedgirl1230 on Oct 5, 2022
Not the best design
I bought this because of the filter and cool design. I love that i can fill it up and flip it over without spilling a drop. What i hate about the waterer is that the little spring trigger on the bottom that is suppose to keep tge bowl full of water DOES NOT WORK! I am constantly finding the water bowl empty and i have to physicallg twist it, pick it up and set it back down before it will release the water. The whole point of the water tank is to provide water to the animals without us physically having to fill it up everytime.
---
By TheosMom on Sep 7, 2022
Not for larger dogs but easier to clean
Pros: - Stays clean longer than the usual gravity bowl. - My messy water drinker didn't make as much of his usual mess with the water. - Sturdy. No way was any of them (dog or cats) going to knock it over. But there's only one rough animal (my grandcat) in the house and he just usually loves knocking over full glasses of liquid off the side tables. - Love the stainless steel bowl. Keeps the water fresher longer than the plastic ones Cons: - Make sure you read the directions because taking it out for refill is not intuitive! Removed one star due to this. I made the mistake of letting my 21 year old son set it up so I never know how to refill it. Someone else has to do it. (or is that really a con?) ;) - I bought the biggest on (320 oz), but it's not made for larger dogs. That was my mistake, however, not the bowl's or the companies. When I checked the reviews, I saw a few bigger dogs so I thought it would work for my Theo who is a 100 lbs mastiff mix but didn't really read the questions from which someone noted that the largest bowl was 5" in diameter. Always read the answers to the questions! I'll be giving it to my son who has a cat. Our cats love drinking out of the stainless steel bowl so it was not a waste of money. I'd definitely recommend the 320 oz for medium size dogs and/or multi-cat household (but make sure to read the directions on how to change).
---
By Dogmom21 on Aug 25, 2022
Quality Waterer
After buying a cheap version of the waterer to see if my puppy liked it, I was ready for an upgrade. I picked this one because it has the filter option. We can have hard water and this mitigates that. I actually first purchased the medium size because I was concerned about the footprint and it said that a 50# dog could use it. It was too small so we got the large one. (My 8 month old Bernie-doodle is already 55#) The larger one still fits under the counter as I needed. I like that the stainless bowl has a tight fit but comes out easily to clean. The only thing I misunderstood is that it is not a top loading fill. The black top is for looks and sturdiness. The tower does turn/snap into place and is all one construction. A brush easily can be swished around to clean inside. I love the look and the quality.
---
By Lulu on Nov 4, 2022
Self-waterer
This works fine, I just wish I'd bought the bigger one. I was surprisingly surprised to see it had a stainless steel bowl for the water seems to keep it cleaner. this one seems to last two days.
---
By MamaEve801 on Aug 8, 2022
Pros and cons
I like this waterer because the spring prevents water from going anywhere until the reservoir is in place. This is a nice feature for traveling, so long as the spring doesn't get bumped or broken. I do like the filters, but they are big, and take up quite a bit of space, so less water in the reservoir when using them. Also, the way the bowl is designed, it shouldn't get as gunky. None of my cats will even use this waterer though—I have two of them that have been sitting full of water for about two weeks, and none of the cats will go near them (I even tried a few things like treats, and showing them it's water). I got the one gal, but the bowl is too small for my dog, so she needs the big one (one of my clients has the big one, I sized down because it is too big to travel, and I thought they all have the same bowl). I ordered two of these so that I could leave one home for my two big cats, and take one on a trip with my dog and the two adventure kittens. I like these, but they do not work for my fur family.
---
By MsKitty on Aug 27, 2022
VERY VERY DISAPPOINTED
THE DESIGN IS HORRIBLE AND TURNS WHAT COULD BE AN EASILY REFILLABLE AND CLEANABLE WATER DISPENSER TO A NIGHTMARE. WHEN I REFILL THE WATER CHAMBER WATER GOES EVERYWHERE BECAUSE THE FILTER PLUG KEEPS COMING LOSE. WOW - WATER EVERYWHERE. ALSO, THE CLEARANCE BETWEEN THE WATER CHAMBER AND DRINKING RESERVOIR IS MINIMAL MAKING MS. KITTY TWISTER HER HEAD SIDEWAYS TO GET A DRINK OF WATER. DON'T LIKE IT - DON'T WANT IT - VERY DISAPPOINTED CHEWY WOULD SELL THIS ITEM.
---