PetSafe Healthy Pet Simply Feed Programmable Dog & Cat Feeder, 24-cup
Frequently Bought Together
---
About This Item
SCHEDULE YOUR PET'S MEALS: Conveniently schedule up to 12 meals per day for your cat or dog; best for cats and small to medium sized dogs
FLEXIBLE PORTIONS: Schedule 1/8 cup to 4 cups per meal depending on your pet's unique needs; requires 4 D-cell alkaline batteries (not included) or power adaptor (adaptor sold separately)
GREAT FOR FAST EATERS: If your pet eats meals too quickly, use the slow feed option to dispense meals larger than 1/8 cup gradually over 15 minutes
HELP MANAGE PET'S WEIGHT: Schedule smaller meals throughout the day to help keep your best friend healthy
ADDED FEATURES: 'Feed Now' feature lets you feed the next meal early; 'Pause Feed' feature lets you stop the feeder from dispensing meals while keeping the programmed meal schedule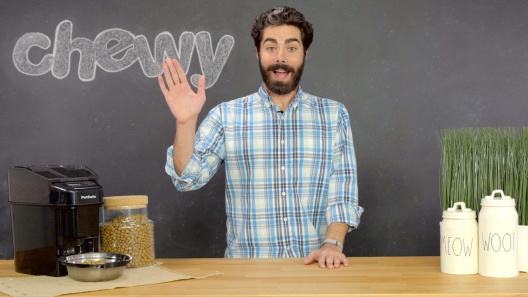 Learn More About PetSafe From Our Team of Experts
---
---
Keeping Pets Happy & Safe Since 1998
PetSafe has helped millions of pet parents care for their pets through every stage and season of life.
US-Based Customer Care
The PetSafe team of customer care experts is available 5 days a week via live chat, email or phone.
Healthy Pets, Happy People
PetSafe is dedicated to helping pet parents keep their furry family members healthy, safe and happy. From irresistible toys to life-protecting pet fences, their innovative products are designed to help bring pet families closer, for a lifetime of love.
Pick of the Litter
What sets PetSafe apart is a team of pet experts who come to work every day with one goal: making the world a happier place for pets and their people. They work with professional trainers, veterinarians and pet behaviorists to keep up on the latest research and insights and use that in developing their products. They rigorously test every product for safety, quality and efficacy, too – because your pet deserves the best!
About PetSafe
PetSafe has been a global leader in pet care since 1998. They pride themselves on empowering pet parents through innovation, education and experiences. Their goal is to strengthen the bond between people and their pets, providing them with thoughtful products, expert advice and compassionate support. PetSafe's US-based customer support team is always ready to help you get the most out of your life together with your pets!
Shop PetSafe
Compare Similar Items
| | | | | | |
| --- | --- | --- | --- | --- | --- |
| | | | | | |
| Customer Rating | | | | | |
| Price | | | | | |
| Breed Size | Extra Small Breeds, Small Breeds, Medium Breeds | Small Breeds, Medium Breeds, Large Breeds | Extra Small Breeds, Small Breeds, Medium Breeds, Large Breeds | Small Breeds, Medium Breeds | Extra Small Breeds, Small Breeds |
| Bowl & Storage Feature | Automatic, Food Storage, Portion Control | Automatic | Automatic | Automatic, Portion Control | Automatic |
| Lifestage | Puppy, Kitten, Adult, Senior | Adult | Adult | Adult | Adult |
| Material | Stainless Steel, Metal | Plastic | Plastic | Plastic | Plastic |
| Capacity (Max) | 24-cups | Food Storage Reservoir - 20-cup | 18-cup | 17-cup | 18-cup |
| Assembly Required | Yes | No | No | No | No |
| Compatibility | Plug-In Power, Battery Powered | — | Battery Powered | Plug-In Power | Plug-In Power, Battery Powered |
---
Questions & Answers
61 Customer Questions
---
I purchased a programmable pet feeder for my cats a couple of years ago. My cats figured out how to stick their paws up into the hopper to get more food to come out between scheduled feedings, so basically, the thing was worthless. Is this cat-proof?
Answer by • Feb 15, 2018
This product is designed so that the food sits in a compartment and travels down a tunnel. There is also a guard to protect paws from reaching up into the tunnel in an effort to get a tasty snack.
---
What's the best way to use it for 2 cats? Approximate same weight but currently each have own bowl.
Answer by • Oct 27, 2022
This feeder may be used for a couple pets. We carry the "PetSafe Two-Pet Dog & Cat Meal Splitter & Bowl" (sold separately) that is compatible with this feeder.
---
Can both batteries and power cord be used, with the batteries acting as a backup if the power goes out?
Answer by • Dec 21, 2017
PetSafe Healthy Pet Simply Feed Programmable Pet Feeder can be used with both the 4 D alkaline batteries and the power adaptor together.
---
Can this be programmed to feed every other day?
Answer by • Aug 09, 2018
At the time of setting up the feeding schedule, it'll allow you to customize the number of meals, meal times and meal sizes.
---
---
383 Customer Reviews
---
Filter by reviews that mention
---
By James on Aug 18, 2022
Good, so far
I've been using this for the dry food over the past few weeks, and it seems to work just fine. (Wet food is served on the side in a different little bowl). I've cleaned it once, so far. One of my friends mentioned trying a different brand before, and it got mold in it; I figured it might be from not letting it dry after cleaning it, so when I cleaned it, I let it air-dry for at least 36 hours before using it, again. I set the feeding times for before and after work, as well as one later in the evening (three feeding times, total). Contrary to some YouTube videos, he does not go running for the food every time the machine turns on (because he likes the wet food waaaaaay better than the dry food, lmao). But I like the fact that this machine takes away some of the daily chores. I'm a fan of automation, for the mundane tasks. Additionally, it acts as a backup alarm clock, just in case I don't wake up to the song on my phone, or to the cat walking on my face.
---
By Brandon on Aug 31, 2022
Works great but my cat figured it out
I've had this feeder for over two years now and it has been awesome but just beware if you have a greedy kitty who figures things out. Dexter recently realized that if he shoulder checks this device some food will drop out. Now I have to use my full kitty litter boxes to hold it in place so he can't move it with his body anymore.
---
By Chris on Jul 29, 2022
You'll love it!
I purchased this PetSafe Feeder, with the splitter, in anticipation of a trip where I would not be home to feed my feral cats. The feeder arrived promptly and in perfect condition. After many frustrating attempts to program the feeder, I called the company, and the representative guided me easily through the process. The rep admitted that the booklet describing the set up steps is difficult to follow, so she gave me the link that has new directions in both video and written form, that is super easy to follow. Don't give up on this great product just because you're having difficulty setting it up. Call the company! I was skeptical of the feeder because of some of the reviews, but I took a chance, and it worked beautifully for me. I did, however, have to raccoon-proof the feeder by rigging up a plastic tote and screwing the bowls into a piece of wood on which the tote sat. The coon got to the splitter, but couldn't get to the food source, so that's a kink I still have to work out for future trips. I'd like to offer a suggestion to the company to create an add-on product that would be a raccoon-safe, tub-like container, that the feeder could be put in, so animals can't get to the machine or the food. I gave four stars, because I don't like the design of the perfectly functional, but less than durable splitter. I didn't need the separation "wall," though some cat households might. Although the coon broke the splitter, it still works. I highly recommend this product.
---
By RustyD on Oct 17, 2022
NO POWER CORD!!
I can't believe something being sold WITHOUT a POWER CORD! You want me to depend on just expensive D batteries. If you buy a product it should come with a power cord, period!
---
By aerqkb on Aug 11, 2022
Works great.
It works really well for us. Don't like that you have to buy the cord for it separately, but whatever. Easy to program (just follow the directions in the manual) and reset, if necessary. I like that there are portion options. Easy to load up with food, and so far, hasn't caused any issues with the cats trying to get into it (and we've had it for over a year now?). At most, if jarred, a couple pieces of dry food will be knocked loose and fall out.
---
By Jori on Aug 15, 2022
Works, but noisy
Our cat took about 4 days to adjust to this. I have to admit she is a fraidy-cat about with just about everything to start with. They noise of the feeder was bad enough, but the food hitting the metal bowl is what scared her. Wishing there was a different bowl. It would also be great if it were slightly tilted toward the cat so she wouldn't have to put her head so close to the scary monster.
---
By Luke on Oct 8, 2022
Gangsters tricked me
They do not tell you that it does not come with an adapter to plug into the wall. Greedy You have to buy it separately unless you want to use d cell batteries until the end of time
---
By Kelly on Jul 13, 2022
Not perfect but gets the job done
I've had this feeder for over a year and for the most part it has been great, maybe more like 3.5 vs 4 stars. Only had to change the batteries once. The best part is that no matter how hard my industrious kitties try, they can NOT bust this thing open. And, boy, have they tried every angle. The bad part, though, is because it is top heavy they knock it over more often than I'd like, then the food falls off the conveyor and the portions get messed up. My other nit with this feeder is that it pretty consistently "loses time," meaning if it is set to go off at 12pm, after a few weeks it starts dropping food at 12:03, then after a while its 12:06, and so on. For my purposes it doesn't matter but if you are looking for precision - beware. I agree the bowl fixture is flimsy (have duct tape handy) and the programming is not that intuitive, but once you get the hang of the weird logic it is ok to navigate.
---
By Prisca on Jul 24, 2022
It works very well!
As older pet parents 77 and 71, we found getting it to operate was a challenge. I called the company and they were more than nice about helping us. They sent us a nice video. We had to read the book twice and watch the video. We are not technical people here. We also ordered an electrical power supply for this auto- feeder. This products works great.
---
By Rhodie on Jun 20, 2022
Needs some work
This was purchased for an upcoming vacation and I wanted to have a slow release timed feeder for our cat. Her food pieces are quite large and I wasn't sure it would handle the size, but it worked great with the conveyor. Tried to custom time her food, but the buttons were a bit confusing and we ended up just using the 8am and 8pm setting. I think this could be great for dogs, but the whole unit seemed large and the bowl was huge, considering we just needed really small amounts for one cat. Right out of the box, you need to wash the pieces and I was nervous about breaking some of the plastic pieces. The reason for my low rating is due to it not being airtight. We filled it with enough food for about a week and it was dispensing fine. However, when my neighbor came to check on our cat, she said the main bowl had a few tiny ants (no big deal, it happens). She decided to check the main food chamber and said it was completely crawling with ants and had to dump all the food! Now we do get the occasional ant, but it's not usually a problem when we feed her ourselves. The problem came from them being able to access the food and it then dispensing ants with the food. Not great. If you are just using this on a day to day basis, it would probably work for you. Noise level is minimal and it would otherwise be an ok product, but just didn't work out for us.
---