PetSafe Healthy Pet Simply Feed Programmable Dog & Cat Feeder, 24-cup
By PetSafe
---
About This Item
With up to 12 meals a day and flexible portions from 1/8-cup to 4-cups, you can schedule a feeding routine to fit your pet's needs.
Has a LCD screen with 5-button navigation for easy programming, translucent lid & hopper to quickly view food level and a hopper that holds 24 cups of dry food, bowl itself holds 5 cups of food.
Slow feed option dispenses each meal over a 15-minute period, reducing gulping, vomiting and bloat, Pause Feed Mode temporarily stops feeding without losing programmed feeding schedule and Immediate Feed Mode dispenses next set meal instantly.
Made of BPA-free plastic and stainless steel, bowl is easy to clean.
Uses 4 D batteries (not included) or power adaptor (sold separately)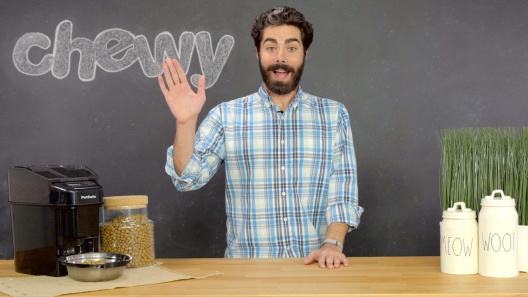 Learn More About PetSafe From Our Team of Experts
---
---
About PetSafe Pet Feeders
Make Mealtime Easier
PetSafe's Healthy Pet Simply Feed is an automatic pet feeder that takes the stress out of feeding your pet. Whether she's used to early morning breakfasts or needs to be fed when you're away, you can be sure she'll get her food on time—every time—in just the right serving size. It's also a great solution for slowing down chowhounds and managing your pet's weight.
Customized Portion Sizes
The hopper holds 24 cups of food, and the stainless steel bowl can hold up to 5 cups. Food is dispensed in precise portions that can be set for 1/8 cup to 4 cups, which is perfect for cats and small or medium dogs. With portion-controlled feeding, your pet will get just the right amount of food she needs to keep her satiated and to help maintain a proper weight.
Establishing a Schedule
You can schedule up to 12 meals a day with flexible portions to establish a regular feeding routine. Food is released into the bowl at the programmed times throughout the day or night. There's even default dog and cat settings that are preset to dispense food in specific serving sizes twice per day.
Slow Feed Mode for Fast Eaters
If you have a pet that tends to devour her food in seconds, the Slow Feed option can help slow her down. Each meal will be dispensed over a 15-minute period to make sure she takes her time eating her food. This helps improve digestion and helps prevent stomach bloat and vomiting.
Convenient and Easy to Maintain
Once you set the schedule and portion sizes, Simply Feed will take care of the rest. The large-capacity hopper holds a lot of food, so there's no need for constant refills. And you can easily check the food level through the transparent lid. To clean the stainless steel bowl, just toss it right into the dishwasher.
About PetSafe
Since 1991, PetSafe has been keeping pets safe and making pet owners happy with quality, reliable products. PetSafe is devoted to innovation with a range of products to help you and your pet share the best moments. They make it a point to consult with top trainers, veterinarians and behaviorists and listen to feedback from pet parents so they can continually improve their designs and processes.
Shop PetSafe
Compare Similar Items
| | | | | | |
| --- | --- | --- | --- | --- | --- |
| | | | | | |
| Customer Rating | | | | | |
| Price | | | | | |
| Breed Size | Extra Small & Toy Breeds, Small Breeds, Medium Breeds | Small Breeds, Medium Breeds, Large Breeds | Small Breeds | Small Breeds, Medium Breeds | Extra Small & Toy Breeds, Small Breeds |
| Bowl & Storage Feature | Automatic, Food Storage, Portion Control | Automatic | Non-Skid, Dishwasher-Safe, BPA-Free... | Automatic, Portion Control | Automatic |
| Capacity (Max) | 24-cups | Food Storage Reservoir - 20-cup | 4-cup per bowl | 25-cup | 18-cup |
| Material | Stainless Steel | Plastic | Plastic | Plastic | Plastic |
| Assembly Required | Yes | No | No | No | No |
| Compatibility | Plug-In Power, Battery Powered | N/A | Battery Powered | Plug-In Power | Plug-In Power, Battery Powered |
| Technology Feature | Programmable | Programmable, Voice Recording | N/A | Programmable | Programmable |
---
Questions & Answers
61 Customer Questions
---
I purchased a programmable pet feeder for my cats a couple of years ago. My cats figured out how to stick their paws up into the hopper to get more food to come out between scheduled feedings, so basically, the thing was worthless. Is this cat-proof?
Answer by • Feb 15, 2018
This product is designed so that the food sits in a compartment and travels down a tunnel. There is also a guard to protect paws from reaching up into the tunnel in an effort to get a tasty snack.
---
What's the best way to use it for 2 cats? Approximate same weight but currently each have own bowl.
Answer by • Jul 11, 2017
For two cats, the portion size will need to be set large enough for both to be fed enough.
---
Can both batteries and power cord be used, with the batteries acting as a backup if the power goes out?
Answer by • Dec 21, 2017
PetSafe Healthy Pet Simply Feed Programmable Pet Feeder can be used with both the 4 D alkaline batteries and the power adaptor together.
---
Can this be programmed to feed every other day?
Answer by • Aug 09, 2018
At the time of setting up the feeding schedule, it'll allow you to customize the number of meals, meal times and meal sizes.
---
---
---
By Greta on Apr 1, 2022
Feral Feeder
Love this thing! Works so well and only slightly overly-complicated to program. We put it in a tote filled with bricks and use it to feed our feral cats when we're out of town. (Got the idea from the YouTube channel "Lucky Ferals.") I would totally use this for a pet indoors-- it can feed up to 12 times per day and is super customizable with the amount of food it dispenses. For example, I have it set to dispense 2 cups of food at 7 am and 3/4 cup at 3 pm. Works like a charm!
---
By Emily on Feb 20, 2022
I wanted to like this but
I have had this machine replaced twice. The timer doesn't work, there are screen errors.. they are soooo expensive and I would except this to at least have a functioning digital screen. I set it and it never drops food remotely at the same time. I have 2 cats and 1 one them is not eating because the alpha cats food dumps out first and she's waiting 5 minutes for hers to come out so then the other cat is done and steals her food. We have reset it repeatedly, daily and it works once and then by the other feeding the timer is off again. Our first machine had this problem and after a few months, the screen stopped working and it stopped dropping food all together. That second problem hasn't YET but we are just going to buy something from a different supplier. Such a waste of money because now that the original was purchased over a year ago (the replacement has been here for only 4 months) they won't help me replace it or exchange it for another brand. The replacement has lasted less than 4 months so we'll be looking elsewhere
---
By Mindy on Feb 17, 2022
Disappointed
I purchased this feeder about a month ago and now it has stopped working. Below is a summary of my experience for anyone considering purchasing it: 1) It runs off of D batteries and after a month of use, it showed the batteries were low. You can purchase a power adapter for it, but that's separate and does not come with it. One month for battery life is not ideal for me. 2) When you replace the batteries, you have to reprogram the whole thing. 3) When you need to replace the batteries, or troubleshoot the conveyor belt, you have to make sure you dump out all of the food. You can't lift the food compartment out as it floods the internal workings with food pellets, so you need to make sure to dump it all out first, then you can proceed. I mean, my cat loved this part, but it wasn't my favorite mistake to make. 4) It was NOT intuitive to program/understand. Sure, I was able to do it after reading the manual a few times and going step by step through the instructions and pushing through frustration etc, but it's challenging. 5) After a month of use, it stopped dispensing food. The problem wasn't the mechanism, but rather, the display would not progress to the next meal time and when I tried to manually get it to dispense, no luck. I once again poured through the manual with no luck, I replaced the batteries, reprogrammed it and yep, still not working. I'm returning it and looking for a feeder that is a little more user friendly.
---
By JCmom on Feb 11, 2022
My dog is afraid of it
We had ARF pets feeder which was wonderful until it broke after just a year. I needed a reliable brand feeder that could last longer. This one had great reviews and I see some people stated they had for years. I really wanted to love this one, I like the mechanics of it with the conveyor belt which prevents kibble getting janmed- which was a recurrent issue with the previous feeder. Also the set up although a bit complicated has more features than others. With that being said, I am still trying to work with the feeder to get my dog to eat from it. I don't know why but my dog is afraid of it and doesn't want to go near it. It may be the loud noise of kibble falling on the stainless steel plate. My dog was fine with the other feeder because the food came from the bottom and didn't drop on the plate like this one. I tried replacing the plate with a different type of plate, not stainless steel and also tried using the plate from the old feeder but still she won't go near it. When the food drops she wants to eat but instead she starts crying. I also tried taping a plastic "slide" that will slide the food from it to the palate and move the feeder back so it is further away. Still no. I will keep trying to train my dog to overcome her fear. This feeder is potentially an amazing feeder but right now I can't seem to get any use of it. *BTW, really hated the fact that you need to buy the cord separately. It doesn't come with it!
---
By Steve on Jan 31, 2022
Excellent and simple
This feeder is reliable and delivers the correct amount of food each time. Holds 24 cups for large dogs, you can set meals in 1/8 cup increments (up to four cups I think), custom meal size for each meal if needed. If you buy the power supply for it (separately, but $9, I recommend it), it will run on AC, and if the power fails (or you unplug to move it / travel), it automatically switches to battery power, and you don't lose your programming. Food grade materials on anything that touches the food. Easy to program. The "feed now" button requires a two button push to "unlock", which your cat will not have the dexterity to pull off (there's a funny review about a wi-if enabled feeder, where the guy went to work and received ten "feed now notifications" (in ten minutes) after his cat found the button). It has everything you need, and nothing you don't. I'm happy with it.
---
By rachel on May 5, 2022
Nice but complicated
I like it, but the set up and button-pressing sequences are a little complicated. We also got the splitter for 2 cats and the plug-in cord.
---
By KBJ3 on Feb 2, 2022
Love this!
This has helped keep both of my cats on their diet and lowers their anxiety. They no longer start terrorizing the house or bang on the blinds all night to wake me up to feed them. A couple months into having this, and they now run to the feeder at the sound of it! I feed them a small amount every 4 hours or so along with a little wet food in the evening. I have two bowls now, and I love that I can throw one in the dishwasher every couple days. I highly recommend!
---
By Peej on Feb 20, 2022
Can't handle all dry food types
We have a French bulldog. We buy dry food designed for him. The dispenser consistently jams and is unreliable. It appears the shape/size of the food caused this. I found no disclaimer regarding food shape/size in any of the material.
---
By MCCN on Dec 29, 2021
Works Great!
We've had this feeder for about 2 years and it works great! It has allowed us to schedule several small meals throughout the day to prevent binging and has helped our fatty cat drop a couple pounds. We got the splitter, because our two cats were having trouble feeding from the same bowl, and I recommend buying the power adapter too, so the batteries serve only as backup. Be sure to read the manual when setting it up.
---
By Bunmom on Dec 9, 2021
Very reliable feeder
I have had this feeder in continuous operation now for over 3 years. First it was outside under cover (not recommended by the company) and now it is inside. I'm only on my second set of D batteries (4) and it has never skipped a beat or missed a meal. It is easy to clean and assemble. The key pad is not especially intuitive but as long as you keep the small manual handy, you are set. I'm buying another for our dog for part time use when on vacation to avoid 2 visits from the sitter per day.
---