PetSafe Manners Minder Treat & Train Remote Reward Behavior Dog Trainer
---
About This Item
Remote control allows for precise training when rewarding good behavior
Trainer for pet owners and professionals uses positive reinforcement for training dogs to behave at home and perform better in competition. The system can also be used to train behaviors ranging from down/stay to coming when called and specialty skills such as contacts, place and go-outs.
By rewarding desired behaviors, the system can be an invaluable tool in helping redirect a dog's focus away from barking at the door, jumping on guests, and begging at the table
Hand-held remote operates up to 100 feet away
Small or large sized kibble can be used with interchangeable food discs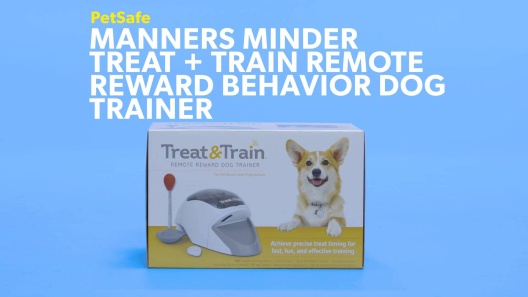 Learn More About PetSafe From Our Team of Experts
---
---
Keeping Pets Happy & Safe Since 1998
PetSafe has helped millions of pet parents care for their pets through every stage and season of life.
US-Based Customer Care
The PetSafe team of customer care experts is available 5 days a week via live chat, email or phone.
Healthy Pets, Happy People
PetSafe is dedicated to helping pet parents keep their furry family members healthy, safe and happy. From irresistible toys to life-protecting pet fences, their innovative products are designed to help bring pet families closer, for a lifetime of love.
Pick of the Litter
What sets PetSafe apart is a team of pet experts who come to work every day with one goal: making the world a happier place for pets and their people. They work with professional trainers, veterinarians and pet behaviorists to keep up on the latest research and insights and use that in developing their products. They rigorously test every product for safety, quality and efficacy, too – because your pet deserves the best!
About PetSafe
PetSafe has been a global leader in pet care since 1998. They pride themselves on empowering pet parents through innovation, education and experiences. Their goal is to strengthen the bond between people and their pets, providing them with thoughtful products, expert advice and compassionate support. PetSafe's US-based customer support team is always ready to help you get the most out of your life together with your pets!
Shop PetSafe
Compare Similar Items
| | | | | | |
| --- | --- | --- | --- | --- | --- |
| | | | | | |
| Customer Rating | | | | | |
| Price | | | | | |
| Breed Size | Small Breeds, Medium Breeds, Large Breeds, Extra Small Breeds | Small Breeds, Medium Breeds, Large Breeds | All Breeds | Extra Small Breeds, Small Breeds, Medium Breeds, Large Breeds | Small Breeds, Medium Breeds, Large Breeds |
| Lifestage | Puppy, Adult, Senior | Adult | Adult | Adult, Puppy, Kitten, Senior | Adult |
| Material | Plastic | Plastic, Stainless Steel, Metal | Plastic | Plastic | Plastic |
| Bowl & Storage Feature | Automatic | Automatic, Portion Control | Automatic | Automatic, Food Storage, Portion Control | Automatic |
| Assembly Required | Yes | No | No | Yes | No |
| Compatibility | Battery Powered | Plug-In Power | — | Wi-Fi, Battery Powered, Plug-In Power, Android, Apple iOS | — |
| Technology Feature | Treat Dispensing | — | — | Programmable | Programmable, Voice Recording |
---
Questions & Answers
17 Customer Questions
---
I don't get this. I dispenses one kibble at a time, correct? So how do you feed an entire meal? One kibble at a time?
Answer by • Aug 20, 2018
This is meant to train dogs with treats. The trainer isn't intended to be used for feeding meals.
---
We want to use two Treat and Train dispensers simultaneously. We want to activate them separately. Is this possible, or will one remote activate both at the same time even if placed apart?
Answer by • Oct 03, 2017
A household can use up to 4 of the PetSafe Manners Minder Treat & Train Remote Reward Behavior Dog Trainers. Each unit will have its own channel to allow for the treat to be dispensed only from that channel.
---
Does it have an automated mode? Dispensing automatically without the remote?
Answer by • Mar 01, 2018
This product comes with an auto-dispensing mode. This option can be selected by the remote.
---
Is this device effective in decreasing barks? My dog barks at EVERYTHING and it's often difficult to get him to lessen or stop barking at every little thing.
Answer by • May 29, 2019
By rewarding desired behaviors, the system can be an invaluable tool in helping redirect a dog's focus away from barking at the door, jumping on guests, and begging at the table.
---
---
---
By Cagemat on Jul 3, 2022
Train your dog
Great way to train your dog for agility and also great to train them not to be focused on your hands. Wish it had rechargeable batteries and it does become jammed every so often but it still is a big help with training. So happy I got it
---
By Maxsgirl on Apr 9, 2022
Love this training device
I purchased this after lots of debate whether it would be worth the money or not and I am so glad I did! My agility dog and I have been struggling with weaves and this has been a great help in teaching him to drive forward instead of looking to me. I am also using it with my other dogs to help with impulse control. I am just sorry it took me this long to get one! 100% recommend. The only negative is that it did not come with the battery for the remote like it stated it did. Luckily I had one that size on hand so I could use this immediately. A very small issue and not one that would ever lead me to not encourage anyone from purchasing this product!
---
By kelsey on Sep 8, 2021
Disappointed.
As a dog trainer I was on the fence about ordering this product because I've heard mixed reviews. Unfortunately my experience wasn't great and I'm disappointed. It uses batteries fast which makes using it expensive and the delay with reward is disappointing. Wasn't able to use and now it's a expensive decoration.
---
By bcsagility on Sep 7, 2021
Great remote trainer!
I use this for everything from stationing training to running dog walk work in agility. It's a super helpful tool, I'm so glad i bit the bullet and finally got one!! Now I'm thinking about getting a second one so I have one for home and one for the van...
---
By ILOVEIT on Apr 1, 2021
So helpful with separation anxiety and crate training !
This device is easy to use, the dogs take right to it. They provide detailed instructions. I was able to use the remote from inside another building while watching my dogs on camera. Pretty awesome ! I am creating a calm, relaxed dog with my absence as well as inside their kennel. If anyone out there is challenged with separation anxiety or crate training- you need this !!
---
By Colbie on Jul 9, 2020
Great for training and feeding meals
I was introduced to this by a trainer I worked with and it's an outstanding device to teach a dog to go to his bed. My crazy golden learned patience and focus. The ability to immediately mark a behavior from a distance is a great tool. I primarily use it to feed my dogs their meals. They no longer eat too fast and it keeps them focused and occupied for as long as you need.
---
By EvaK on Jul 29, 2020
Both a Manners Class and Robot!
I wasn't sure that this would be worth the cost, but now that I've had it for a couple months, I think it's a steal. Not only does it come with the kibble/treat dispensing device, it comes with an incredibly thorough training program laid out as both a book and dvd that is the equivalent to at least one, more like two, positive training classes. As a new dog trainer, I really appreciate having all the steps laid out for me, so there's no guesswork. The dvd includes examples of common training mistakes as well as examples of how to do it right, which is incredibly useful. I'm so grateful Dr Sophia Yin designed this. I have a one year old minigoldendoodle named Nessie who loves to go-go-go: she loves to run and jump. She's very sensitive to changes in her environment and has always had a hard time settling. She was also a very picky eater who frequently left most of her kibble in her bowl at mealtimes. So I was worried about whether this would even work with her. I started at the beginning, following the directions for teaching your dog to eat. I was deeply skeptical, but in less than two weeks Nessie was reliably eating her full kibble portion as soon as I put it in her bowl. It worked! I then started working through the down stay program: we are currently at the 15 second interval (about halfway through), and the changes in Nessie have been marvellous. Not only does she love her mat & robot, she settles much more easily around the house at other times of day. I had tried teaching her settles before, but she rarely got to the point of true relaxation. Now she just chills on her mat, and it's a wonder to behold. I'm just delighted with the progress she's made and can't wait to see her at the end of the program! Caveats: this is a weeks-long training program. It doesn't take a huge amount of time every day (I spend 5-10 minutes at both of her mealtimes working on it), but it is a daily thing. I needed a lot of patience/faith at the beginning, as I adjusted Nessie's eating habits and worked to teach her to understand she had to keep laying down on the mat. Her behavior changes have been more incremental (every week I seem to really notice more calmness) instead of an overnight switch. The robot & mat need to be picked up between training sessions, so they'll need a storage space that's easily accessible since you'll be pulling them out at least twice a day. At first I had a lot of issues with kibble jamming the device (Taste of the Wild Appalachian Valley small breed, with the smaller dispenser). I was adding 2/3 of a cup in the morning-Nessie's daily portion. Then I tried filling it up to the 1 cup mark (the lowest marker), and I almost never get jams anymore. Maybe 1 every 10 sessions. The beginning down-stays involve 20 reward dispensers/minute, so if you can't get your dog to work for kibble, that's going to be a challenge. That being said, Nessie was the kind of puppy who only worked for boiled chicken and rejected 90% of store bought treats, much less regular dry food, and now she'll happily work for her kibble. So the directions in the book really did work for her. Also Nessie previously had worked through a different down-stay protocol & knew the cue 'bed,' although she certainly didn't stay there until I released her. She's been attending positive training classes since she was a baby, so she was already familiar with some of the concepts in the book (we could skip the sit to say please chapter).
---
By MobileGroomingByLisa on May 10, 2020
Purchased for an auction
Wow, talk about an auction money-maker! Our beloved agility facility is closed due to the COVI-19 epidemic and students held an auction to help pay the rent. Our instructor has a Manners Minder and has used it in classes, helping several dogs overcome training blocks on difficult-for-them skills. We all loved it! I purchased this item specifically for the auction and it was a very popular item!
---
By Anne on Feb 28, 2020
My Box Didn't include the Remote Battery as the packaging promised
I just received this, watched the DVD and was anxious to try it out with my puppy, only to find I'll need to make a trip to the store in an effort to find a 23 battery. The packaging indicates it is included;however, this is false, it is nowhere to be found. Very disappointed we must wait.
---
By Treat on Apr 17, 2020
It works for us
With the treat n train my young dog is much more motivated to get to the end of the weaves!
---