PetSafe Nylon Martingale Dog Collar
Frequently Bought Together
---
About This Item
Prevents dog from slipping out of the collar, doesn't cause matting & bald spots like some standard collars.
Tightens when dog pulls and loosens when dog stops, perfect for "escape artists" and breeds with necks larger than their heads.
Durable nylon collar's custom fit is perfect for growing puppies.
Safer & more comfortable than a choke chain that's always tight.
Not recommended for tie-out use or during group play sessions.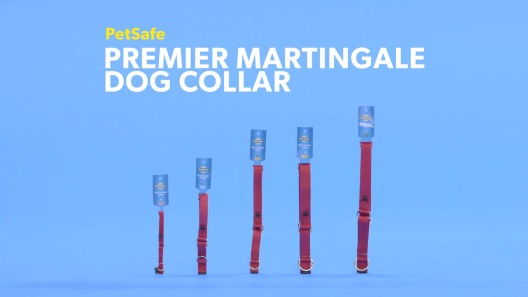 Learn More About PetSafe From Our Team of Experts
---
---
Keeping Pets Happy & Safe Since 1998
PetSafe has helped millions of pet parents care for their pets through every stage and season of life.
US-Based Customer Care
The PetSafe team of customer care experts is available 5 days a week via live chat, email or phone.
Healthy Pets, Happy People
PetSafe is dedicated to helping pet parents keep their furry family members healthy, safe and happy. From irresistible toys to life-protecting pet fences, their innovative products are designed to help bring pet families closer, for a lifetime of love.
Pick of the Litter
What sets PetSafe apart is a team of pet experts who come to work every day with one goal: making the world a happier place for pets and their people. They work with professional trainers, veterinarians and pet behaviorists to keep up on the latest research and insights and use that in developing their products. They rigorously test every product for safety, quality and efficacy, too – because your pet deserves the best!
About PetSafe
PetSafe has been a global leader in pet care since 1998. They pride themselves on empowering pet parents through innovation, education and experiences. Their goal is to strengthen the bond between people and their pets, providing them with thoughtful products, expert advice and compassionate support. PetSafe's US-based customer support team is always ready to help you get the most out of your life together with your pets!
Shop PetSafe
---
Questions & Answers
16 Customer Questions
---
What kond of collar to use with tieout
Answer by • Jun 01, 2021
The PetSafe Nylon Martingale Dog Collar is not recommended for tie-out use or during group play sessions.
---
How do I loosen the collar and how do I take it off.
Answer by • Jan 03, 2019
This collar is designed to tighten with the pulling strength of your pet and once there is no more pull it will automatically loosen. To remove the collar simply slip it over you pets head and ears.
---
Are these collars effective (for escape artists) with a 2-dog leash?
Answer by • Apr 03, 2018
The collar does help with escape artists. If the pet tries to back out of the collar or pull it will slightly tighten so they know its not coming off.
---
Can this collar be worn all the time or only during training?
Answer by • Oct 25, 2017
Keep in mind this collar should not be worn all day. Since it can potentially choke your dog if he gets stuck somewhere, you should always be around when your dog is wearing it.
---
---
---
By Martha on Nov 10, 2022
Fitting instructions all wrong
Online size neck measuring instructions are wrong. Collar was huge on my dog and I followed instructions exactly. Ironically, I went back online and read more reviews from numerous buyers who said exactly the same thing. I guess Chewy doesn't read reviews. By now you'd think the online instructions could have been corrected. I am usually a big fan of Chewy so I'm sorry I have to give this a negative review.
---
By om7180 on Nov 13, 2022
great product!
This is amazing for my 78lb APBT mix that's fear reactive, he doesnt pull 99% of the time but if he does it doesn't choke him like a 1in flat would, I also use 2in collars so he doesn't choke but this works great! It's very sturdy and I like the separate tag holder
---
By SimbasDad on Nov 29, 2022
Read reviews - Loosens itself - Size too big
I wish I had read all reviews and not just the star count.The loop to adjust is so long that when not pulling it hangs too low and impossible to stay in place. Bad design overall.
---
By Luckypup on Nov 12, 2022
collar preferred by rescue leaders
We had to replace this collar after a skunking incident :-0 This is the preferred collar recommended by our rescue coordinator as it keeps the dogs safe and not choked.
---
By Magyar on Sep 3, 2022
DO NOT BUY!
Purchased Aug. 10th 2022. Just recently washed for first time, and realized after putting on my puppy who has a 14 inch neck that it no longer fits at all. The adjusting band does not stay in place at all any more; with a little tugging it slips out to a 20 inch neck. Will not buy ever, again, and may not be able to use either for it is so loose.
---
By GeriQ on Dec 5, 2022
Works great
Other collar slips off head when I pull leash, this one tightens as a pull keeping pup safe on leash.
---
By rpwjr45 on Nov 17, 2022
doesnt stay adjusted
we adjusted band to fit puppy and went outside ,,,she pulled on leash and collar unadjusted enough to come off
---
By KayH on Nov 7, 2022
QUALITY collar
Very pleased. Works great. I originally thought it was too big for my pup, but it fits perfectly... with room to grow
---
By DesisMaster on Oct 22, 2022
Don't Buy - Waste of Money
Collar doesn't work as intended. After tightening it to fit my dog's neck, it loosened instead of tightened when I had her on the leash.
---
By Janette on Aug 6, 2022
Misleading sizing
Love these collars but stated sizes are WAY off. "Large" is described as "14-20" neck. Adjusted down to it's smallest size it's about 19 inches. And up to about 26"--would fit my son's Rhodesian Ridgebacks. The correct size for my 50-55 lb collies is Medium, with 3/4" width. It's described as fitting 10-16" necks but fits my 18-20" collies necks just fine.
---