PetSafe Premier Nylon Dog Leash
---
About This Item
Soft, durable nylon dog leash with heavy-duty stitching is a tough enough to keep you—the pet parent—in control and not your dog.
Its nylon webbing perfectly matches with the Martingale collars, Gentle Leader headcollars, Easy Walk harness and KeepSafe collars.
Choose from 4 ft or 6 ft-lengths and 3 different widths, so you can get the best fit for your furry pal.
Comfortable loop for your hand at one end and a secure snap bolt clip for your dog at the other.
Available in various colors, so your pal can always be in style no matter the season.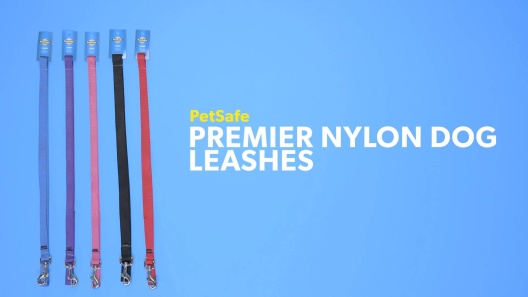 Learn More About PetSafe From Our Team of Experts
---
---
Questions & Answers
10 Customer Questions
---
What's the size of the snap bolt clip, I find larger ones to be ambit heavy for my little dog and tends to bang him.
Answer by • Dec 30, 2019
The clip on the 3/8 inch wide leash is 2 ¼ X 7/8 inches. The clip on the 3/4 inch wide leash is 3 X 1 ¼ inches. The clip on the 1 inch wide leash is 3 ¼ X ½ inches.
---
Is this leash double fabric?
Answer by • Mar 24, 2018
This leash is made of soft, durable nylon with heavy-duty stitching. It is not doubled.
---
Hi, I would like a brown and dark green one of these. When will these be in stock? Thank you
Answer by • Mar 23, 2018
At this time, this leash is currently available in black, raspberry, purple, red, and royal blue.
---
Does the length measurement include the "handle"?
Answer by • Dec 16, 2021
The length measurement is for the full length of the leash, from the handle to the clasp.
---
---
---
By pandy on May 30, 2022
well made leash
I purchased this leash for my chihuahua. I have been looking in stores and the only ones found are either 1 inch wide or 4 ft long. It is almost impossible to find a 6 ft long leash with 3/4 inch width. I am used to using this size and after looking for a long time I found them on Chewy. They are well made also.
---
By Pete on May 23, 2022
Not Saltwater Proof
The description says waterproof, but the first day we used it puppy got in the salt water swimming pool for about 30 minutes. By the time we started cleaning up the pool area the metal buckle pet had rusted to the point of being unusable and had to be trashed. If salt water is not in your dogs future I'm sure it's a fine leash.
---
By JosephS on Jul 5, 2022
Leash looks good but I haven't used it
I intended to attach the leash to a harness I bought with it. Unfortunately, my cat and I disagree on the desirability of her wearing the harness. So far, her attitude prevails.
---
By RescueMom5 on Jun 13, 2022
Sturdy Long Leash
I have an active rescue hound that loves to sniff while walking. I purchased this longer leash (6ft) to give my pup more lead room to sniff the area while we walk. It is very sturdy and well made.
---
By rknelsen on Jun 1, 2022
Great Leashes!!!
Just bought two of these leashes and they're great! Not too heavy or thick, but just the perfect weight to walk our two Mini Dachsies. Feel like we have very good control when walking them. Highly recommend!
---
By Kate on Apr 8, 2022
Size changed when I looked at another color
I had picked out the 4 ft leash specifically. then I just glanced through at the colors and stayed with black. What I didn't notice is that when I looked at the purple leash the size changed to 6 ft and did not change back when I picked black instead. Now I have exactly what I didn't want. If you don't have the size in a particular color it should let you know by putting an X through it not changing the size that you wanted. Most sites operate that way.
---
By Marty on May 16, 2022
Quality at a great price...
Simply, for the hard earned buck, the leash is the best value on the market. It's six feet in length, very well made, and comes in many colors. All this and a great price too... Yep, I like em'...I purchased 3ea. Best wishes
---
By MrsSnodgrass on Apr 16, 2022
More than Needed
Bought this nylon leash for 9 week old puppy who is 8 lbs and will mature at 30 lbs. Leash was a little too wide for now as I didn't need the strength. Bought another 3/8" wide leather leash that is a lot lighter, more flexible and easier to use.
---
By Truhart on Apr 12, 2022
Finally a 3rd option
Wanted to find a 6 foot leash for our dog, but the only one we could find locally was a one inch wide strap with a large clasp. Other choice was a 1/2 inch strap with a small clasp. This one is a 3/4 strap with a mid size clasp, better for smaller dogs.
---
By HBdogRescue on May 11, 2022
Sturdy basic leash
This is a sturdy leash with a strong clip that works well with all sizes of dogs. We send these home, along with martingale collars, for our newly adopted dogs.
---