PetSafe Sliding 81-in Glass Pet Door
---
About This Item
Allows your pet to come and go as he pleases, through your sliding glass or screen door.
These panels feature a heavy-duty aluminum construction and shatter-resistant, tempered safety glass.
Equipped with the energy-conserving UltraSeal flexible flap system designed to keep the heat and cold outdoors.
Installation is easy, with no cutting required. Simply slide the panel into one end of your sliding door track, secure it to the frame, and add the weather stripping.
Fits left or right sliding glass doors, 76 13/16 to 81 inches tall. Does not fit recessed sliding glass doors without additional hardware.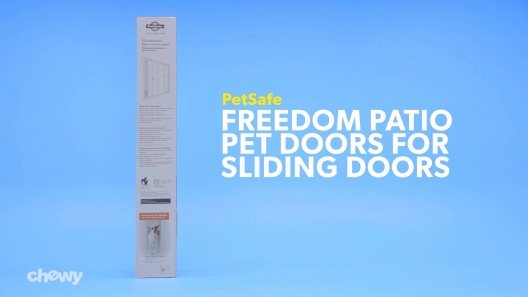 Learn More About PetSafe From Our Team of Experts
---
---
Keeping Pets Happy & Safe Since 1998
PetSafe has helped millions of pet parents care for their pets through every stage and season of life.
US-Based Customer Care
The PetSafe team of customer care experts is available 5 days a week via live chat, email or phone.
Healthy Pets, Happy People
PetSafe is dedicated to helping pet parents keep their furry family members healthy, safe and happy. From irresistible toys to life-protecting pet fences, their innovative products are designed to help bring pet families closer, for a lifetime of love.
Pick of the Litter
What sets PetSafe apart is a team of pet experts who come to work every day with one goal: making the world a happier place for pets and their people. They work with professional trainers, veterinarians and pet behaviorists to keep up on the latest research and insights and use that in developing their products. They rigorously test every product for safety, quality and efficacy, too – because your pet deserves the best!
About PetSafe
PetSafe has been a global leader in pet care since 1998. They pride themselves on empowering pet parents through innovation, education and experiences. Their goal is to strengthen the bond between people and their pets, providing them with thoughtful products, expert advice and compassionate support. PetSafe's US-based customer support team is always ready to help you get the most out of your life together with your pets!
Shop PetSafe
Compare Similar Items
| | | | | | |
| --- | --- | --- | --- | --- | --- |
| | | | | | |
| Customer Rating | | | | | |
| Price | | | | | |
| Material | Aluminum, Plastic, Metal | Aluminum, Plastic, Metal | Plastic, Vinyl / PVC | Plastic | Aluminum, Plastic, Metal |
| Breed Size | Extra Small Breeds, Small Breeds | Extra Small Breeds, Small Breeds | Extra Small Breeds, Small Breeds | Large Breeds | Large Breeds |
| Features | Locking | Locking | Insulated, Locking | Locking | Insulated, Locking |
| Door Type | Standard | Standard | Standard | Standard | Standard |
| Assembly Required | Yes | Yes | Yes | Yes | Yes |
| Lifestage | Adult | Adult | Adult | Adult | Adult |
---
Questions & Answers
81 Customer Questions
---
Can this be added to sliding door side
---
What constitutes a 'recessed' door?
Answer by • Dec 20, 2017
A recessed frame is flush with or barely visible in the interior or exterior wall so you can't see the track the door slides into.
---
Is the glass insulated for cold weather?
Answer by • Aug 01, 2017
These panels feature a heavy-duty aluminum construction and shatter-resistant, tempered safety glass.
---
How do I install it and make sure my current sliding door will lock. Also would we still be able to use that door to access the back yard?
Answer by • Jun 12, 2020
This door includes a locking kit which will take the place of your sliding glass door's existing lock. It also comes with a hard panel that can be slid in front of the flap to close off the dog door when desired, and a heavy-duty aluminum construction and shatter-resistant, tempered safety glass.
---
---
---
By Roxy on Nov 20, 2022
Awesome, life changing
I picked up a new Toy Poodle a couple weeks ago and the breeder had the coolest set up. She had finished a back porch into an extra room, for a kennel. This room was complete with a little doggy door and a beautiful fenced in play area. She kept the pups in their kennels at night and opened them during the day. All day long they, even the little puppies, ran in and out. I needed to do this, but I had a patio door! After searching the internet, i found several options. This option, from Chewy, looked like the best value. It is fantastic. My son helped me install it, but I could have done it myself. My new little 8 week old puppy, ran out the door, so all the others followed. Training done. Love, love, love this doggy door system.
---
By PupFan2000 on Nov 22, 2022
great door, somewhat finicky install
Once I figured it out, install wasn't too bad. Tiny gap next to sliding door on one part but very minimal. I worry a bit about it being possible to pry open in middle with crowbar or something though. Also - get the smallest size you can. I got medium and my ex boyfriend was able to shimmy himself through there and break into my house. I wish I had a vid for proof and because it would prob be funny to see him slug his way through. I can fit through as a medium/small lady but I def didn't expect that!
---
By Emily on Nov 5, 2022
Works great
Easy installation. However I didn't do the lock kit. If placed on the screen door railing I can open, close, and lock slider when needed. My pet learned quickly how to use and we haven't had any issues. Stays in place. I also love how it comes with the flap cover to close off access.
---
By Cara on Nov 14, 2022
Incredibly easy to install
Love this pet door! It was so easy to install I didn't even need the directions. Matches my sliding glass door perfectly. Well made, too! Only took me about 5 hours in a span of 3 days to train my dog to use the door but she's a pro now!
---
By Teddy on Oct 24, 2022
This worked out perfect for me
Teddy enjoys being outside so much so this has been great for him. It was easy to install and with a little additional weather stripping it will be suitable for Minnesota weather
---
By Maria on Jul 26, 2022
Great for Big dogs, not for small dogs or cats
I have an American Bulldog ( 100pds ), a Chihuahua & 2 cats. The door is amazing for my Bulldog, at first she was scared of the flap. Then got used to it after a day or so. But the cats haven't been able to go through, not only cause the flap is a bit heavy but their timid also. For small dogs, I think its a bit difficult for them to come back into the house because of the white piece at the bottom. My Chihuahua has to climb over it and its a bit difficult for him. just an fyi, overall great product. rain or shine.
---
By BIGDOG6977 on Oct 29, 2022
DOGGIE DOOR
WE PUT 2 OF THEM BACK TO BACK IN THE DOUBLE TRACK...TO CUT DOWN ON COLD AIR COMING IN BY FLAP DOOR THIS WINTER. IT WORKS SO FAT!
---
By Elvis on Jun 24, 2022
Awesome door to love the backyard life
Overall I'm very happy with this. Super easy to install, super easy for my cats to use, it took one try to push them thru it for them to figure out how the magnet flap worked. The only improvement I would make to it is better insulation. I think thick insulation strips for both side should be added because there are definitely gaps. The fault could be my sliding door's but all I know is the black rubber border they provide doesn't do much especially the glue wears out. But easy fix. I bought insulation strips to keep all the gaps sealed and keep bugs out
---
By Juniandflynn on Jun 22, 2022
My Dalmatian and GoldenDoddle love it!
Good quality, and it works. Good size for my dogs. The two things you need to know are (1) mounting, had to modify the brackets to fit in my track. It was very shaky Until I used wood strips to fill the gaps to fit snug in my sliding glass door track. (2) My screen needed to close against a board so it would not block the dog door and have a large gap.Plus I wanted to use my existing door latch latch too. But they did provide a locking pin to latch the slider door.
---
By BernerMom on Jun 18, 2022
Good for a couple of months
I was so excited to have found a dog door big enough for my Bernese Mountain Dogs! This fit well into the door way where my sliding glass door is. It worked GREAT for the first summer (2021). We took it down when winter hit, and when trying to put back up this spring, the top sliding piece that locked into place is totally broken. The springs came out, can't reattach it. Very faulty design! Wish I hadn't spent so much. I had a small one when they were puppies (different brand) and it worked flawlessly when removing for winter and putting back up.
---